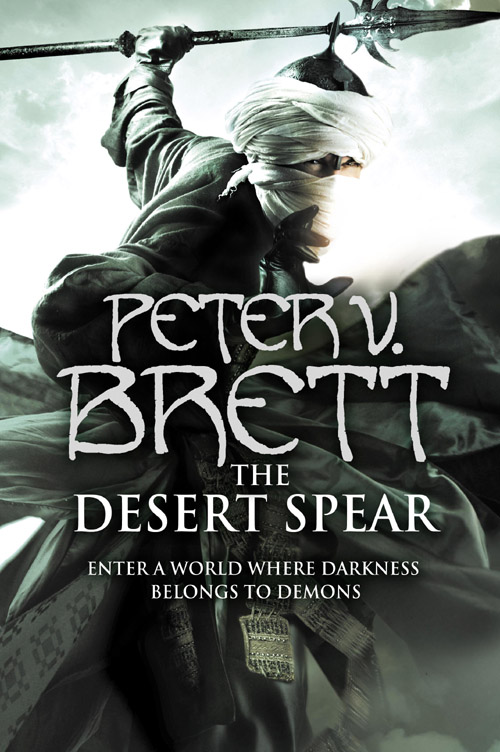 The current draft of The Desert Spear is still with my editors, and I needed a break before diving into The Daylight War, so in addition to updating my website and hand-modeling my cell phone, I'm currently working on another "Arlen: The Lost Years" short story just to keep my mental knife sharp.  The story, tentatively titled The Duke's Mines, will likely be the back-up story for Deluxe version of The Desert Spear, just as The Great Bazaar will back up the Deluxe of The Painted Man.
So, speaking of The Desert Spear,the print schedule was at last finalized during the London Book Fair last week. The Desert Spear will be available on a worldwide release date of April 2010 for its English editions.
For my Del Rey/Warded Man readers, this will probably come as little or no shock, as that is more or less a year after the US release of book I, The Warded Man.
For my Voyager/Painted Man readers, it means the book is coming out 8 months later than Voyager's advertising has promised. That's more my fault more than theirs, and I'm sorry about that.
How did this happen?
Well, the short answer is, " I didn't end up writing it as fast as I thought I would." The long answer I already gave in a previous post, and won't go into again here.
Predicting how long I will take me to write something is like a freelancer paying estimated taxes on the year to come. Getting it right is, at best, an exercise in fortune telling, and you never hit the number right on. I spent seven years tinkering with The Painted Man before I sold it, and then another half year of editing after that. By way of comparison, I wrote The Desert Spear relative short order at 26 months. But despite that apparent increase in speed, it is way more than I originally guessed it would take. I was off by… you guessed it, 8 months.
Voyager bent over backward to make time for TDS to keep the August date, but by the time it became impossible, it was too late to change the ads in the paperbacks.
So that's the bad news.
The good news? Desert Spear is going to be chock full of awesome.
Seriously. For starters, check out the Voyager cover by Larry Rostant (above). How friggin' sweet is that portrait of Jardir?
In addition, The Desert Spear has fencing, fighting, torture, revenge, giants, monsters, chases, escapes, true love, miracles… and I promise it's not a "kissing book". It will call into question a lot of assumptions readers might have made about the events of book one.
Like The Painted Man, The Desert Spear is part epic adventure, and part coming of age tale as Ahmann Jardir and Renna Tanner take center stage after being only glimpsed in the chorus during book I. You'll see firsthand the struggle and events that lead them to become people who will help shape the destiny of mankind, and I am literally bursting with excitement to introduce them to everyone.
Plus, plenty more action with Arlen, Leesha, and Rojer.
Oh, and all the main characters get laid.
And, uh, some copies will be hollowed out and filled with candy. Delicious, delicious candy.