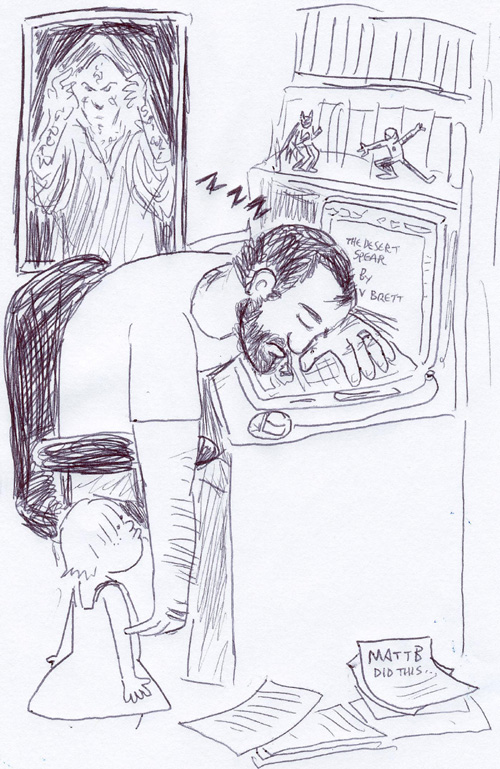 Big thanks to Matt Bergin for taking over the Peephole for the Casting Call guest post. I want him to illustrate my blog more often. His picture was extremely accurate, except he put the painting of Arlen where my office window is.
The window that faces a friggin' daycare center full of screaming kids that make it impossible to work on nice days. But I digress.
Matt and I met while working in the same comic book shop 14 years ago, and have been attached at the lightsaber ever since (no, that is not a gay reference… not that there's anything wrong with that). One time, Matt's Death Priest totally saved my half-elf Ranger's life. True story.
Anyway, Matt and I have been talking about the fairest and easiest way to pick the contest winners, and have agreed that I will make a master cast list, based on the options given by the participants. Each character will be assigned one point, and whomever has the most points in common with me will win, and the runner up will take second place. In the event of a tie… well, I'll think of something. Maybe I'll pick another minor character to cast and it'll be winner take all.
If this is the case, it will be either: Gared, Wonda, Selia Barren, or Abban.
It's going to be a couple of days before I can get to this, though, so let's say all entries must be in by Sept. 10. Please keep your submissions to the comment thread for the original post.
The next contest will be for an Advance Read Copy of The Great Bazaar. Not sure what the nature of the contest will be. Feel free to submit ideas in the comments for this post.
Thanks to everyone who has participated so far! Keep 'em coming!