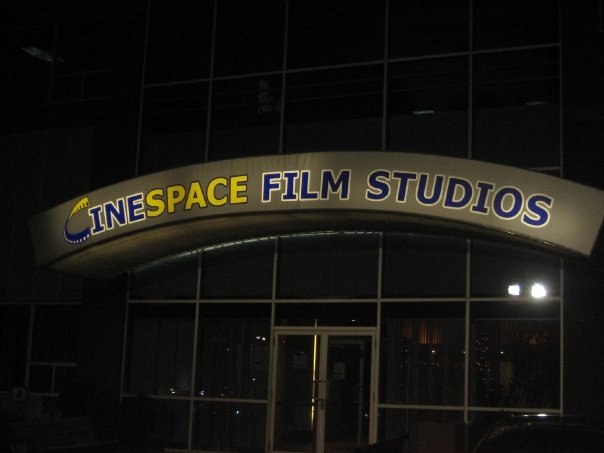 Just got back last night from my visit to Toronto and the set of Resident Evil: Afterlife (in 3D). It was a fantastic trip, both from a business standpoint and for the gleeful SF fanboy inside me.
My buddy Matt and I flew in Thursday and thanks to the negotiating power of Hollywood, got to stay at the Four Seasons for a reduced rate, since most of the cast was being put up there. I'd never stayed in a super-fancy hotel like that, but I have to say, I wasn't too impressed. It was nice of course, but despite the reduced rate being still 40% more than I've ever paid for a hotel that wasn't also an all-inclusive resort, the room was nothing special and filled with "conveniences" that would add to your bill like $12 bottles of water, and a mini-bar where an ounce of booze costs more than a week's groceries. They kept pushing room service, which would be delighted to bring us a $20 egg or $5 toast (butter is extra), etc. I guess they are used to guests to whom these costs mean nothing, and try to leech every penny they can off them. Even amenities which are free in the cheapest of hotels (a coffeemaker in the room, newspapers, etc.) cost an arm and a leg. Feh.
But who cares about the hotel? Friday morning they sent a car to take us to the Cinespace where the movie was filming, and we got all-access passes to the set and sat in fancy director's chairs wearing fancy 3D glasses with director Paul WS Anderson and Producer Jeremy Bolt as they yelled movie things like "Action!", "Earplugs in, there will be gunfire!" and "Cut!
Matt in his 3D glasses: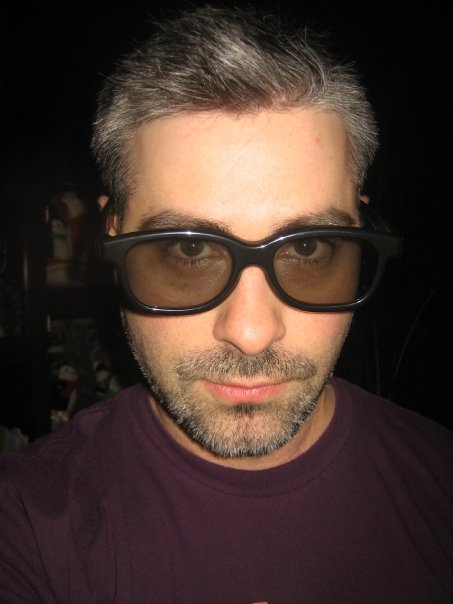 Sarah Crompton, Paul's wonderful assistant, took us all around the studio as 150 engineers, artisans, and actors scurried about making the magic happen. We got to see the art department where the concepts begin, the sets and prop room where they come to life, and the editing and production offices where the raw footage turns into Hollywood gold. She also made a point of introducing us to Milla Jovovich's bodyguard, who was eyeing us suspiciously the first day. Milla didn't recognize me at first (we only met for like an hour a year ago), but when she heard me talking to Jeremy's delightful assistant Carla about the books (we were sitting right behind her by the director's monitors), her head snapped around and she was like, "Hey, man!" and gave me five. Then she said "I won't kiss you, because I have a sore throat." That implies she would have kissed me otherwise, though. I'll take it.
It was really an amazing time. We got to watch the formation of a scene from beginning to end, and really came to appreciate how complex moviemaking is, and how incredibly hard all those people that scroll by during the end credits really work. At one point I was standing in a corner on my cellphone when eight Milla stunt-doubles in identical skintight black leather marched by carrying machine guns. It was an incredibly surreal moment.
I would love to post a bunch of pictures from the visit, but sadly it was a closed set and no picture taking was allowed: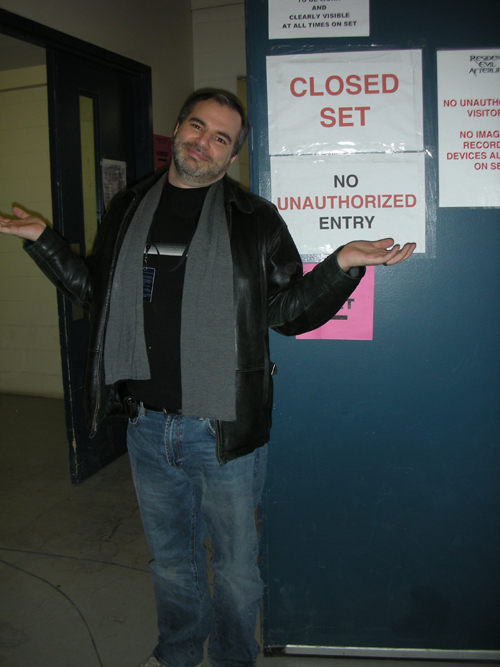 They weren't shooting over the weekend, so after spending all day Friday on set, we spent Saturday wandering Toronto visiting booksellers and comic shops. If you live in Toronto, there are now signed books at:
World's Biggest Bookstore, where we met with manager Jessica Strider who interviewed me on her blog back in March (signed 4 first edition Warded Man hardcovers).
Bakka Phoenix Books, where I was unable to meet with manager Chris Szego, who I had the fortune of having dinner with in Calgary last year, but I was able to sign 3 first edition Warded Man hardcovers.
Indigo Chapters: Eaton Center (signed 2 first edition Warded Man hardcovers).
Indigo Chapters: Bay & Bloor (signed 2 first edition Warded Man hardcovers).
We also hit some comic shops, dropping loonies at the Silver Snail on Queen Street and the Hairy Tarantula on Yonge. Both great meccas if you're a nerd in Toronto with time on your hands.
Saturday night we had dinner with Paul, Jeremy, Sarah, and director Vadim-Jean, a friend of Paul's who was also visiting the set. It was a fantastic night, in which Jeremy told me that he loved The Desert Spear even more than The Warded Man, and we talked a great deal about some of the characters and cinematic moments in the story. Paul and Jeremy seem really excited about the project, and after hearing them talk about it and watching them work, I was filled with confidence and ease that my baby is in good hands.
Sunday we were at liberty, and so we went to see The Road, which was playing across the street from the hotel. It was a brilliant movie, but very bleak and more than a little upsetting. I heard it got some bad reviews, but I can't imagine why. I thought it was amazing, and I know my post-apocalyptic storytelling.
Monday we got up bright and early for a few more hours on set, trying to stay out of the way of the wire teams as they swung Milla through the air in front of a green screen, and then we were off to the airport by late afternoon.
I have a lot of things I'm juggling at the moment, but as this trip was the last major distraction before the holidays, I should be catching up on the blog over the we weeks. Look for more frequent updates.