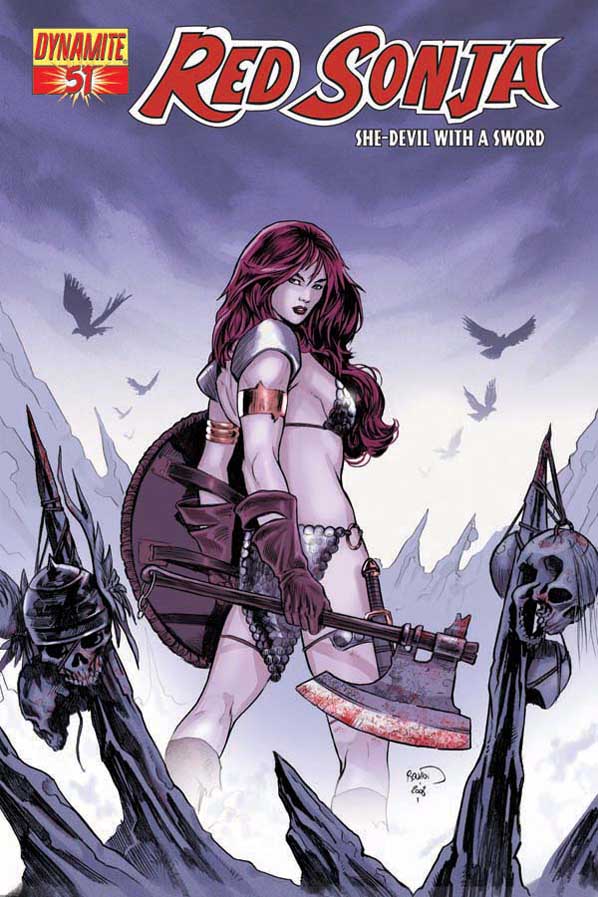 Well, the cat's out of the bag. Another of my secret projects has come to light.
That's right, starting with issue #51, I will be taking a turn writing Red Sonja, the flagship title from Dynamite Comics. This is a really big deal for me, and I've been dying to talk about it forever, but as usual in the business world, you need to keep mum sometimes, lest you jinx yourself.
Now some of you may be asking yourselves, WTF? He's writing a bestselling series of novels, and he's taking a break to write comic books?!
A legitimate question. Allow me to explain.
First and foremost, I make this pledge: I am not taking a break from novels. Writing Red Sonja will not in any way affect my progress on The Daylight War or the other books in the Demon Cycle. Beyond my obligations to the demon series and my family and friends, I am occasionally blessed with a few scant moments of time that are my own to do with as I please. I could spend them on the playstation or in an MMORPG, or squander them in front of the TV, but writing comics is important to me, and you make time for things that are important.
Why is writing comics important to me? Because I've always wanted to write comics. Before I wanted to write novels, I wanted to write comics. My friends and I used to love making amateur comics together, and my comic collection puts many a hardcore fanboy's to shame: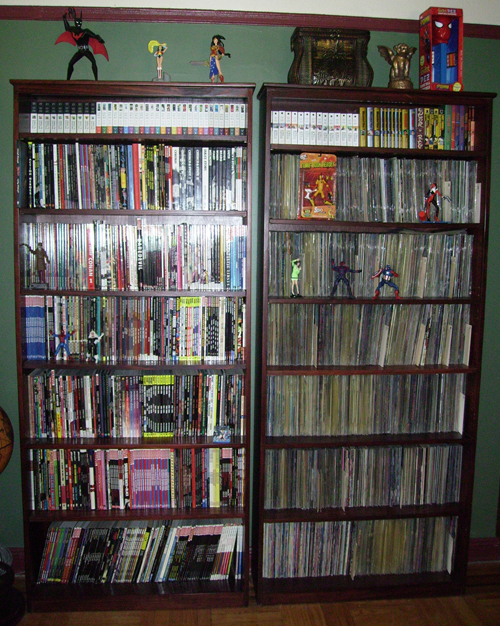 (This pic is just the tip of the iceberg)
I'm a big believer in chasing your dreams, and doing comics has been a dream of mine for as long as I can remember. Red Sonja is a dream come true in many respects. I've always loved Red Sonja, the spin-off character from Conan comics who the great Roy Thomas breathed life into back in the 1970's. Up until 2008, she was may favorite redhead. These days, Sonja's got some stiff competition, but she makes an easy second.
I started reading Red Sonja during the 80's Mary Wilshire run. Back then, Sonja had been taken out of her iconic chainmail bikini (I assume for PC reasons) and put in this blue fur bathing suit, which I guess was supposed to be reminiscent of Conan's fur loincloth, though I'm not really sure where you get blue fur in the Hyborian world. The outfit was, ironically, every bit as revealing and impractical as the chainmail.
While reading that run, I hunted in the back-issue bins and at collections for more of the classic chainmail Sonja books, getting my first taste of the incredible work of Frank Thorne, whose art I would follow for many years to come.
The 80's series was canceled after 13 issues, possibly due to the poor box office performance of the Brigitte Neilson Sonja movie. Sonja stayed in rights limbo for many years after that before being picked up by Dynamic Forces to be a pillar of their new comics line. I started reading immediately with issue #1. The book was written by Michael Avon Oeming, artist from the amazing series Powers, and anchored by the artwork of the incredible Mel Rubi. The first thing Dynamite did was put Sonja back in her iconic chainmail, which I think was a very wise decision, but I must admit to having a warm place in my heart for that little fur number, too. Everyone likes a little variety in their kink. I've kept up with the Dynamite book ever since.
I told all this to Nick Barrucci, the head of Dynamic Forces, at Book Expo America last year, gushing in all my fannish glee, and a couple of weeks later he floated the idea of collaboration. Deep in edits to The Desert Spear, I didn't answer right away, but I found my mind filling with Sonja story ideas. I started scribbling things down, and ended up with pages and pages of material.
So let's sum up:
I've always wanted to write comics.
I've always loved Red Sonja.
I write fantasy. Red Sonja is a fantasy book.
I am known in some circles for writing strong female characters. You don't get much stronger than the She-Devil with a Sword.
I love redheads, swordfighting, and scantily clad women. Check, check, and check.
I think this is a match made in heaven.
Plus, check out the sweet Joseph Michael Linsner alternate cover!