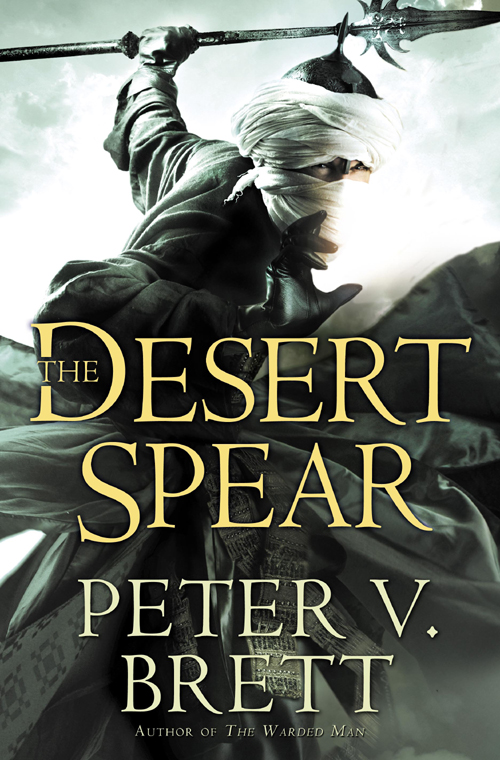 I've been talking to Del Rey books about bonus materials for the mass market paperback (mmpb) version of The Desert Spear, coming out on my birthday next year (Feb. 8, 2011). It is standard practice to include some extra goodies in the mmpb to encourage readers, and it's something I have always enjoyed as a fan.
Usually these bonus materials come in the form of an excerpt from the next book. The Warded Man mmpb, for example, contains the prologue to The Desert Spear.  We are already including a short Krasian Dictionary in the mmpb, but Del Rey was very keen to include an excerpt from The Daylight War, as well.
But I'm not ready to give one up.
This isn't because I haven't written anything. I have a good 200 pages of pretty kickass material (if I do say so myself), but as I mentioned on the blog recently, I did a bit of a hatchet job on the book a month or so ago, and the new POV introduction (Mudboy) that I was going to include as the TDS mmpb excerpt was cut from The Daylight War. Not because it isn't good (oh man, is it good), but because including the full character arc (which would span a dozen or so years) would have made the book somewhat unwieldy. The main story is meaty enough.
I could also include a taste of the Arlen & Renna chapters I have finished, but they contain a LOT of big reveals I am not yet ready to make public with the new book still some ways off. It was impossible to pick something that wasn't too spoilery.
So what to do?
After a conversation with my editor, we decided to leave it up to you, the readers. We will be including an Q&A interview with me in the mmpb in addition to the Krasian Dictionary, and would like to include YOUR questions.
All you need to do is comment on this post with a question you would like me to answer. My editor and I will select the best ones, and they will appear in the mmpb, along with my answers.
Rules:
1) Please include your first name and where you're from (not a specific address, just town and country).

2) Ask as many questions as you like, but I will only pick one per person to answer in the book.
3) Questions may be on any topic (writing craft, magic system details, specifics about events in the stories, etc), but please don't ask questions the answers to which would be story spoilers, like "Who will Arlen end up with, Renna or Leesha?" Obviously, I am not going to answer those.
4) I may answer some questions immediately in the comments thread, if they are ones I am not planning to include in the mmpb insert.
5) The final interview is due to Del Rey on Oct. 1 (less than two weeks!), which means I need time to pick questions and answer them, so the sooner you ask, the better your chances of getting your questions into the book.
Thanks for your help!