Hi, everyone. This is Dani, Peat's wife. Those of you who know me are aware of my love of baked goods. French, Italian, Greek, Entenmann's, Duncan Hines, you name it. So when Peat returned from his awesome trip to Portugal laden down with pure Portuguese Pastries, I was extremely pleased! (I mean, naturally I was pleased he was home at all, but even more so since he brought some sweets!)
So after we put Cassie to bed, we settled on the couch in front of three different delicious-looking desserts and a glass of Ginja, which is a delightful sour-cherry liqueur. (Peat also came home with a bottle of Moscatel Roxo but we haven't opened that yet.)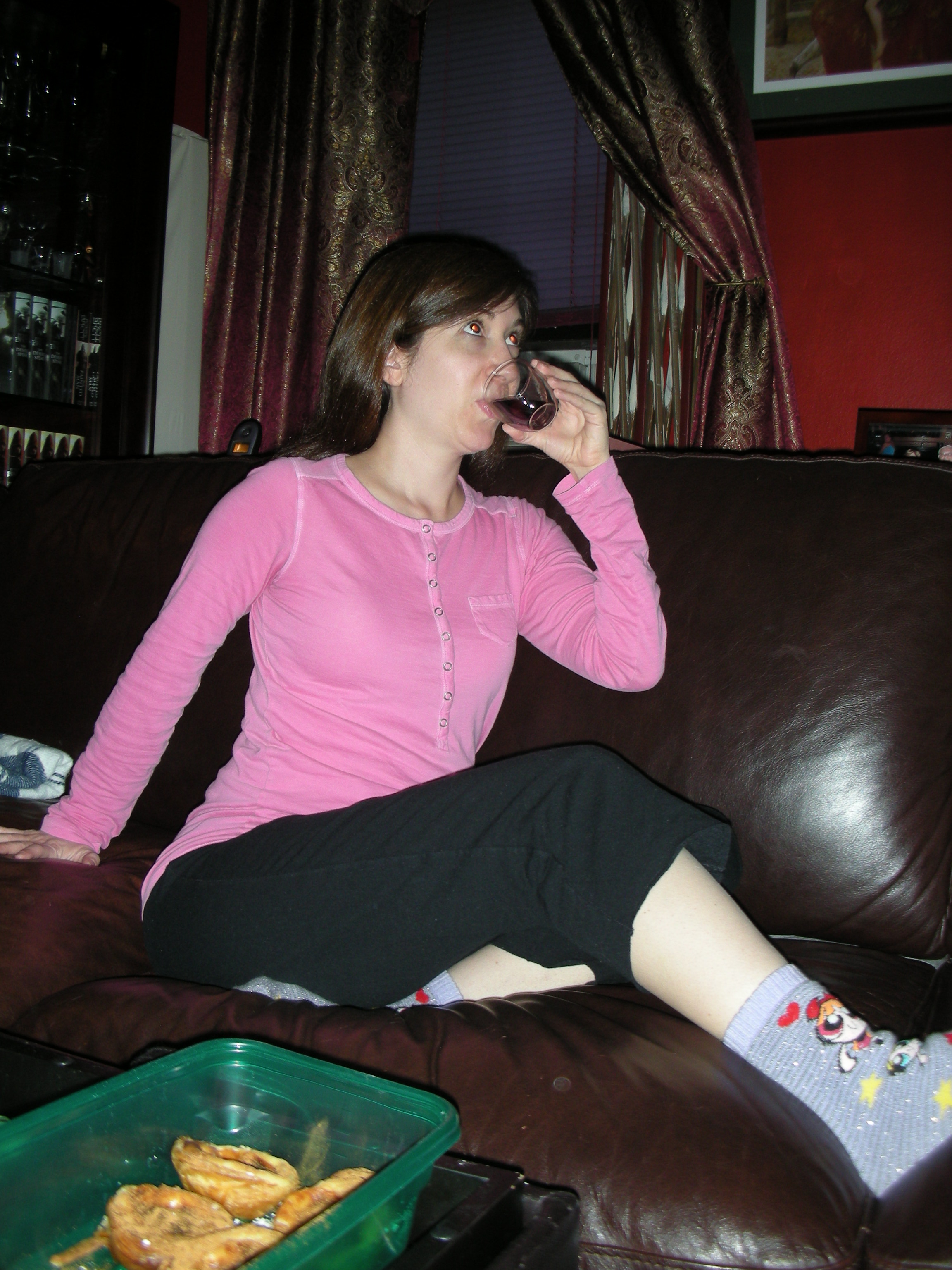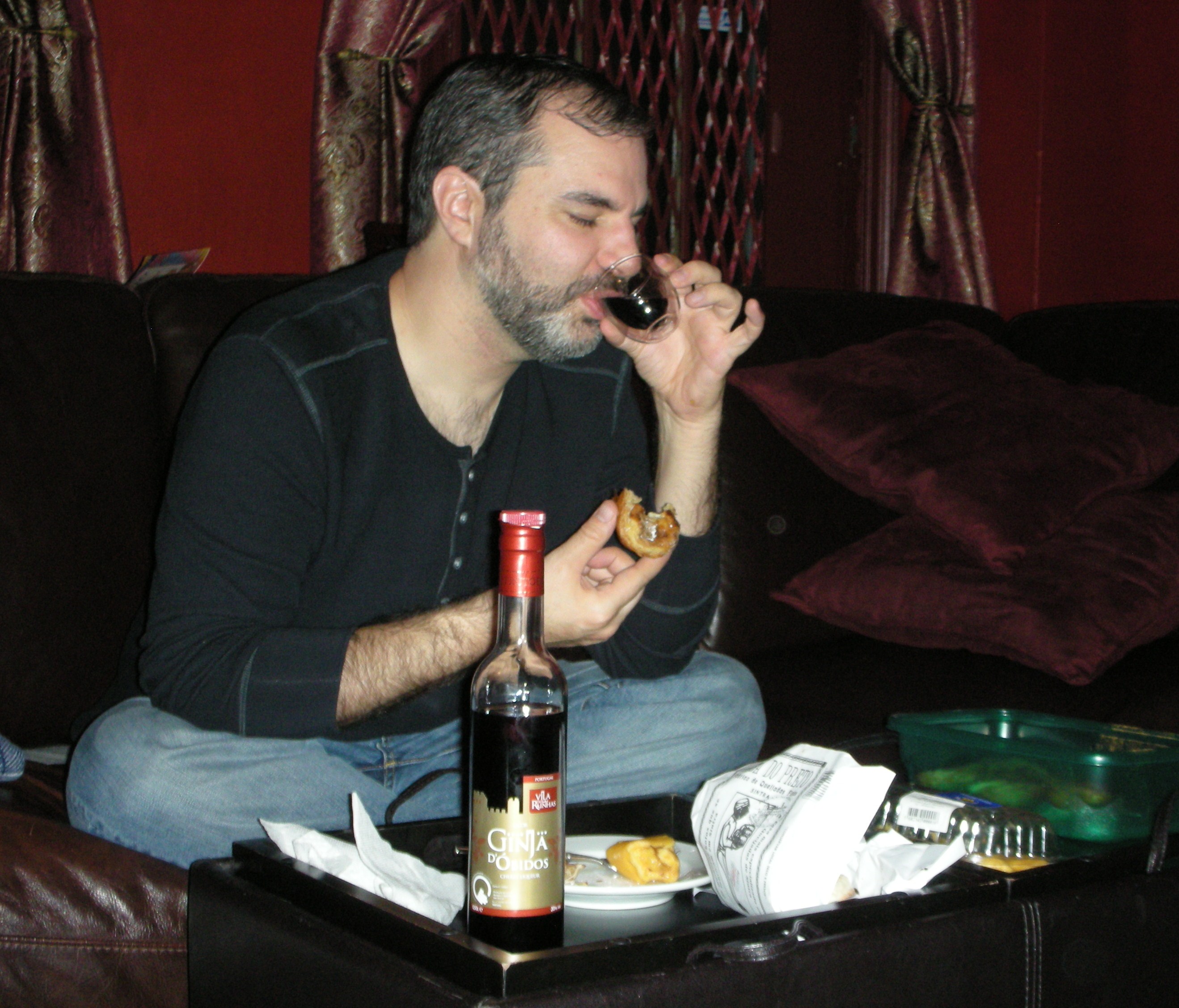 We started off with the world-famous Pastéis de Belém, given to him as a gift by two bloggers who interviewed him, Margarida Cruz from Segredo dos Livros, and Patrícia Pessegueiro from Pedacinho Literário. Peat kept going on about how sweet Margarida and Patrícia were, and what a great time he had talking to them (we'll link to those articles when they are posted).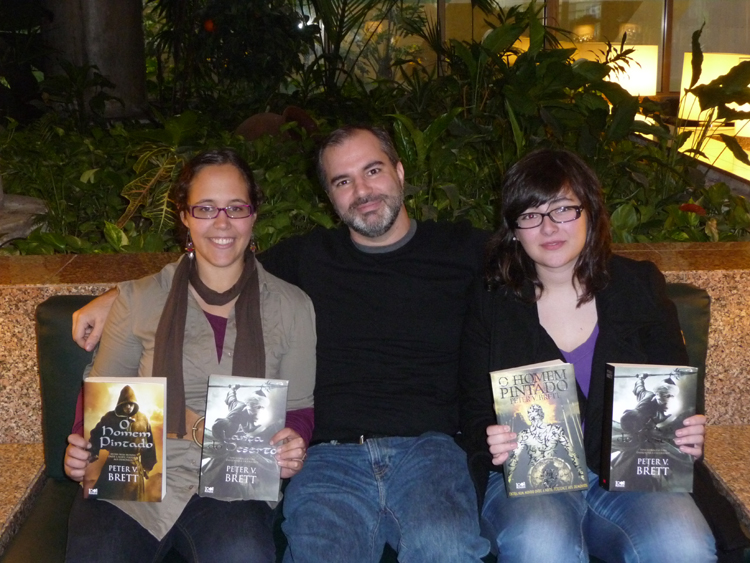 The Pastéis de Belém were a delightful custardy-pastry sort of thing, kind of like a cross between a Napoleon and a cannoli in tartlet form. Sweet, light, and, well, custardy, which I love.
The next confections were queijadas from Casa Do Preto in Sintra. They were sort of like egg custard tartlets. Also delicious. These were picked up to commemorate his trip out to Sintra for lunch on the first day of his trip. Apparently he ate at a fancy restaurant full of famous Portuguese actors and musicians and then drove up to the local castle.
The last were Tortas de Azeitao, which are a regional specialty in Setúbal, where Peat's host and editor at Gailivro/1001 Mundos, Pedro Reisinho, is from. They were kind of like a cross between a Greek pantespani and a rum-soaked sponge cake without the rum. Moist, dense, and sweet. Like a high-quality Twinkie, and I mean that in a good way!
So, here I am, 2 pounds heavier and wishing that I had gone to Portugal with Peat, if only for the fabulous desserts. Of course, Peat is still raving about the rest of the food, as well as how hospitable and friendly and welcoming everyone was. Maybe some day we'll leave Cassie with her grandparents and go hang out in the Largo de Camões and get drunk on ginja with all the college kids. But only after gorging ourselves on Portuguese pastries!