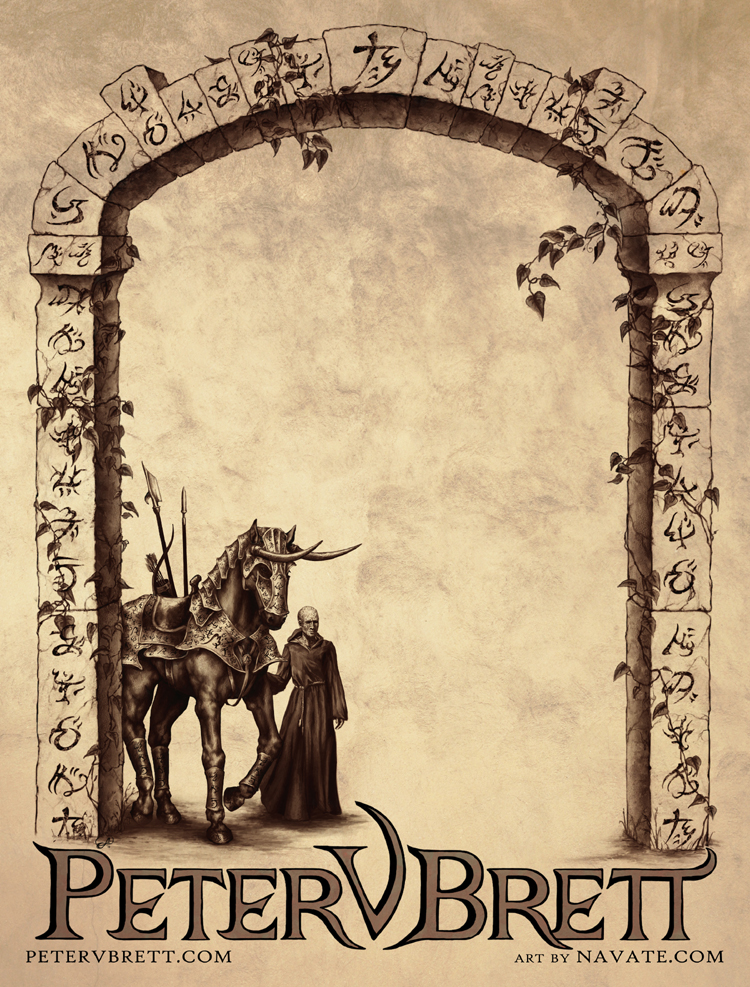 After The Warded Man was published, I began to receive mail from readers who wanted autographed books, but were unable for whatever reason to meet me in person at conventions & signings, or find the signed copies I leave seeded at the local bookstores in any city I travel to. Lots of people live off the beaten path where its all-but impossible for an author to visit.
I wanted to do right by those people, but the idea of getting a PO Box so they could send me their books, and then signing them and mailing them back sounded slow, inefficient, and frankly a pain in the ass for all involved. I gave it some thought and decided a nice solution would be to offer free signed bookplates to any of my readers who might want them.
I spent a pretty big chunk of my own time and money working with the immensely talented Lauren K. Cannon to design the plates, calling vendors to print them, making custom return address labels, buying envelopes and postage, etc. I set aside 500 plates for this purpose to ensure I wouldn't lose my shirt to keep a promise. The rest of the original print run of 2000 plates was used for appearances, signings, and given to close friends who travel a lot to stick in copies at out of the way bookstores in other countries.
The plates were a great success. Lauren's design came out even better than I had imagined, and readers seemed to genuinely enjoy getting them. I left hundreds stuck in signed paperbacks of The Painted/Warded Man on store shelves all over the world, in case readers decided to go on to read Desert Spear and wanted a signed copy of that, too. With Dani's help, we kept up with all the requests in a fairly timely manner, and have gotten hundreds of thank you letters from readers who received their plates.
By late October of this year, I was effectively out of plates, with just a handful left to fulfill requests from the site. I printed thousands more so I could continue to have them on hand for touring and the like. I also figured I would keep the freebie promotion going past 500. Sure, international postage and printing costs add up, but no one was abusing the offer, and I didn't mind the time and expense if it meant I could give something back to those who have supported me. It felt like I was doing a good deed.
But as they say, no good deed goes unpunished.
A couple of days ago, some internet freebie site linked to the page, announcing that I had bookplates ABSOLUTELY FREE. This was picked up by a number of aggregators, and instantly spread far and wide on dozens of sites which basically just do bot searches for free giveaways and then post the results for people looking for a hot deal. One site even had the gall to put up a post pretending to be me, telling people to come and git them free plates! In the last four days, literally hundreds of requests have come pouring in, 90% of them from people who have never read my books and likely never will, but who just want to take advantage of free offers on the internet. Most of them are from countries where my books are not even sold.
Happy New Year.
I'll be honest, it's been something of a turd in my soup, and I haven't been sure what to do about it. The plates were something personal, a special thing between me and my readers. I'm not inclined to spend all my spare time and disposable income shipping them to people all around the world who never heard of me before they found out I was giving away something for free. I'm busy enough as it is. I only promised 500 plates and I have lived up to that, so I am not obligated to keep on, and frankly this seems a good time to stop. I want to do right by people, but not be taken advantage of.
But on the other hand… fuck that. I want to keep the promotion going for my readers who are important to me, and I'm not going to be stop just because I hit some churny waters in the great internet sea and got pulled into a spammy current. So I will figure out a way to make it work.
Dani has been the one who had to wade through the deluge of e-mails, sorting out the "real" requests from the obvious freebie click-throughs. She's been handling bookplate fulfillment since it started, and says that 99% of the requests from readers have always included a personal note, and not just an address. That let us sort the haystack much quicker and helped ensure that the least requests got lost in the shuffle. If you happened to submit a request with just your name and address and would like to make sure it gets processed, just send us a note.
I'm going to do a little research and see what I can do to the request page dissuade web-bots from flagging it. Hopefully the changes will involve a minimum of "I'm not spam!" steps for my readers.
In the meantime, feel free to keep requesting plates. Just throw up a demon cycle gang sign in your e-mail.
I'll post the funniest ones on the blog.
Happy New Year!