I need to get an assistant one of these days. I should be working on the finishing touches of my Red Sonja script, or my speech for ConFusion next week, or heck, even The Daylight War.
But I just got this awesome box of Brayan's Gold samples from Subterranean Press and they are so damn gorgeous I want to give some away. Dani is busy with the baby, so it's me or nothing. What's an author to do? Deny his readers the chance to win such a prize plum? Bah. I just need to do something quick.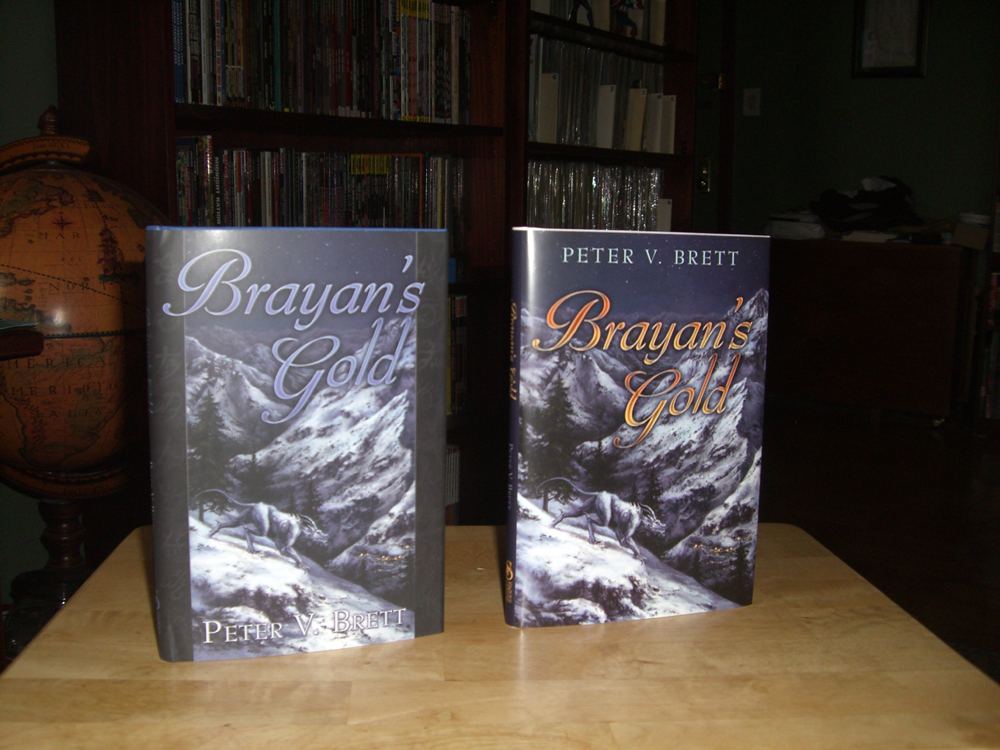 I've been wracking my brain trying to come up with a contest idea. This blog has such an amazing history of cool and creative contests that I am hesitant to suggest anything that might be lame by comparison, and I'm not ready just yet to retread the classics like Fan Art, Take a Picture with a Book, and Haiku Review just yet.
I was lamenting my struggle on my twitter feed (see also Tweephole, on the top right of this page), when I got a great suggestion:
@darkmobius @PVBrett first one can go to person who comes up with best contest. 🙂
Done and done.
So. Come up with the idea for my next contest in the comments section of this blog, and I will send you a signed copy of Brayan's Gold.
A few parameters:
Keep the bar for entry low. The last contest was somewhat labor-intensive, and while that yielded incredibly awesome results, I want this next one to be something as inclusive as possible. Brayan's Gold is a limited edition book, rare and somewhat pricey, so there should be an even playing field to win a copy. You may be a skilled pottery glazer and think and warded pottery contest would be awesome (and now that I think of it, it would) but I'd like this contest to be something most anyone could participate in with minimal investment of time or money.
The contest should encourage creative fun entries I can post on the blog.
I reserve the right to use other suggestions for future contests without sending out a book every time.
READYSETGO!