Sorry for the lack of blog updates lately. After a great weekend in Detroit for ConFusion, I was hammered from all sides this past week with promotional work for upcoming book launches (Desert Spear paperback, novellas, etc.), and some other awesome things I'm not yet at liberty to discuss. Plus lots of work on The Daylight War, particularly a 6500 word Inevera POV excerpt that will appear March 1 in the US eBook, and in April in the UK mass market paperback.
ConFusion was a blast. It was located at the Detroit Marriott Troy, off exit 69 on Big Beaver Road, Just past the Hooters.
No, seriously.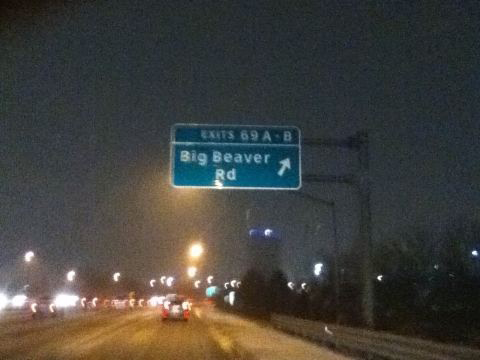 I got to finally meet my cyber-buddy Pat Rothfuss, as well as hang out with the likes of Paolo Bacigalupi, Cherie Priest, Tobias Buckell, John Scalzi, Doselle Young, and others, including the good folks of Subterranean Press, like my convention handler Yanni and her adorable baby Calista, who helped soothe my own baby missing. Here's a shot from the first panel with Cherie, Doselle, John, Paolo and me at right.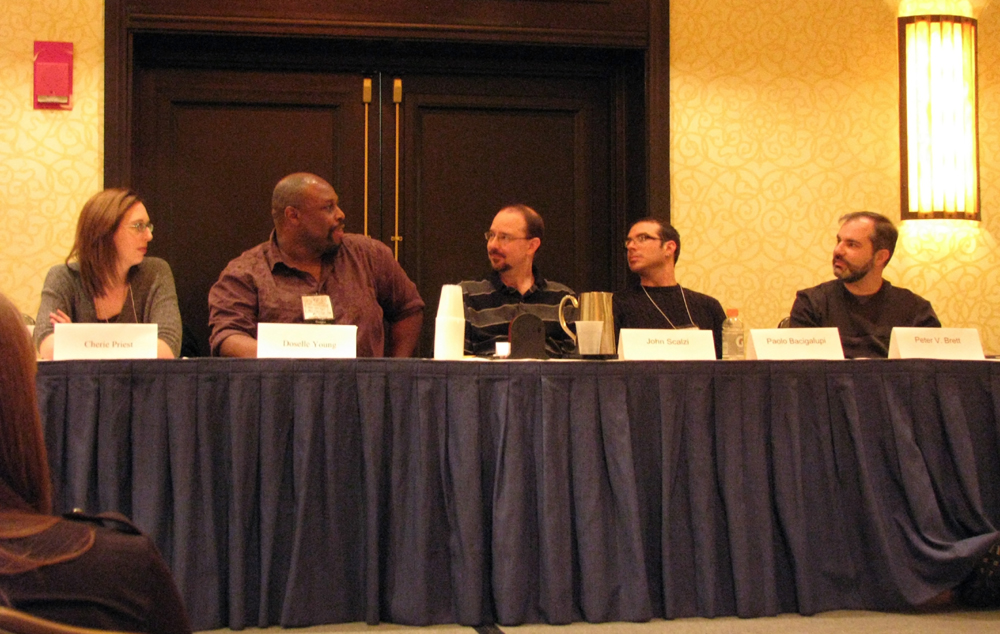 I am struggling to find an assistant here in Brooklyn to help me out so I can focus more on writing and find time to blog more. In the meantime, here are some neat things that have been accumulating:
First off, Arthur, a two-time contest winner (Warding and Homemade Heroes), sent me his plushie One Arm, and as promised, I put it in Cassie's crib. I guess I shouldn't have been surprised at the results: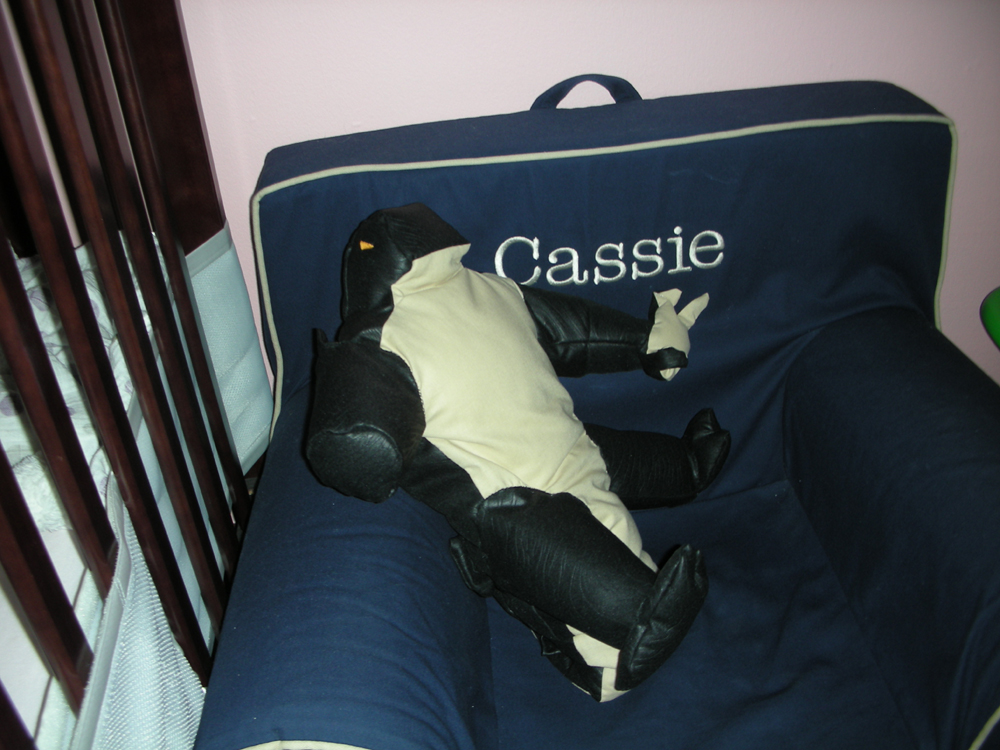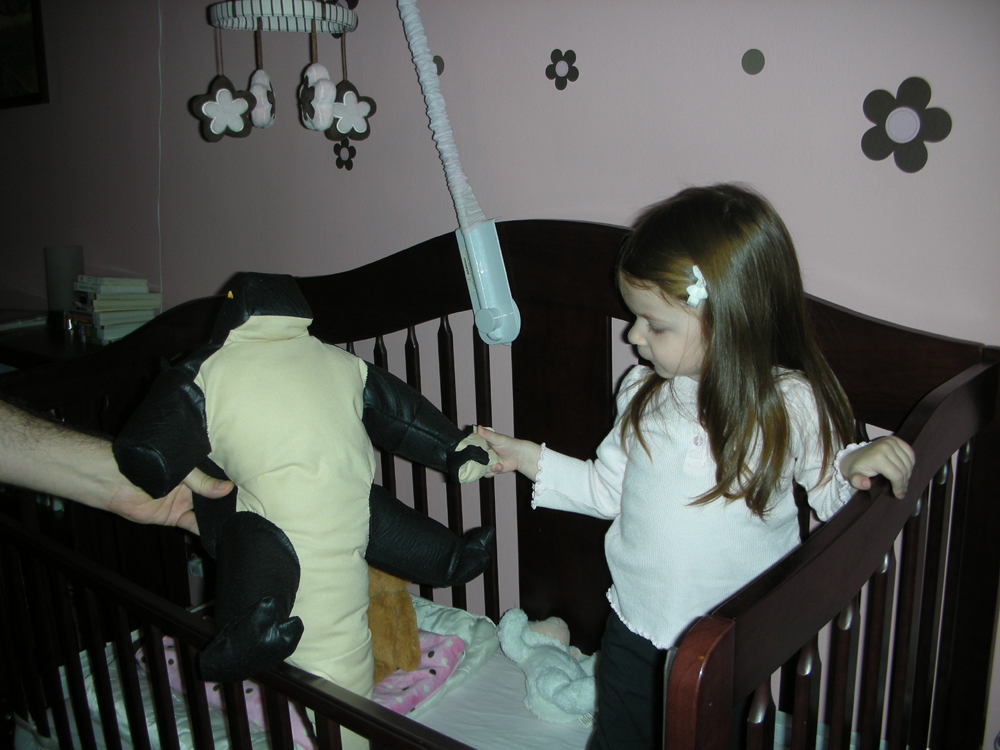 I also finally sent out the last of the HH contest prizes, namely the grand prize set to Mia. This took me almost 2 months mainly because Mia asked me to do a sketch of Bruna in her copy of The Great Bazaar. Seeing as how there are only like 1500 copies of that book in existence and they are now eBaying for like $500, you can understand how reluctant I was to start scribbling in one. Finally I managed it, and I think the result was pretty cool: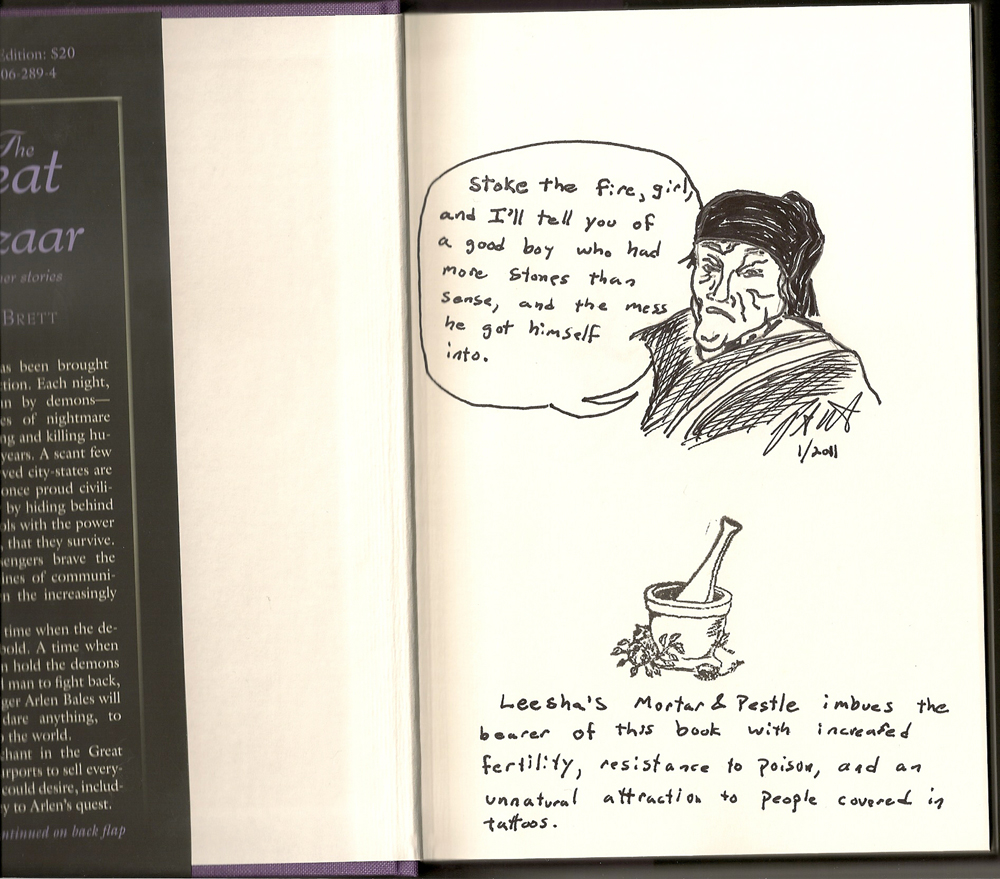 Last but not least, I got a letter  the other day from Bill X, who won the Daylight War tagline contest on the forums:
Hey Peat,
I woke up today and my wife said she had taken the best photo for me. My lilone xander was doing his usual playing Clone wars on wii dressed as vader (Don't ask lol). He went to sit down and my wife had to remind him not to sit in my chair without making sure it was empty. He spotted my new signed copy of TWM and sat to look at the bookplate. Wife just couldn't resist taking a pic since id be so proud of his advancement into UBER-Nerd land with me! Thought you would get a kick out of it.
BillX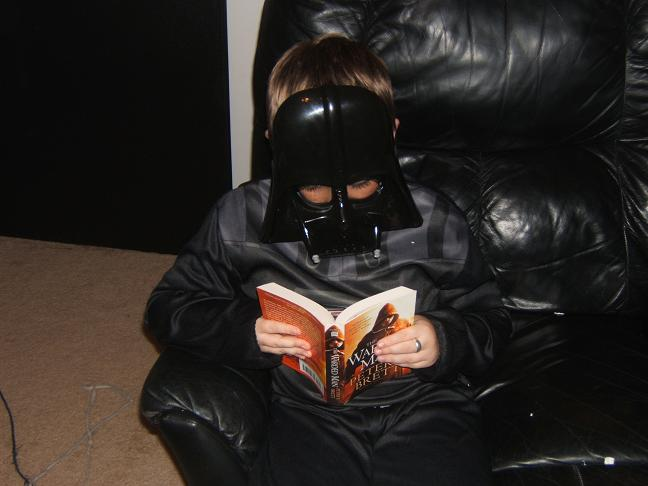 That's all for now. I will pick winners for the Limerick and Suggest a Contest contests soon, I promise!
Treading water…