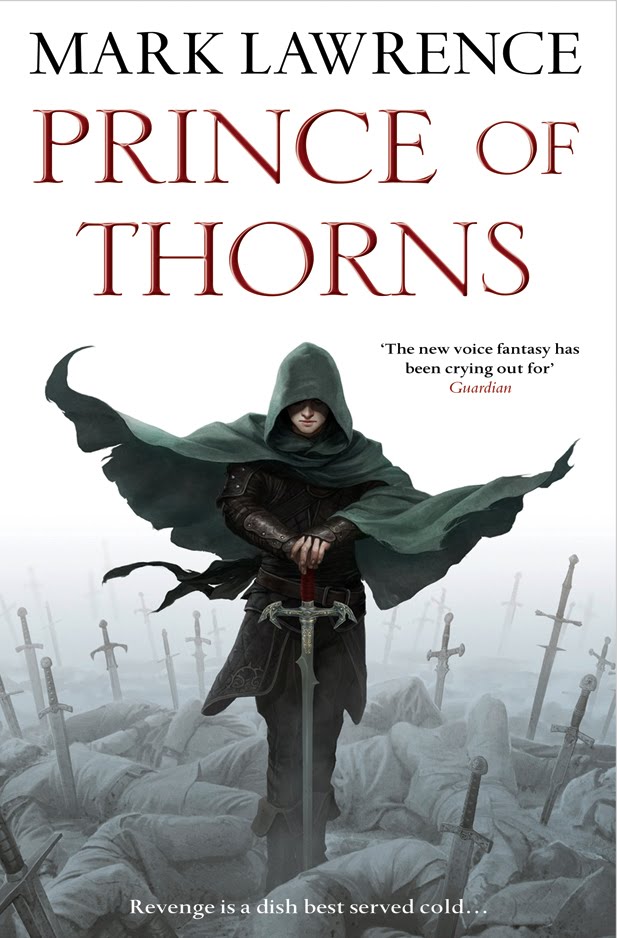 I get sent a lot of free books these days.
I consider it one of the great ironies of life that what would have been the greatest gift in the world when I was in High School/College and had endless free time is now a cause of great depression and shame.
Why? Because I want to read every one of them, but now that I'm a grownup with responsibilities, there just aren't enough hours in the day to read even a fraction.
I feel even guiltier, because a lot of the books are manuscripts for new authors whose initial sales can be dramatically affected by a few kind words from established authors. I remember what that feels like. It wasn't four years ago I was biting my nails at the thought that Terry friggin' Brooks might read The Warded Man and blurb it.
So when I get books, I try to take a snapshot of the box and twitterface it, then put the books on my TBR (To Be Read) bookshelf. Whenever I finish a book, I peruse the TBR for what to read next. It's usually a tough call, as the shelf is always overflowing. Even if I had nothing to do but read through all my waking hours, that pile of books would be daunting. If I were put in prison and told I would not be released from my solitary cell until I had read every one, I would be locked up for months.
Aside: How messed up is it that I might consider that a vacation?
As I have discussed before, writing as a career has made me hypercritical of not just my own work, but that of others' as well. I used to never leave a book unfinished—as a point of pride if nothing else. Now I do it all the time. If a book doesn't have a voice that grabs me in the first few pages, I am apt to put it down, sometimes for days or even weeks. If the story doesn't have me by the balls by page 50, I am out. Even if I keep reading, gods help you if I find flat characters, flaws in your plot, deus ex machina, or inconsistencies in your magic system. I pass on blurbing books more often than not, because I'd rather say nothing than tell my readers I liked a book when I didn't.
Anyway, a few months ago this book Prince of Thorns (PoT) by Mark Lawrence arrives in the mail from my UK publisher, Voyager. Included is a note from the editor saying how special she thought it was. Most every book comes with such a note, but the tone of this one was different. Voyager usually only chooses one big new author to push each year, and—having been one myself—I can account for their taste.
So I put the book on tier one of my TBR shelf: Books I might actually read in the next six months. There are about ten books on this shelf. I figure there's a 40% chance I will read it in time to give the hardcover a blurb.
FYI, TBR tier two is books I might read if I get the flu and it's the closest book I can reach from bed. These fill several shelves. The third tier is books I hope to get around to when I am retired and living in a rest home. Or if that prison thing happens.
About a month later, I was at the Boskone SF convention in Boston and found myself at a dinner with the book's US editor, Ginjer Buchanan of Ace/Roc. We started having a debate about the use of villains as protagonists, and what authors were doing with that theme. I was generally pro and Ginjer generally con, but said she did support it when done well. She cited PoT as an example.
Where had I heard that name before? Ah, yes. Odds of reading now up to 55%.
But there planes to catch and bills to pay. Stories to write and contests to run. I had surgery and plenty of other stuff to keep me busy over the summer. And let us not forget that A Dance With Dragons was out, and that trumped all other reading commitments, so sorry.
So I gave the book to Rebecca in the interim. That girl reads like three books a week. Her review was somewhat mixed. She said it was well written, but harsh for her taste. That put me off a bit, and I missed the window to blurb the hardcover. I felt kind of bad about that.
Then I went to France for the Imaginales Convention, and had dinner with Trudi Canavan and Robin Hobb (both of whom are wonderful people, by the way. Cassie tested and approved). We're debating up and coming authors, and what book does Robin start spontaneously raving about? You guessed it. Prince of Thorns.
I kept seeing good things and/or controversy about PoT on the twitterface, too, and everyone loves controversy. Finally I decided to take the arc along with me to Worldcon in Reno, with the intention or reading it by the pool (I am still not comfortable taking an expensive eReader poolside).
Boy, am I glad I did.
Prince of Thorns had me by the balls in the first chapter. I found myself stealing time to read just a page here and a page there, and whenever a rare block of time opened, I commandeered it in the name of PoT. Read the whole book in less than a week. This used to be nothing, I would read two books a week in high school and college, but these days even a standard 300pp paperback can take me weeks to finish. Too much to do. If I'm reading 50+ pages a day, that is a damn good book.
I was immediately pulled into Prince Jorg's sociopathic little world, fascinated by the flashbacks of his past that hinted at how he became the amoral monster he was. Lawrence's writing is a wonderful mix of vivid metaphor and tight, economical prose. There are no wasted words, each is beautifully chosen. His world, too, is a wonderful blend of medieval and post-apocalyptic fantasy. Jorg's interactions with his teachers, foes, mercenary brothers and royal family are fabulously done.
After seeing mixed reviews and controversy, I expected PoT to be a lot more violent and disturbing than it actually was. I guess that shouldn't surprise me. I think my own books are fairly tame compared to what goes on in the really real world, and yet there are plenty of reviewers who would have you think they are one long rape scene. Fool me once, reviewers, shame on you. Fool me twice…
Don't get me wrong. Lawrence's Prince Jorg is one delightfully twisted little bastard. But you may find yourself having a little sympathy as you get to know him.
Blink, and you might even find yourself rooting for him to succeed.