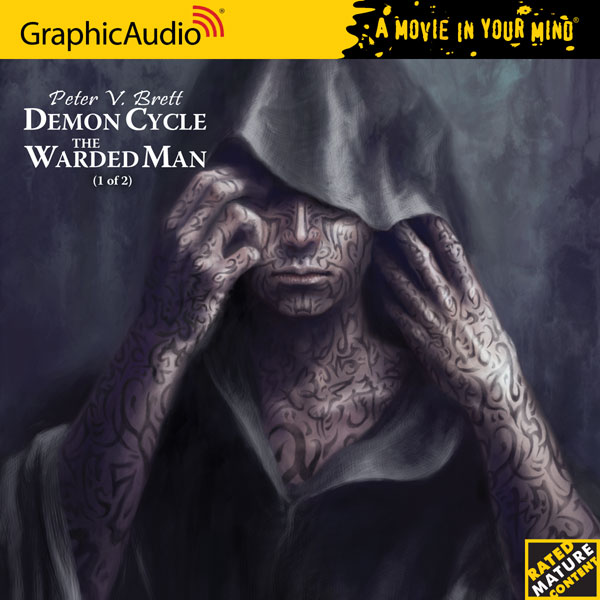 I should have posted this a couple of weeks ago to follow up on my twitterface+ announcements, but as with everything these days, progress on The Daylight War has taken precedence. The book is rolling along pretty quickly these days, as I have (mostly) recovered from my shoulder surgery and found a workable schedule and fresh inspiration. November 2011 has been my best writing month this year, and I hope to continue the trend until I turn the book in early next year. I will do a more detailed post about my progress and the expected pub date soon.
In the meantime, I want to tell you about the AMAZING job Graphic Audio has done in bringing The Warded Man to life as an audio dramatization.
I've spoken before about my audiobooks, particularly the fantastic work done by Pete Bradbury in his unabridged readings of The Warded Man and The Desert Spear. I love those books and listen to them all the time when I want to refresh myself on story details before writing new sections.
But Graphic Audio has done something completely different, and unlike most anything on the market today. They have produced The Warded Man like an old school radio play, with a narrator, voice actors, sound effects, and music. The result is really amazing. The cast is fantastic, producing some really stellar performances with fabulous accents. Some of the scenes, like those where Leesha and Bruna verbally fence with each other, make me cackle with glee, and Arlen's performance just soars.
Also wonderful are the sound effects, particularly the individually crafted sounds for each breed of demon, and the way the song lyrics in the book were set to music. You get to actually hear Keerin sing!
You can check out part 1 (0f 2) here:
I just received the MP3's of part 2 for review today, so it should be available shortly! Thanks to everyone who worked so hard on this project!
Production credits:
Directed by: Johann Dettweiler
Starring: Richard Rohan, Terence Aselford, Colleen Delany, Delores King Williams, Elizabeth Jernigan, James Lewis, Christopher Graybill, Nick De Pinto, Thomas Penny, Steven Carpenter, Michael Glenn, Eric Messner, Joe Brack, Mort Shelby, Ken Jackson, Michael John Casey and Joseph Thornhill
Book Adapted for GraphicAudio by: Johann Dettweiler
Dialogue Editor: Johann Dettweiler
Sound Designers: Johann Dettweiler
Additional Redshirts by: The Dead Giveaways
Original Artwork by: Lauren Cannon
Producers: Richard Rohan and Duane Beeman
Executive Producer: Anji Cornette