Posted by Meg
Peat went to Boskone 49 last month and had a blast.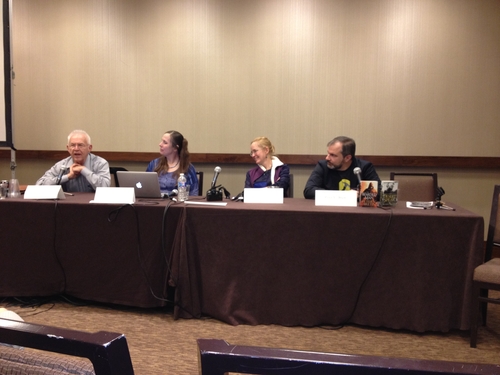 (Books are not the Hammer)
Picture of Peat from the Character & Hard SF panel. From left to right: Bud Sparhawk, Eileen Grayhawk, Catherine Kramer, Captain Hammer
You can also check out a fan's account of weekend. For more pictures, taken by the Art Director at Tor, click here.
One of the really exciting parts of the weekend was that John Scalzi was the Guest of Honor. Artist Daniel dos Santos decided to draw a portrait of Scalzi over the weekend. Luckily, Peat was in a prime viewing location to take pictures of the portrait as it was being created. He snapped a series of photos every couple minutes, and I created this nifty gif of the proceedings:
Saturday, 2pm, Harbor I: Guest of Honor Interview and Portrait Painting In this unique mega-mixed-media event, our Official Artist Daniel dos Santos will both interview and simultaneously create a fabulous painting of our Guest of Honor John Scalzi. We considered requesting that John also be suspended facedown in a tub of Coke Zero and Daniel ride a unicycle, but you can only take fan service so far.