Yesterday, I took Cassie to see her first movie in a theater. Cass is a pretty laid back kid, not given to screaming, meltdowns, or other histrionics, but I've still been nervous about taking a <4 year old into a theater. Up until now, I didn't think she had the attention span to sit through a whole 90+ minute movie without getting fidgety and wandering off, or kicking the seat in front of her, or what have you. I've seen the results of negligent parents dragging kids to the movies before their time, and I didn't want to be "that guy". Better safe than sorry.
But her attention has lengthened, and she loves Pixar-style animated movies. Her favorites are The Incredibles, How to Train Your Dragon, Toy Story, A Bug's Life, Kung Fu Panda, Boundin', and of course, Tangled:
(Cassie wears this outfit or her Snow White costume all day every day when she is playing at home. Seriously. I have to buy replacements as they disintegrate.)
It's kind of awesome. Back when her focus was things like Ni-Hao Kai Lan (educational, multicultural, good values, and totally unwatchable if you are over seven years old) and Yo Gabba Gabba (imagine an educational LSD trip), watching the same episodes over and over made me want to fucking self-terminate. But when she wanted to watch The Incredibles for the 50th fricken' time, or during the three months where she wanted How to Train Your Dragon every goddamn day? No problem. I am happy to watch Tangled as many times as she wants. We sing the lantern song in duet. I don't want to brainwash my child into liking super-heroes and fantasy, but if she's asking for it…
I won't lie, though. I stack the deck.
The first real trip to the movie theater is an enormously powerful emotional event in a kid's life. Even now, when the iPad can do almost anything, it still is dwarfed by the grandeur of the big screen and the shared experience of the audience. I think most people have a defining memory of that first movie trip. For me? I was four years old. My older brother Johnny was seven, and going to see a movie with his friend Kevin Perry, who lived down the block. Kevin's mom was taking them.
My brother was doing it, so whatever it was, I wanted to be a part of it, too. I begged to go. My brother told me to piss off, I was too little (I am paraphrasing, of course. My brother was not British.). There may have been a tantrum involved, but somehow my mom got Mrs. Perry to agree to take me, too.
I remember the car ride. I remember going to the Movieland on Central Avenue in White Plains, NY, right by the Crazy Eddie's (neither of which exist anymore). I remember going into the theater and being amazed at how… HUGE it all was.
It was 1977. The movie? Star Wars.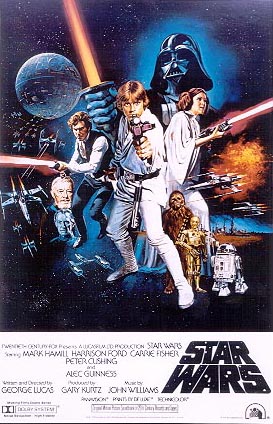 I don't want to say that my whole life would be different if I hadn't been allowed to go to that movie, but I will say that if I had a time machine, I would not mess with anything that occurred prior to that event. Ever in history.
Just in case.
So it was with a weighty sense of responsibility that I planned Cassie's first movie. I wanted it to be something with a strong female lead she could relate to and emulate. It had to be big, and exciting, to make sure her 4 year old attention didn't lapse. And, because I want to be able to share my love of fantasy with my child, it had to be a fantasy.
Enter Brave, the new film from Pixar. Pixar, who has never produced a bad movie, and has repeatedly shown the ability to deliver intelligent work that is enjoyable on different levels by children and adults, so no one is suffering through the movie for the sake of the other, which is a rare and wonderful thing. The female lead of Brave is Merida. A strong young woman who refuses to have life dictated to her, and instead goes after the life she wants, even if it means kicking a few asses with her bow and her sword. And she does it all in a dress, without ever just (dare I say it?) acting like a boy. That is the message I wanted my little girl to get.
Bonus! Merida is a redhead. Ask Cassie what color her hair is, and she will tell you: "Auburn. That's brown, bit it has a little bit of red in it!" And she's right. Indoors is is plain brown, but in the sunlight, the red is unmistakable.

It was like the stars aligned. Cassie is weeks from her fourth birthday, and this movie was tailor made for us. I did everything I could to prep her for the big day. I started in weeks in advance, telling Cassie about this wonderful place called the movie theater, and how it is dark, with the biggest TV ever, and other kids and their parents go there so they can all watch movies together. I told her how the movie is a special time, when you get to eat popcorn all you want.
Rapunzel is the "Lost Princess" according to Cassie, so I started telling her about the "Brave Princess", Merida. We went on YouTube, and watched the Merida trailers. To make sure she knew and was comfortable with the story and its principle characters, my partner in crime Jay Franco (AKA the Mayor of Booktown) got me advance copies of the Brave Sticker Book and Brave Essential Guide from DK books. I also bought the enhanced eBook on iBooks and we had it read itself to her on the iPad. The words light up on the screen as it does, so she can practice her reading by following along. Bonus! It kept her occupied and out of trouble when I was doing things like making dinner or taking a shower).
Cassie was talking about Merida all the time now. The iron was hot. For a coup de grace I bought a special present for after the movie, when she came home and wanted to put on her Rapunzel dress:

So yesterday was the big day, and we were all set. All I needed was for Pixar to deliver, and I had confidence they would, but I won't lie. My heart was pounding.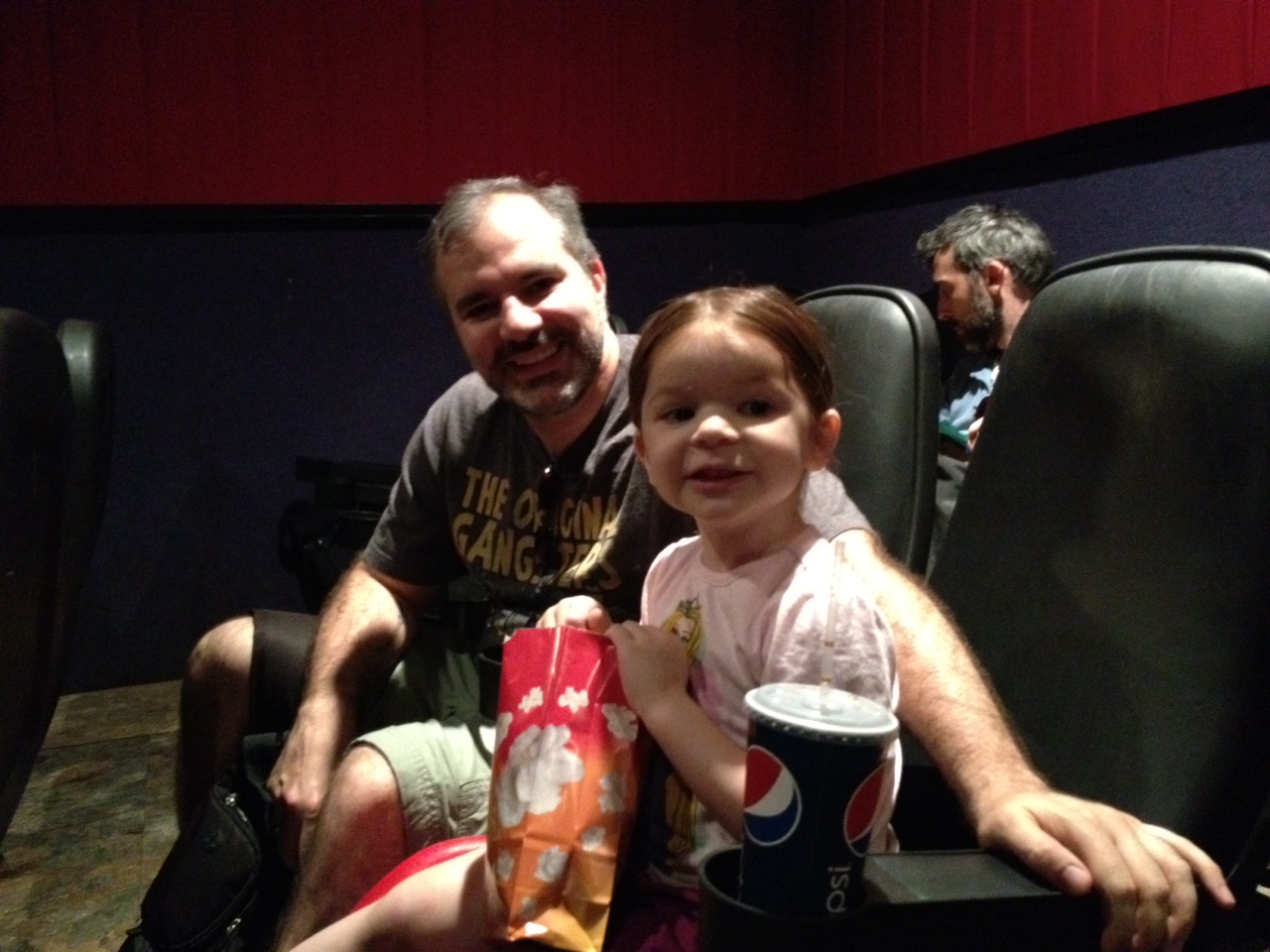 But then the lights went out, and Cassie, who still couldn't see well in her booster, got up and crawled into my lap with her bag of popcorn, snuggled in, and crunched her way, wide-eyed, through the entire film. Every once in a while she would whisper a question, and I would whisper an answer back, to make sure she understood what was happening, but after all the prep, it was hardly necessary. The movie was incredible. Easily one of Pixar's best, and that's saying something.
And when we got home: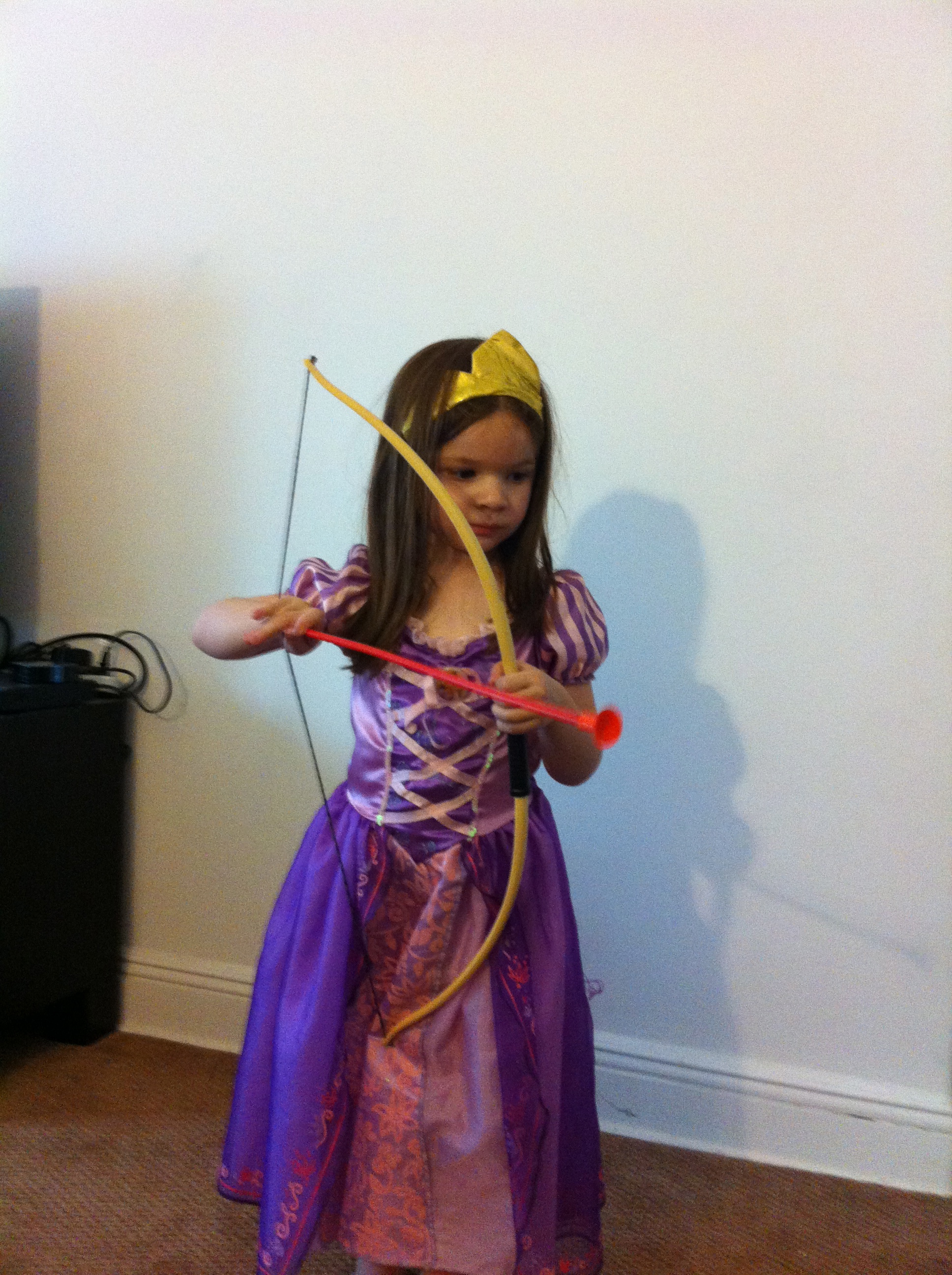 Win.