Posted by Meg
Advanced reader copies of Peat's upcoming book, The Daylight War, will be here in December, so we are starting the contest now!
After the completely awesome Daylight War Covers contest, we wanted to do something that just about everyone could enter. After all, we know that having an ARC of The Daylight War is a very special prize and everyone should have a chance to nab one. So, Peat and his agent came up with the awesome idea of having a video contest.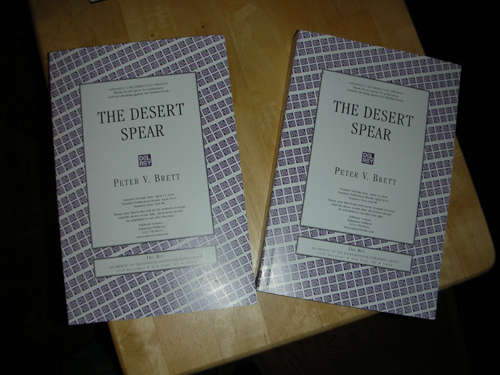 Desert Spear ARCs from the Desert Spear Arc Contest
Here are the rules:
Rules & Guidelines
All you need is a camera (on your phone, your computer, your digital camera) and a Youtube account
Tell, or show, Peat why you deserve to read The Daylight War in any way you please. You can use costumes, dance, music, other people or props. Adorable kittens. It's your call. Don't like being in front of the camera? Make an animation, become the director of a short film. The sky is the limit.
Upload your video onto Youtube and send us the link at contest@petervbrett.com. Feel free to tag the video: DaylightWarARC so it is easily searchable.
Or, if you don't have or don't want a youtube account, email contest@petervbrett.com and we will work out a way to get your video posted. You can make a youtube account here.
Upload your entries by 11:59pm on December 12, 2012 to be considered!
The runner-up prizes will include Great Bazaar booklets and warded dice sets. We will try and get all the prizes out to the winners in time for the holidays but no guarantees!
UPDATE: Don't forget to email your mailing address as well! We will not share or keep it, just want to make sure the ARCs go out in time for the holidays!
The Daylight War
is set to be released on February 12, 2013 in the U.S. and February 11 in the U.K. You can pre-order 
The Daylight War
here
.
Peat and I can't wait to see your video entries! Convince us!