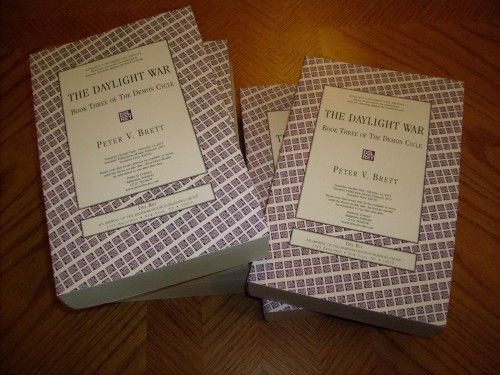 I say it again and again. I have the best readers in the world. And I mean that literally. There were contest entries from all over the globe—from right in my living room to lands across the distant sea—and I love them all. You can check out all the entries on my Daylight War ARC YouTube Playlist.
I had expected this contest to be mostly quick cellphone videos of people giving sob stories or tales of how they began reading the series. Instead the entries became more of a retrospective of some amazing contests past, along with some really spectacular and creative movies from newcomers.
Meg and I had set aside five of our remaining seven copies of Daylight War ARCs as contest prizes, but as usually happens, the entrants went so above and beyond the call of duty that I relented and put all seven in mailers. I also added a first prize of a super-rare Great Bazaar hardcover, and three second prizes of almost-as-rare Brayan's Gold hardcovers. The rest of the entrants will get limited edition Great Bazaar pamphlets and warded dice. By the time you read this, they will already be mailed.
So who won?
Grand Prizes
(Signed Advance Read Copies of The Daylight War)
Five of these went to the usual suspects, who played on my heartstrings with videos reminding me of all the awesome things they have done in contests past, along with some impressive new content. No one deserves prizes more than them.
1) Mia (NYC, USA) – If you haven't seen Mia's Cellphone video, take a couple of minutes and you'll see why I had a copy in the mail to her without even waiting for the other entries.
2) Arthur (CA, USA) – Arthur did his video in the form of a comic book guilt trip, and you know what? It worked pretty damn well.
3) Margherita (Canada) – Kind of a lock already, Margherita nevertheless pulled out all the stops, revisiting her old Homemade Heroes winning entries and adding a new homemade Inevera figure, followed by cajoling by Santa himself. I may not have forgiven Kris Kringle for not bringing me that Millennium Falcon for Christmas in 1980, but the man still has clout.
4) Carol (UK) – With an intro by Gogo Yubari, the deadly schoolgirl from Kill Bill, Carol's video shows her cosplaying Renna and Inevera, and features her whole slew of ward tattoos. Kind of hard to top.
5) Birte (Germany) – Birte's video is friggin' amazing. Not only does she cosplay several characters herself and elicit the aid of her theater troupe, but she wrote the script and all the music herself.
In addition to the above, there were a couple of awesome newcomers.
6) Kristen (TX, USA) – Kristen came in at the Nth hour with a fantastic Daylight War trailer. She and her brother star in it, and she painstakingly animated the wards on her scanner. Incredible.
7) Joe (Denmark) – Joe and his martial arts team choreographed this amazing, action-packed short film. He fights a friggin' ninja for an ARC! It is not to be missed.
First Prize
(Great Bazaar hardcover)
Russell (WA, USA) – Russell sent his simple, heartfelt video from his army barrack. It was so touching I needed to send him something worthy when we ran out of ARCs.
Second Prize
(Brayan's Gold hardcovers)
Jen (Canada) – Jen sent me a private video imploring me for a copy on behalf of a dear friend. While she asked that we not share the video, it was in the top running, and even when ARCs ran out, I wanted to send something special her way.
Chantal (UK) – Chantal was my first fan, and made a bold video combining Disney footage with the Demon Cycle theme. The result is strange and beautiful.
Roger (VA, USA) – The first entrant, Roger too stayed in the running to the very end.
Third Prize
(Great Bazaar limited edition pamphlets)
Nick (Scotland) – Nick was not above using a child with a cute accent. It is dirty pool, but irresistible.
Emmanuel (Porto Novo, Benin) – Emmanuel made a great video and sent it all the way from Benin, where I didn't even know you could get my books. So awesome.
Runners Up
(Warded Dice)
Danielle – Another amazing fan retrospective, and with me running out of prizes! Ack!
Peter – Peter wrote an original song and performed it in his dorm, though he never formally submitted the entry. We are tracking down his address.
Dennis – Another cute kid video, this one with a little girl named Cassie. Talk about dirty pool.
Matt – Matt though he could play the whole "best friends since 1995" card to get an ARC. Hah! It'll take more than that, dude.
Michal – Another great entry from Poland.
Honorable Mention
The Polish contingent – Karolina, Marzena, and Kasia. Despite their video showing pictures of my drunken dancing, I really wanted to give them a prize. Alas, they already have most of the things I can give away. I have a special gift in mind for them, though it will likely have to wait until after Christmas before I can send it.
Thanks again to everyone who took the time to enter! You made my heart grow three sizes this Christmas.
Happy Holidays!