Since I am an author, Amazon has decided that any reviews I post are by their very nature biased, and has opted to remove such reviews. My opinion is further corrupted by the fact that I know many authors personally, sharing publishers with more than a few (especially after the Penguin/Random House merger), and see several of them as rivals on the field. This may lead some to believe that my thoughts on the books I read are less than trustworthy.
But fuck that. I have been reading books and having opinions on them for thirty years, and take a dim view of having my integrity questioned. There are authors I love personally whose work I refuse to promote because it is sub-par, and authors I think are total jerks who I cannot deny produce stellar books.
So I will attempt to post more reviews here and on my goodreads page, and if you don't trust me to be honest, by all means, feel free not to read. I don't intend to waste much time trashing books I dislike. Odds are I will never finish them in the first place, and I will only review books I finish. But when I think there's something special out there, I will try and take the time to let people know, as is the case here.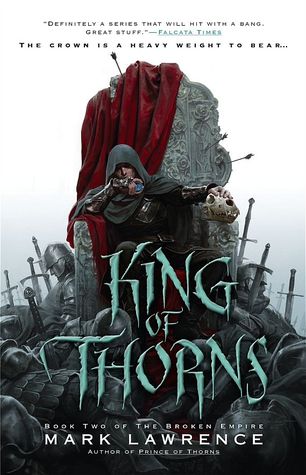 So. On to King of Thorns, by Mark Lawrence.
King of Thorns is the second book in the Empire Trilogy. If you like, you can first read my review of the first book, Prince of Thorns, here.
With my reading time becoming increasingly precious, only the very best authors make it to my reading pile at all, and of those, I went with Lawrence to read after finally finishing edits to The Daylight War. Lawrence's poetic prose is amazing, far and away the best of the modern fantasy authors. The prose can get a little hard to follow if you're sleepy or your brain is fried after a long day, but this is hardly a quibble.
First person narrative is arguably the most difficult POV style, and Lawrence pulls it off brilliantly, putting you in the mind of a thoroughly despicable character and somehow making you root for him to succeed. The limited scope, however, forces Lawrence to jump around in time a bit and use some plot devices to feed information to the reader at an even pace that keeps ratcheting tension. At times this can be a bit confusing, but for the most part the frustration only invests you further.
And let's face it, I can hardly point fingers at people who jump around in time to tell a story.
As with many fantasy series, there is more magic in book two than the first, sometimes in ways that are convenient for the protagonist, though it is largely window dressing. Almost everything that happens in the book plays second fiddle to Jorg's inner struggle as he attempts to find himself and unravel his own thoughts and desires from the influence of others. This is the REAL story, and it is a very satisfying one.
I had the pleasure of meeting Mark when I was in London last summer, and he is a great guy in real life in addition to being one of my top ten favorite authors.
We share publishers in the UK (and thanks to the Penguin Random House merger, soon the US), and you can bet I will be pulling strings to get an early review copy of the third and final book in the series.