Posted by Meg
Peat will be wrapping up his official U.S. Daylight War Tour this week only to start his U.K. tour next Monday. Check out the Appearances page for all upcoming events and signings.
Peat enjoyed a well deserved rest last night from constant events, but will be picking up the flame again tonight, appearing at the Barnes and Noble in Huntington Beach, CA at 7:00pm.
For those of you unable to make it to an event, perhaps these highlights will get some of your Demon Cycle questions answered.
First, we have an interview with Rebecca Lovatt from The Arched Doorway. Rebecca met up with Peat in person at the Toronto signing last week.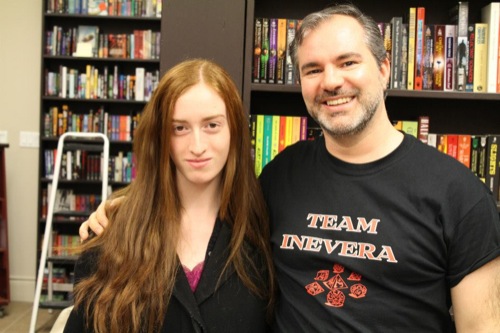 In this interview, Peat talks about his plans for the Demon Cycle, taking Red Sonja out of her iconic chainmail bikini, and how to survive a zombie apocalypse.
Along with the interview, she is also running a signed bookplate giveaway.
In Seattle, fantasy writer Shawn Speakman filmed Peat's entire Q&A. Peat chats to fans about cover art, what it's like to have a book translated into another language and writing comic books. Check out the full article on Suvudu, or watch the video below.