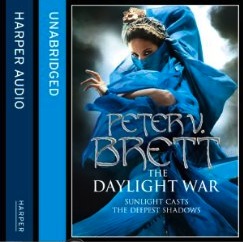 I never used to be a big audiobook listener. Up until a few years ago, the only audiobook I had ever owned was The Gunslinger, by Stephen King, which someone gave me when I was a kid and bedridden with the flu. It was on cassette tape, so you can imagine how long ago that was.
The Gunslinger was read by Stephen King himself, and in the introduction, he commented on what he saw as the value of audiobooks being read by the author. This was something that stuck with me.
Many years later, when I sold the audio rights to my first novel, The Warded Man, to Recorded Books, I remembered those words, and told my agent that I would like to narrate the audiobook myself. I've been told I have a good reading voice, and I already knew how to pronounce all my made up words. I knew which words to emphasize to get the most out of each sentence, delivering it to the listener just as it was in my head when written.
Both my agent and Recorded Books were a bit taken aback by my request. This was not at all the norm, as standard practice was to hire professional voice actor to do narration. But I stuck to my guns, and RB agreed to let me come in to they NY sound studio and audition. It was weird, having to auditioning to narrate my own work, but I went in full of confidence, and delivered a stellar audition.
Or so I thought.
A couple weeks later, they got in touch thanking me for my audition, but telling me they were taking a pass in favor of Broadway actor Pete Bradbury.
Grrr. Who was this Pete Bradbury, and what made him so darn special? I was annoyed, but my agent convinced me to let it go in the interests of delivering the highest quality audiobook possible. I was given audio samples of Bradbury's work, and couldn't deny the man was talented.
Soon after, RB got in touch again. Pete had read the book, loved it, and sent a LONG list of words he wanted proper pronunciation for. Character names, Krasian words, stuff I made up, etc.
I was somewhat mollified. If it wasn't going to be me pronouncing everything, at least they were working with me to make sure it was done right.
A few months later, the 18 hour audiobook was sent to me for a quality check. I hadn't listened to an audiobook in years, but I am a firm believer that everything with my name on it is part of my global brand, and I want to make sure it is all of the best quality possible. I started listening to it while going for long walks in the park.
I was immediately taken in by Bradbury's rendition. I had been afraid he would be tempted to overact, making up voices, creating fake accents, and speaking in falsetto for the female characters. Instead, Bradbury made subtle changes in tone and inflection as he read, making it clear who was speaking without resorting to excess theatrics. His voice is deep and rich, with just a touch of gravel. I felt like a kid sitting by the fire as my grandfather read me a book.
I shifted overnight from being annoyed at Pete to one of his biggest boosters, recommending the audiobooks enthusiastically, and listening to them multiple times to help me refresh myself on events when working on the next books. I also became an audiobook fan in general, and have listened to quite a few books by other authors/narrators since then.
Some months later, I learned quite by accident that there were UK audiobook versions of The Painted Man and The Desert Spear on sale. I had known the rights sold in the UK, but had assumed that the producers there, like the ones in the US, would be in touch during production.
On request, I was sent copies of the UK versions of the first two books, but was disappointed to learn upon listening that, having not been consulted, the new narrator, Peter Joyce, mispronounced most every name and made-up word in the books. Statistically, you would think they would have guessed right a few times, but alas. It was difficult for me to even listen.
It wasn't a matter of the narrator, precisely. While more theatrical than I prefer, Peter Joyce is unquestionably talented, and lord knows we Americans are used to narrators with a British accent. I just felt quite strongly that it was not presenting my work properly and consistently.
This was in 2010. After some discussions with my agents, I requested that the UK license the author-approved Pete Bradbury version of the audio moving forward, to maintain consistency and quality control for the global brand. The decision was mine, and mine alone. The Daylight War was still years from completion, though, so it seemed a distant prospect.
Fast forward to the present. The Daylight War has launched in both countries, with Pete Bradbury as the worldwide audio narrator. I realize this comes as a jarring transition for some UK audio fans who had become accustomed to the Joyce performance, a few of whom have posted their feelings on the blog and on audible. I do apologize for that. However, I continue to believe that Bradbury puts forward the best performance in line with how I want my work presented. Given the chance, I honestly believe he will win over any doubters.
I am currently in talks with Voyager, my UK publisher, in hopes of making the Bradbury versions of the first two books available in the UK as well, so there can be consistency moving forward. I was delaying this post until I had a clear plan on that front, but sometimes these things move slowly.
If you're interested in a more theatrical performance of the books on audio, I recommend giving the Graphic Audio productions a try.
With original music and a full cast of incredibly talented voice actors, Graphic Audio has really created something special and unique that I endorse fully. GA is contracted to produce the entire series, including the novellas. So far they have The Warded Man and The Desert Spear up for sale, but they will be adding The Daylight War, The Great Bazaar and Brayan's Gold shortly. If you are outside the US, you can visit their international page.