Posted by Meg
David shows us how he protects his heart: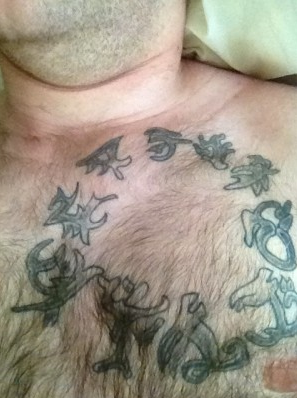 Beautifully warded and incredibly badass.
Jeremy created an amazing warded knife.
Here's what he has to say about the process:
  This knife is hand made from antler and filled/caped off with resin. Then sealed with a clear enamel to help preserve it. The blank knife blade was purchased. I engraved wards into the metal of the blade. Unfortunately the engravings didn't show well in my first set of pictures so I rubbed ink into the etches to make them more visible. At the tip of the blade is the Piercing combat ward, then along the edge of the blade are 9 Cutting combat wards. Down the width of the blade contains wards for Killing, Defense, Directional force. Both sides of the blade mirror each other.  The leather sheath has 4 runes which in an act of hubris spell my last name LANG.
Another badass entry with lots of attention to detail. Thank you to Jeremy and David for their stunning entries.
Winners will be announced Tuesday, so stay tuned!