Those of you plugged into the SF publishing scene have probably heard all about the current scandal going on over The Bulletin, the official trade magazine of the Science Fiction and Fantasy Writers of America (AKA SFWA).
The SF community has a lot of scandals. Usually they come from legitimate causes of concern, but in a industry with so many strong voices, each with their own internet pulpit, these things inevitably get blown out of proportion. People start lose the thread as they descend into personal attacks rather than do the work of having a real dialogue about how to assess the problems and fix them.
The current brouhaha is over some sexist remarks made by a couple of prolific and well-known SF writers of yesteryear, who have a regular column in The Bulletin, despite being more than a little out-of-touch with the current state of both the industry and modern society. You all know how to use the google, so I won't get into the details of their remarks here, save to say that having read them for myself, I agree they were unprofessional, inappropriate, and not representative of the SF industry as a whole.
When called on this fact, the writers in question responded in a subsequent issue with a screed calling their detractors cowardly, anonymous liberal fascists who were trying to censor their opinions.
I wish I were paraphrasing.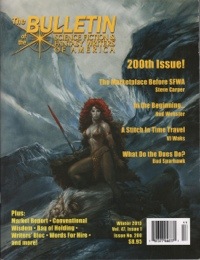 The remarks in question occurred in the 200th issue of The Bulletin, which featured, in addition, a cover painting of Red Sonja in her trademark chainmail bikini, standing over some dead giant on a frozen mountaintop. A lot of people were upset about this cover, saying it was in poor taste to feature a top-heavy, half naked woman out in the cold on the cover of an anniversary issue of a pro trade magazine. Particularly for a supposedly-inclusive society working in an industry filled with professional women.
Now, as someone actively writing Red Sonja for Dynamite comics, I am hesitant to bad mouth a decision to feature her on the cover, but the truth is I think the detractors have a real point. It would be one thing if the magazine had featured, say, an article on how *ahem* some hotshot young author was, AT THAT VERY MOMENT, trying to revamp Sonja's image by getting her into something a little warmer. But it didn't. In fact, there was nothing about Sonja in the magazine, nor was she even mentioned by name on the cover. So… WTF?
All this comes at an interesting time, because just two days ago, I received an auto-generated email from SFWA reminding me that my it was time to pay my dues in order to renew my membership. It got me thinking about whether I should bother.
I've never been closely affiliated with SFWA, but I did meet my agent at a SFWA party many years ago, and I used many of the free resources on their website when I was looking for some guidelines on how to first submit my work. The society seemed a grand thing then, something to aspire to. SFWA's ranks included many authors I idolized, and joining would be a benchmark that I had acheived some sort of professional success, as full membership is only offered to writers who have sold a sizeable piece of work to an accepted tier 1 pro market. The moment I had my book contract for The Warded Man, the first thing I did was submit an application to SFWA with check for my dues.
But after joining, I saw that the society I imagined bore only a passing resemblance to the reality. SFWA was stagnant, and not doing a lot for active authors, particularly novelists, which is where I feel much of the mainstream of the market is (not to mention TV, videogames, and other under-represented areas of the industry). It seemed instead mostly focused on lauding and back-patting of its original membership, and repeating dated advice that was not as helpful in the current market as it once was.
I say mostly, because there have always been redeeming things about the society, such as Writer Beware, which informs writers about potential scams, the Nebula awards, advocacy for writers in need, and Emergency Medical, which helps (frequently uninsured) writers deal with unexpected medical bills.
Things improved quite a bit under the leadership of John Scalzi, who took over as SFWA president in 2010. John put a much stronger public face on the group, and has worked tirelessly behind the scenes to improve and modernize with the help of a lot of people, like his VP Mary Robinette Kowal.
I saw firsthand how SFWA actively fought for struggling writers, keeping publishers large and small honest and helping give voice and representation to people the industry has dealt a bad hand. I really respect that, and like knowing it's happening, even if these are services I personally don't need, having the backing of a fantastic and powerful agent, as well as some of the biggest publishers in the world. And so I keep paying my dues, despite feeling that the society overall doesn't really represent me personally, or many of my peers.
A good example of this is The Bulletin, which is in many ways the face of SFWA to a large portion of its membership and the public. I receive it every quarter in my snail mailbox (there is no digital version, which seems bizarre for a science fiction magazine), and to be honest, I seldom read it.
You might think that the trade magazine for my industry's biggest society would hold some interest for an active writer like me, but not really. The logos, design and layout are dated and frankly unappealing, and most of the content is much the same. Horror stories of this author or that author who got screwed, warnings about scam publishers/agents, back-patting of the 60's SF generation (who, to be fair, built the society in the first place, and are worthy of praise), and articles, mostly from the self-same old guard, dispensing advice and commentary I frequently feel is out of touch. Lists of places that might buy short stories, including an often depressing obituary for publishers that have gone out of business recently.
I'm not saying the magazine shouldn't include these things, but where's the meat? What makes it relevant to today's active pros? What is there to make one feel excited about the industry and proud to be part of it?
SFWA counts amongst its members some of the biggest selling authors, most powerful agents, and extremely talented up-and-coming editors, art directors, etc. of the industry, but reading The Bulletin, you'd never know it. These are people actively defining the face of SF, most of whom would, I think, be thrilled at the chance for an interview or soapbox in the SFWA Bulletin. Why then is there no outreach to them? Why is the society not celebrating their accomplishments in the same way they do those of the previous generation? It seems like they are going out of their way to keep from being part of the active market.
Leaving myself out of the equation, why isn't SFWA celebrating, say, Pat Rothfuss, who has drawn hundreds of thousands of people into reading SF? Or Gail Carriger, who successfuly created her own subgenre by combining Urban Fantasy and Steampunk into a really successful franchise? Where is the notice for Joshua Bilmes, whose JABberwocky Literary Agency is thriving and expanding madly even at a time when publishing as a whole is struggling? Joshua is agent to some of the biggest names in the industry, and I assure you, he has a LOT of really thoughtful things to say about most every current topic and technology.
I respect the views of editors and art directors who have been in the industry for decades, but they are not always at the front lines of an industry that is changing MASSIVELY as new trends and technologies emerge. I personally know dozens of younger industry pros who are making waves that will affect the course of SF for years to come. Art Director Lauren Panepinto at Orbit has changed the way people look at covers, and her work has had an tremendous influence on the industry. Why is no one asking her thoughts on where things are going? Or Tricia Narwani, the new Managing Editor at Del Rey? Jess Wade and Danielle Stockley at Ace/Roc are actively acquiring new novels. Why not interview them about what they're looking for?
And these are just the first people I could think of off the top of my head, and only a handful of topics that might interest members. What about real discussion of modern branding techniques, interviews with people who have successfully made new media work for them, or with eBook editors and designers?
It seems to me that if the Science Fiction and Fantasy Writers of America—a society ostensibly writing about the future—wants to remain relevant, they need their primary publication to stop looking back so much.
Thankfully, this looks like it may be a real possibility. After the debacle this past week, SFWA's current and newly elected leadership was quick to respond, thanks in particular to VP Rachel Swirsky. They have announced a task force dedicated to overhauling The Bulletin. I really hope they, and new president Steven Gould, succeed, and bring SFWA's primary trade publication, and the society's public face, back to the future where it belongs.
So I'll be renewing my membership, and hoping for better things in the year to come. I really do believe SFWA has the potential to become a strong industry driver once more, and inspire a new generation of writers to stretch their imaginations. I want to be a part of that.