Posted by Meg
Margherita, as usual, hits it out of the park with her multi-faceted entry.
First I'm entering a couple of pieces I made back in March: My glittery warded earrings and my bludgeon ring.
Next a leather-wrapped metal bracelet with warded charm (unfortunately, you can't really make out the ward carved into the charm from the angle the photo was taken) and a warded watch with leather wrap-around straps. Both pieces modeled by my patient boyfriend, Matt.

My cousin, Ivonne, was kind enough to lend her tiny figure and feminine hands to the rest of the photos. Here's a pendent necklace make from a spoon. Some metal paint mixed with brown and gold gave the spoon an antique, rusted look. I printed an excerpt from The Warded Man with an old paper background, cut a piece out of it and burned the edges. Then I Mod Podged it to the spoon, and coated the whole charm in a sealer to keep the paper from being affected from water/sweat/whatever. The chain's length is adjustable. I think this necklace could work for guys or gals.
For the next piece, I took a blue button and painted it black. Mod Podged another piece of the excerpt to the top, then added a ring blank that I broke the original charm off of. More sealer on the whole thing and it's ready to wear.
A few more to go…. I love earrings, I have so many and I keep adding to my collection with purchased or homemade pieces. My newest addition takes another piece of The Warded Man story with me wherever I go. In fact, I'm wearing them as I write this email.
Earlier this year I made a demon fire snow globe. I used the same idea to make a smaller version that works as a pendent on this necklace. A warded charm and handmade Herb Gatherer's book join the bottle of demon fire to finish the piece.
Lastly, I'm not sure if you've ever come across Alexender McQueen's very popular skull clutches that sell for over a grand.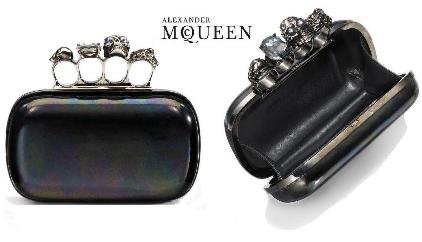 I was inspired by these to create my own skull clutch. Inevera has a huge influence on this piece. It started with a Valentino sunglass case. I covered it in red gllitter, used a couple of store-bought rings and had to make the other two (the large skull was a necklace pendent. The hammered piece was an earring). I painted the four rings in gold and adhered them to the newly glitterfied case. I then took three lengths of chain from a layered necklace and attached them all to eachother to create the optional shoulder strap. I added a fire ward to the inside of the clutch and now it's just waiting to hit a club somewhere. Niagara Falls' newer comic con is on the weekend of my birthday. I'll probably hit the event, then take my new clutch out after dark.
I am so impressed with these entries! Beautiful work, Margherita. The colors and craft are perfect. Stylish and simple.
Wow. It has been so much fun to see everybody's entries. They are all so incredible. Prizes and winners will be announced tomorrow morning. Thank you for entering!