Posted by Peat
Gah! Meg is playing world traveler in less than a week, leaving me back in control of my own blog! Will I remember all the .html codes? How to fix that wonky image that keeps posting upside down? What to do about that YouTube video that won't embed right?
Stay tuned in the coming weeks for the (not very) exciting answers to these questions. Meg has left me with some pre-written posts, but I've got a bunch of really fun stuff of my own to put up, too.
Also, watch this space on Sept. 24. That's all I'm sayin'.
The time has come to announce the winners to the Favorite Character Contest. Sorry for the wait, but as much as I love having these contests, I HATE judging them. I want to give prizes to everyone, which is not logistically possible, given our limited stock of the rarer prizes. As always, I paced around my apartment debating each entry with Meg. Finally we reached a hard-fought decision. All the entries were fantastic. Thank you so much to everyone who entered!
And now, the winners …
Grand Prize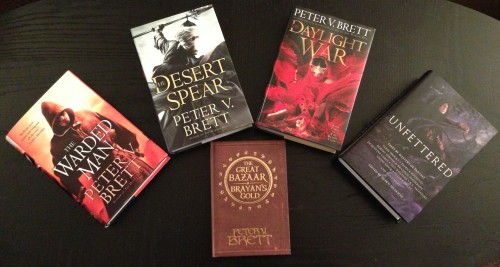 The Grand Prize is a full set of U.S. hardcover Demon Cycle books: The Warded Man, The Desert Spear and The Daylight War along with the U.K. version of The Great Bazaar and Brayan's Gold  as well as a copy of the Unfettered anthology featuring short stories by some of the best fantasy writers today, including a Demon Cycle tale by yours truly.
Winner: Malgorzata from Poland!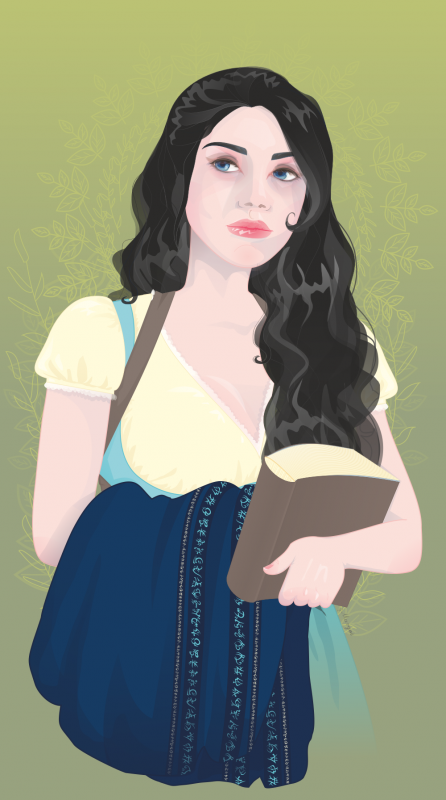 I was completely won over by this beautiful picture of Leesha as a young woman. There are so many little details that tell the tale of her character. The book and warded cloak, the measured expression hinting deep thoughts behind those ice blue eyes.
It's no secret that I had originally meant Leesha as sort of an homage to Belle from Disney's Beauty and the Beast. The love of books, the longing for more than a provincial life—she even has her own Gaston.  Of course Leesha (and Gared) have grown considerably from those original kernels of idea, but this image hearkens back to that, and it has a special place in my heart. It is now my iPhone lock screen image.
No, really: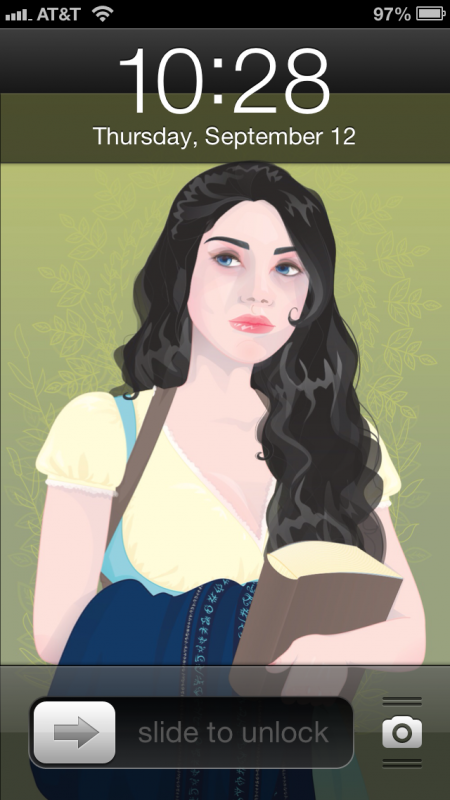 Thank you Malgorzata for entering! (I apologize for the error in your name. My first .html fail is not being able to get wordpress to accept that Polish l with a slash through it.)
1st Prize
The first place prize is a set of the brand-new B-format U.K. softcovers of The Painted Man, The Desert Spear, as well as the trade paperback UK export edition of The Daylight War and the super-rare special edition Great Bazaar pamphlet from Voyager. 
Winner: Margherita from Canada
Margherita has entered pretty much every contest I've ever had, and skewed the grade curve on all of them. It is obvious that a lot of work, preparation and editing goes into every entry, and it shows. Regardless of the medium I pick out of a hat, she (and a handful of other amazing people), have met the challenge and produced amazingly creative things, walking off with a lion's share of the prizes. So much so that we had to open a file just to keep track of who's won what so we don't give someone the same prize twice.
For her favorite character, Margherita chose to do a badass cosplay of Ashia, Jardir's warrior niece. Margherita assembled costumes and props and took multiple stills that she then photoshopped into one image. Amazing job. Click to enlarge to see awesome details like the wards on the shields. I'm not sure if Margherita meant all three figures to be Ashia, but I am choosing to see them as her kai'ting spear sisters Shanvah and Sikvah. All three will play a big part in The Skull Throne, with Ashia getting her own POV.
Thank you, Margherita!
2nd Prize
Second prize is a signed copy of the U.K. version of The Great Bazaar and Brayan's Gold. 
We have two 2nd prize winners. The first is Steph H. from Australia: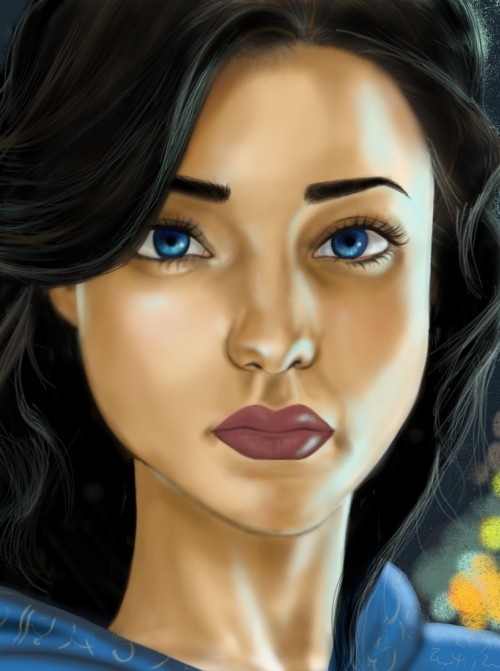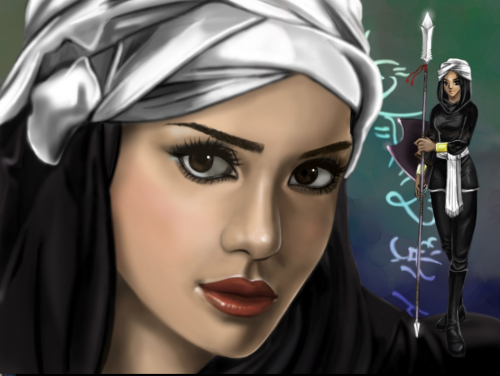 Steph entered two gorgeous images, Leesha and Ashia. I knew the moment I saw the first one that she was walking away with a prize, and then she came in with another just as fantastic. Even more amazing, Steph created the images in the Art Rage app on her iPad! You all know how much I love people who create their art on portable devices. Ahem.
Thanks, Steph!
The second winner is Katie Colbrook from the UK, submitted by Adrian B.: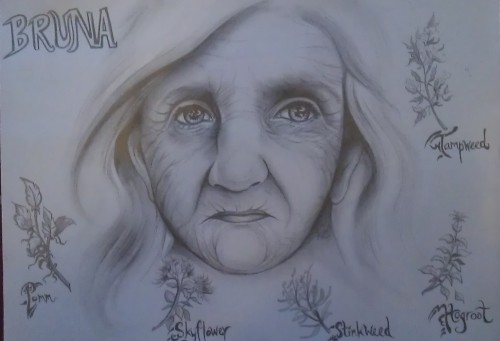 There were three Bruna entries in the Favorite Character Contest, which really warmed my heart. She's a favorite of mine, too. Someday I am going to write that Bruna novella I keep talking about. This gorgeous drawing of Leesha's mentor came out on top only after much debate. If you're interested, Katie has been creating some pretty amazing Demon Cycle fan art over the last couple of months, and her interpretation of Bruna doesn't disappoint. I love how she included drawings of the different herbs Bruna uses in the story.
Thanks, Katie!
3rd Prize
A set of warded dice. 
Winner: Nathan Wirth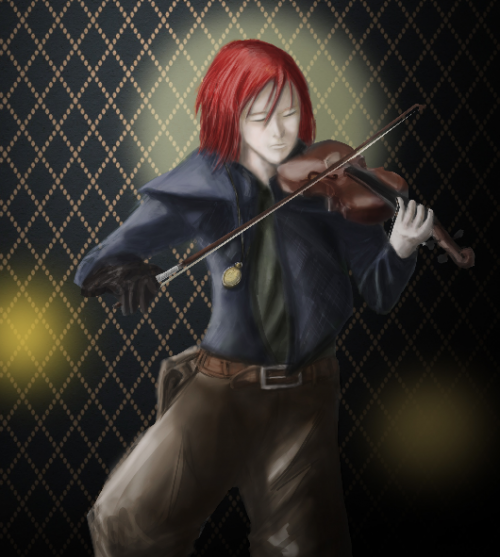 I love this striking picture of Rojer, fiddling his heart out, his injured hand covered in the hated glove Master Arrick forced him to wear for so many years. He's wearing his talisman medallion, and you can see from his expression, he's lost in the music. Awesome job!
Thanks, Nathan!
Everybody else who entered – we loved seeing your art! Email your mailing address to contest@petervbrett.com and I will personalize a bookplate to thank you!