Posted by Peat
Ever since I posted a sample chapter from The Skull Throne last week, I've been getting a lot of people asking when it will be out. It's wonderful and gratifying to see so many people interested in the series and excited about the new book.
Honestly, it keeps me going strong when I get tired climbing Demon Cycle mountain. And it IS a mountain, with close to 800,000 words written so far, and likely another three quarters of a million to go.
The enthusiasm makes me feel bad that I don't really have an answer to the question. When will the next book be out? Honestly?
Beats me.
Don't get me wrong. I am HARD at work on Skull Throne. Not a day goes by that I don't work on it in some fashion, either writing or mentally working at some story knot or another. It is in my thoughts constantly.
But it's a BIG book, shaping up to be the biggest yet, and that is after the monster 268,000 word Daylight War. And contrary to what some may think, I don't have it all in my head ready to type onto the screen. Oh, I know what is going to happen, but HOW it happens, and how the people involved FEEL about what happens—the real meat of the story in my mind—is something I need to figure out as I go.
I started formal work on Skull Throne after my world tour to promote Daylight War earlier this year, and so far the manuscript is at a little over 70,000 words. I have written 10 of a planned 32 chapters (a number that will no doubt change as the book evolves), and am adding an average of 5,000 words a week. Sometimes more, sometimes less, but 5K is about the limit of what I can do consistently each week while maintaining quality and also taking care of my other responsibilities, not the least of which is spending half the week as single dad to a kindergartener: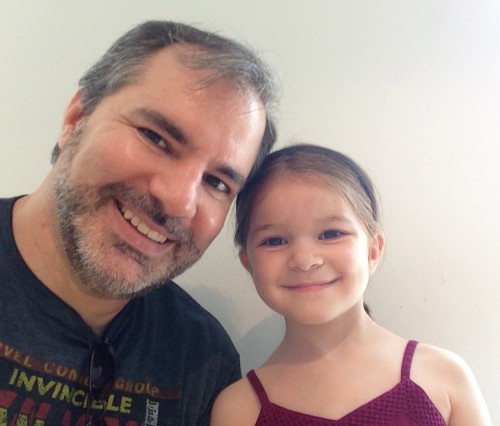 So, you do the math. If I have another 200,000 (ish) words to go, at 5K a week… Gonna be a while, under the best of circumstances. And this is barring unforeseen detours & derailments. Desert Spear was delayed when Cassie was born, and I lost several weeks of work on Daylight War when I had major surgery on my shoulder and arm and couldn't write. Such is life. Skull Throne is actually coming together MUCH faster than it's predecessors, thus far.
After the book is done, there will also be 6-9 months of beta-reads, edits and production before it's out on shelves/online. That puts us sometime in 2015. Ish. I wish I could be more precise, but I go where the art takes me.
But know that I am on it, and when the book is done, it will be the best book I can produce.
Honest word.