Posted by Peat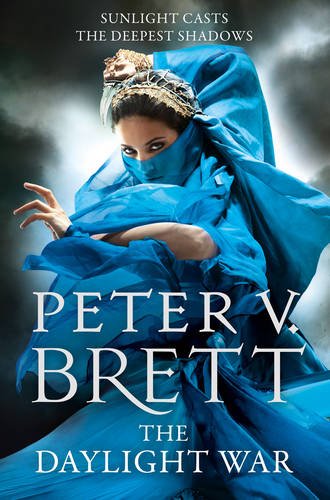 Huzzah! The Daylight War comes out in paperback in the UK today!
When the book first was released in hardcover back in February, I was already on tour before my author copies arrived. Usually I like to quality check a book (and hug it and tell it is precious to me) before readers see it on the shelves, but this time I had to wait until the UK leg of my tour. Thankfully, fans started tweeting pictures of themselves holding their copies, and let me live the thrill of holding it the first time vicariously through them. I was sick and lonely and traveling constantly, and I can't express how great it made me feel to see those pictures.
I expected to have the paperback in plenty of time, but DHL had an outdated address for me, and it is easier to just hit yourself in the head with a hammer than deal with DHL customer service to reroute a package. After two phone calls (one of which was just 55 minutes on hold listening to an endless loop of the refrain of "Ain't No Mountain High Enough"*), three emails, and four livechat sessions on their website, they basically told me to piss off and talk to the sender. I was all set to ask you all to send more pix to get me through.
Thankfully, Voyager sorted it at the last minute, and my samples arrived yesterday:
Aren't they gorgeous? Hardback, Trade Paperback, B-Format & Mass Market Paperback. It's like a nesting doll.
The problem is that now I am disappointed, because I was looking forward to pix of fans with their books. Feel free to send some! You can tweet them (@PVBrett), or mail to contest@petervbrett.com.
You can order copies from Waterstones, Amazon UK or pick it up at your local bookstore.