Posted by Peat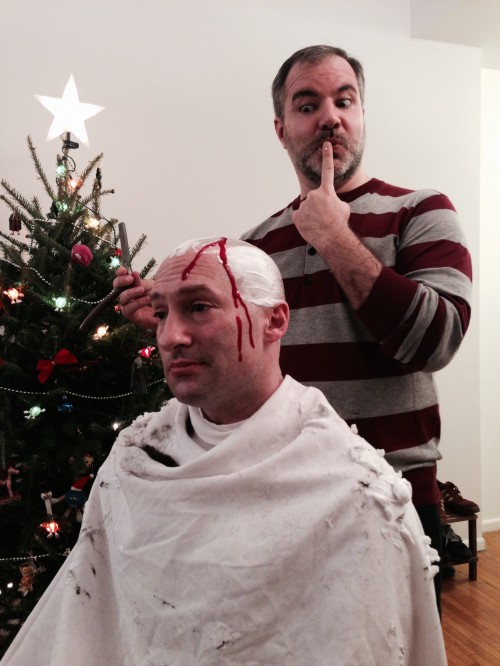 As you may already know, Patrick Rothfuss's charity Worldbuilders tends to do some pretty awesome things to raise money for Heifer International. Like many authors, I try to do something special every year to help out. Sometimes I have helped match donations, or auctioned off a seat at the annual Author D&D game, or worn a Hawaiian shirt. And always, I send signed books.
This year, however, I got roped into something extra special. My buddy Myke Cole called and said, "Hey, I promised Pat I'd shave my head as an act of whimsy if the fundraiser meets the $25,000 mark. Will you do the honors?"
"Sure," I said, "if I can do it with a straight razor."
"Er," Myke said. "Have you ever used a straight razor?"
"Nope," I said. "But I saw Bugs Bunny do it a bunch of times. How hard can it be?"
The result was frightening and hilarious. Pat actually called to try and talk us out of it. I dare you to watch the video and not LOL:
You can check out Pat's side of the story on his blog.
If you haven't already, go ahead and check out Worldbuilders right now. There are a lot of amazing opportunities to make a difference this holiday season.
Also, we will be announcing the winner for the clay demon contest sometime next week, so check back soon!