Posted by Meg
Peat and I sure had our work cut out for us this time around. There were so many incredible entries to choose from in this year's Warding Contest, it was so hard to pick winners. So … we are giving out more prizes … you guys deserve it!
Without further ado …
The Grand Prize goes to Jesse for the amazing, armor, bow, arrow and warded spray bottles!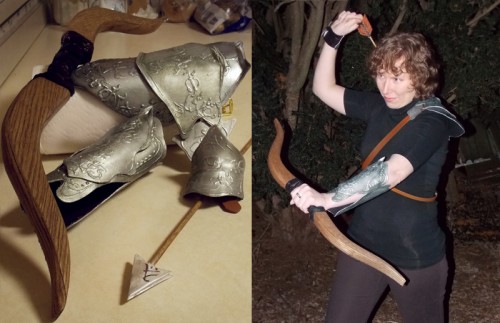 This entry was so impressive and obviously took a lot of hard work. Jesse created the armor from craft foam, using to heat to warp it. The wards are made from a puffy fabric paint, which was then painted over. The effect is awesome. I can see Wonda picking this set up and defending the Hollow throughout the night. Incredible job. You can check out the rest of Jesse's entry here.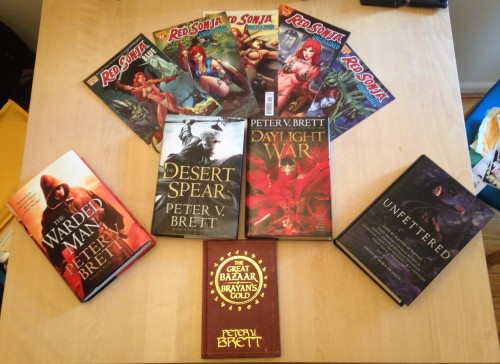 Jesse will receive the complete Peter V. Brett library: Red Sonja Unchained, Red Sonja Blue, Shawn Speakman's Unfettered Anthology, U.S. hardcovers The Warded Man, The Desert Spear and The Daylight War and the U.K. versions of The Great Bazaar and Brayan's Gold.
We had to split the first prize between these two amazing entries: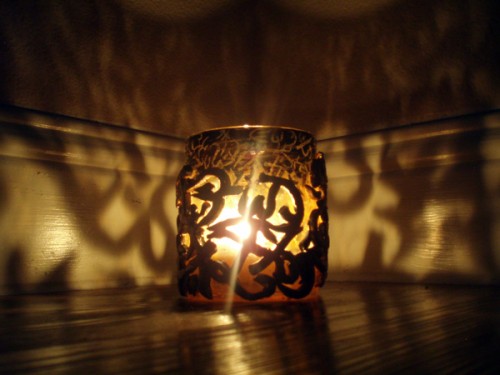 Kristen's Warded Candle Holder
and …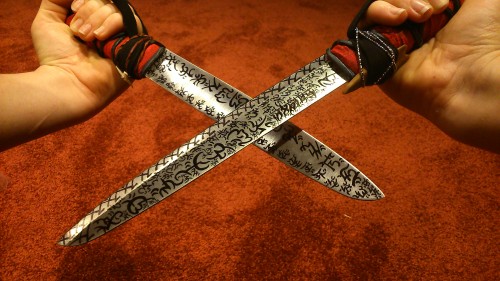 Jasmine's Warded Knives
We love how Kristen connected the wards and somehow created a beautiful piece of home decor in the process. With the light shining through the wards, the result is magical.
Jasmine's knives are the definition of badass. She made the hilts from recycled items from around her house, and the little objects attached are demon bones. Renna would be quick to pick them up in coreling confrontation. Check out Kristen's entry here and Jasmine's entry here.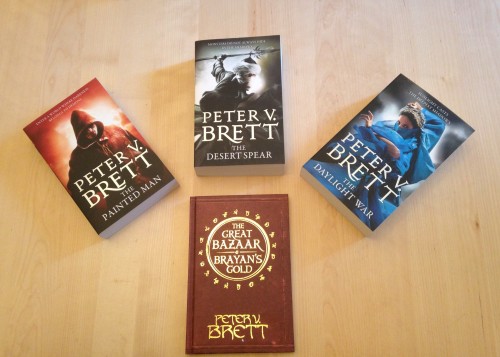 Both winners will receive a set of B-format U.K. paperbacks of all three Demon Cycle books as well as the U.K. edition of The Great Bazaar & Brayan's Gold.
And the second prize goes to Angela, the first entrant, with her extremely useful (and adorable) warded crib.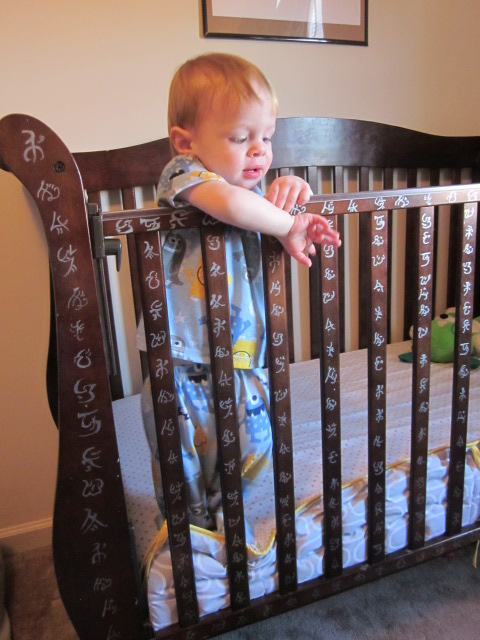 This was an awesome idea, and perfectly executed. Angela manages to project her baby throughout the night (from all kinds of stuffed animal corelings) and beautify her crib in the process. You can check out Angela's full entry here.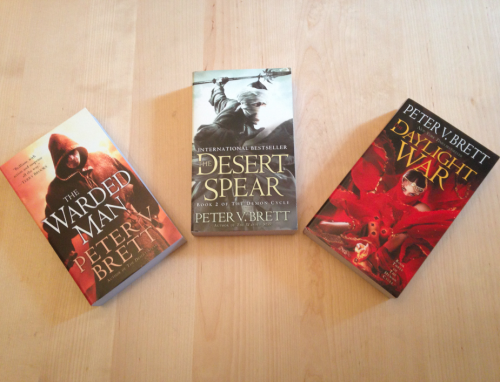 Angela will receive a complete signed set of U.S. paperbacks.
So, then we just HAD to add a third prize …
Zuza, with her warded grimoire, is the winner! 
The entirety of this book, from the leather bound cover to the burnt pages to the beautiful drawn wards, was perfect. A trusty guide for any Messenger on the road for more than a day. You can check out Zuza's full entry here.
Zuza will receive Graphic Audio's The Daylight War. This is like an audiobook, but with sound effects, music and a full cast who bring to life all the characters in the Demon Cycle.
Honorable Mentions
We just couldn't not acknowledge some of the other fantastic entires.
The first Honorable Mention goes to Marcin with his truly epic tattoo of the Warded Man fighting a demon at Everam's gate. It just doesn't get cooler than this: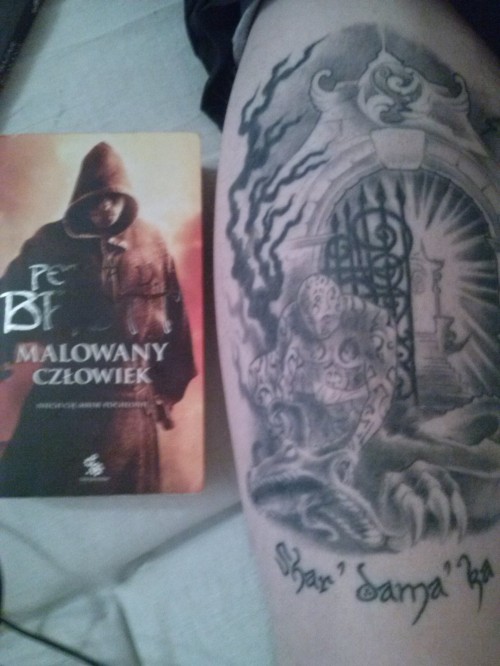 Marcin will receive a signed and illustrated copy of Brayan's Gold. You can check out his full entry here.
Another amazing tattoo. I can't get over how awesome the wards look. Congrats to Basti for this honorable mention!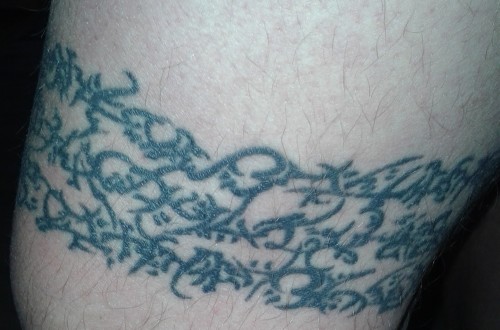 Basti will receive a signed German translation of The Daylight War. You can see his entire entry here.
And the last honorable mention goes to Julka, superfan from Poland, with her alagai hora set. She did a superb job of making them look realistic, complete with blood stains and wards. She also made a lovely warded shirt.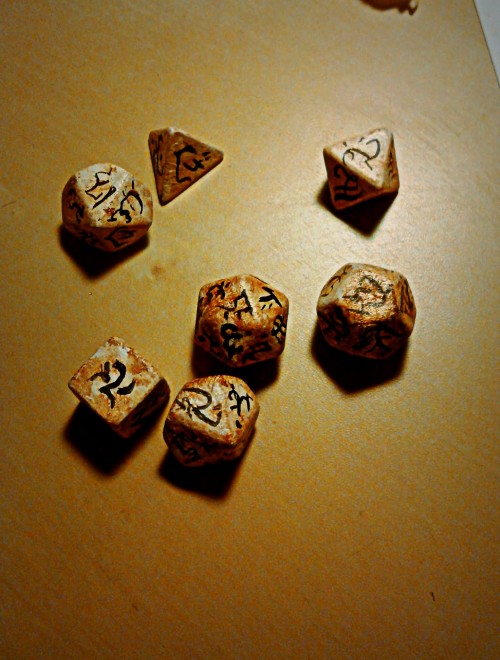 Julka will received a set of warded dice and a Daylight War pin. You can view her entry here.
Thank you to everyone who entered! If you would like a free bookplate, signed and personalized, just shoot us an email.