Posted by Meg
Yes, this is as awesome as it sounds. Chris (Mohawdib on DeviantART) created these beautiful portable ward pieces out of wood for a Christmas present for his girlfriend. With these guys, you don't have to fear the night ever again!
Here's what Chris had to say:
The portable Wards, inspired by Peter V. Brett´s Demon Cycle, were part of a Christmas present i made for my girlfriend. We are huge Fans of the Books and I had to try out my new Woodurning Iron.
The Beltbag is made out of Linen with printed Wards on it.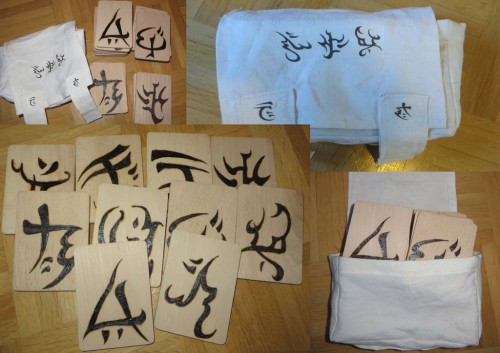 Ward Symbols copyright to Peter V. Brett and Lauren K. Cannon. 
I definitely want a set! The bag really completes the whole look in a really neat way, and the wards are just stunning. Thank you Chris for your talented post.