Posted by Meg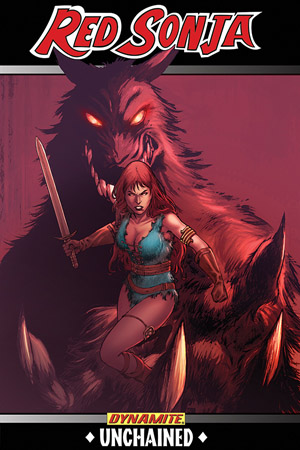 The Red Sonja: Unchained Trade Paperback is out and on sale as of yesterday! You can go ahead and order your copy over on Dynamite website or head out to your local comic shop (Peat's gonna try and sign all the copies in NYC). This edition includes all of Red Sonja Unchained for a complete beginning to end. The art is done by Mel Rubi, and it includes a special cover gallery featuring the original covers by Walter Geovani, this is an action-packed collection you don't want to miss!
Check out what Rosemary had to say on her blog Whatcha Reading:
In addition to the 5 issues, there's a cover gallery featuring all the covers from Geovani and Mel Rubi, who creates some amazing Red Sonja art. The book is a great companion for Red Sonja fans, and fans of sword and sorcery fantasy … 5 out of 5 metal bikinis.
Or check out this very nice review on Amazon:
So, whether you re acquainted with Red Sonja or are finding her here for the first time, this is a strong entry in the canon that delights on many levels. A very nice find.
Here's the synopsis from the Dynamite website to get you even more excited:
Peter V. Brett, New York Times bestselling author of The Demon Cycle, lovingly pays homage to the iconic fantasy heroine in a tale that recaptures the tone of Robert E. Howard's barbarian epics. An encounter with a devil leaves Red Sonja, the legendary swordswoman, bereft of her signature chainmail and fleeing murder charges, but a change of clothes and venue aren't enough to escape the guilt in her heart. Penniless and under pursuit, she has no choice but to accept a dangerous mercenary job: to search for the tomb of an ancient warrior queen. But the spirit of Queen Gheta lives on: a fierce and unnatural combatant who may be the only creature in history capable of defeating Sonja. Meanwhile, the demonic entity Bhamothes wreaks havoc in her homeland of Hyrkania and only the forgiveness of a murdered boy can end its killing spree!