Posted by Meg
Peat's third novella, Messenger's Legacy, will be released this November by Subterranean Press!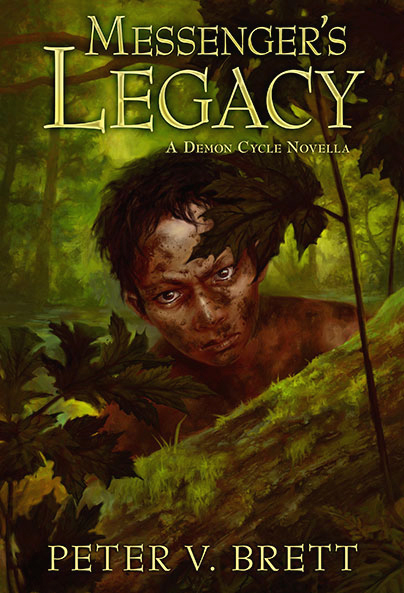 Set in the same world as the rest of the Demon Cycle books, Messenger's Legacy will be the next addition to the series before the release of The Skull Throne. The completed book clocks in at 136 pages. The short story "Mudboy", published in Shawn Speakman's Unfettered Anthology was essentially a chapter of the now completed novella.
Subterranean will be releasing two editions of the book: trade and limited. The trade will be a fully clothbound hardcover edition. There will be 750 signed and numbered limited edition copies. These books will be leather-bound and will include an exclusive dust jacket and frontispiece.  All artwork and dust jackets will be done by Lauren K. Cannon.
You can pre-order both the trade edition and the limited edition of the book here!
Want to know more? Check out the synopsis below.
Humanity has been brought to the brink of extinction. Each night, the world is overrun by demons—bloodthirsty creatures of nightmare that have been hunting the surface for over 300 years. A scant few hamlets and half-starved city-states are all that remain of a once proud civilization, and it is only by hiding behind wards, ancient symbols with the power to repel the demons, that they survive. A handful of Messengers brave the night to keep the lines of communication open between the increasingly isolated populace.
Briar Damaj is a boy of six in the small village of Bogton. Half Krasian, the village children call him Mudboy for his dark skin. When tragedy strikes, Briar decides the town is better off without him, fleeing into the bog with nothing but his wits and a bit of herb lore to protect him.
After twenty years, Ragen Messenger has agreed to retire and pass on his route to his protégé, Arlen Bales. But for all that he's earned the rest, he has no idea what to do with the rest of his life. When he learns Briar, the son of an old friend, is missing, Ragen is willing to risk any danger to bring him safely home.
Messenger's Legacy will be amply illustrated by Lauren K. Cannon, with different dust jackets for the trade and limited editions, nine full-page interior black-and-white illustrations, and a full-color frontispiece exclusive to the limited edition.
Also, check out Fantasy Faction's blog post on Messenger's Legacy over here.
And don't forget to enter the Create Your Own Skull Throne Cover Contest to win the ultimate Demon Cycle book collection. Contest ends August 18, 2014.