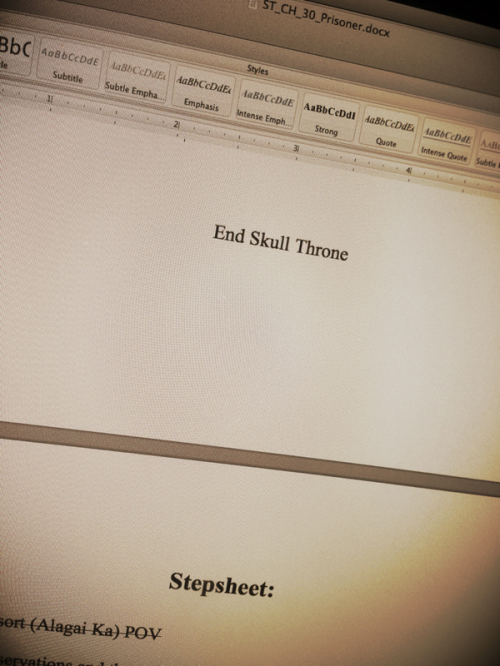 So as noted on the twitterface, I finished the first draft of the 4th book in the Demon Cycle, The Skull Throne late Sunday night.
A week AHEAD of schedule.
Unheard of, I know.
I've been trying to collect my feelings about it since. Books are big projects. Well, my kind of books, anyway. They are these big abstract things that I have to slowly, methodically, impose order upon. They are not things that can be done in a rush, but rather a long series of short periods of intense concentration, followed by recharge time. And if that doesn't meet a deadline, oh well. It's done when it's done, and not before.
The first book, the Warded Man, was a hobby project that I never actually expected to sell. I had all the time in the world to chip at that stone. I started it in late 1999, and many, many rewrites later, it was accepted by my agent Joshua Bilmes in 2006.
Warded Man first accepted draft final stats: 7 years writing, 182,278 words, 650 pages.
Joshua sold the series to Del Rey soon after. I promised them I could finish The Desert Spear in 9 months. Boy, was I wrong.
Desert Spear first draft stats: 17 months writing, 231,331 words, 795 pages.
I figured I could do at least as well on Daylight War, but there was a lot of upheaval over those years, and things did not go as planned.
Daylight War first draft stats: 26 months writing, 242,965 words, 823 pages.
But things were normalizing by the time the Daylight Tour wound down. Cassie was back in school, Lauren and I found a great apt in Manhattan, and the success of the book gave me a bit more confidence that I could really make this my full time career and still provide a secure future for my family.
The blocks were all in place, but I had gotten soft. I was 40 and overweight. I hadn't written a word for months, too busy touring to even think about it. So I joined a gym set a plan for myself. Minimum of 5000 words a week and two gym visits. No excuses.
Not a lofty goal. A reasonable one I could stick to. The gym was a learning experience, but I am now averaging 5 visits a week, and since stepping it up 5 months ago, I've lost 18lbs and counting.
As for the book…
Skull Throne first draft stats: 16 months writing, 226, 318 words, 833 pages, 5148 average words per week.
And they're good words. I know I say this about every book, but I am really proud of how this one came out. No doubt there will be changes to strengthen this or cut that in the second draft, but I think I got this one in an arm-bar.
So the book is formally submitted to Random House, and is currently being read by my agent, editor, and beta-readers (if you have to ask, you can't be one, sorry). They will give me feedback which I will incorporate into a second draft before the holidays start. Then it goes into production, where I will will have a copyedit pass, and a page proof pass before the final file is sent to print.
I am confirming publication dates, and will post that info as soon as I have it, but we're looking at late March 2015 in English, with translations to follow shortly thereafter. Ish.
As for the cover, it is just about done, and it is AWESOME. Another Larry Rostant masterpiece. I can't wait to show it off.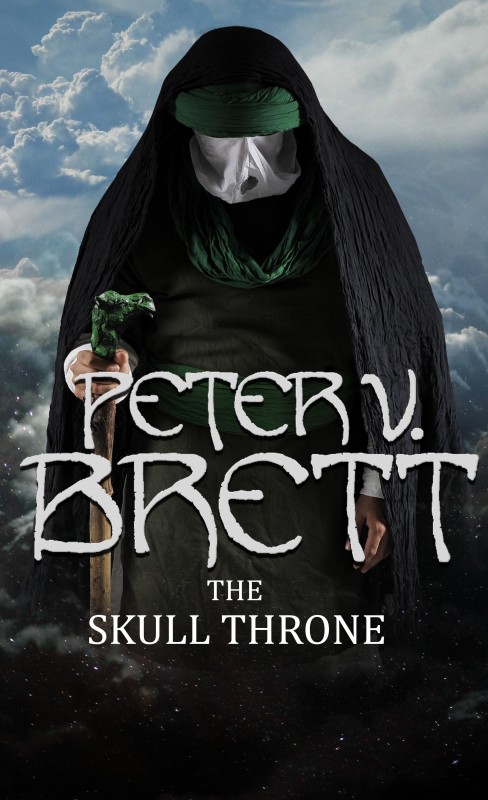 In the meantime, have you thought about entering the Skull Throne Create a Cover Contest? What would you like to see on the cover? Make your own and submit a pic of it to contest@petervbrett.com by August 18 for a chance at some great prizes. Like this one that arrived today from Wojciech in Poland (right).
All mediums welcome. Make macaroni art if that's your thing. Can't draw? Cut out pics from magazines and collage it. Don't know what a magazine is? Cosplay! Camera shy? Cheat and hire an artist! The eBay value of the prizes alone might turn you a profit.
But I digress…
I took Monday to goof off, play video games, read comics, and eat garbage. Now it's back to work, starting with copyedits from my upcoming Demon Cycle novella from Subterranean Press, Messenger's Legacy. The book will star Briar from Mudboy, Ragen and Elissa from Warded Man, and Derek Gold from Brayan's Gold. Even Arlen sticks his head in. It ties directly into events in Skull Throne, so it's a great appetizer. Trade cover and interior illustrations by Lauren Cannon. On sale this November. Pre-Order now!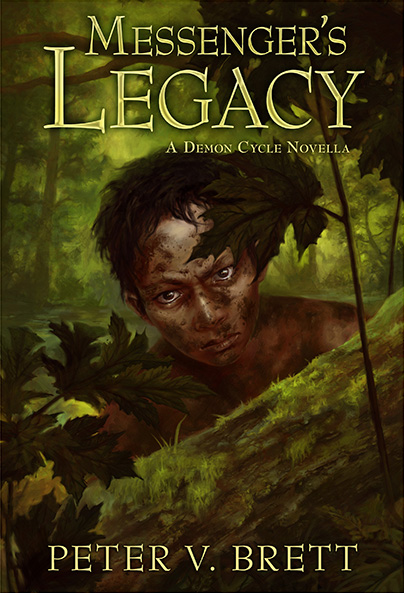 After copyedits, I have to sign 750 tip-in sheets for the leatherbound limited edition: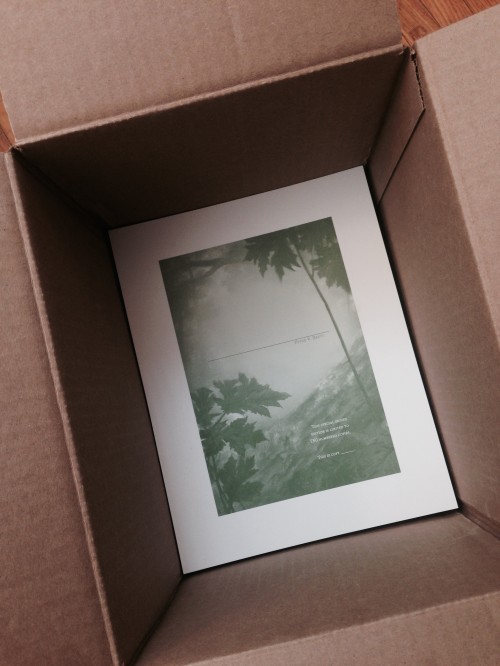 Then I'm spending a few days with my favorite superhero,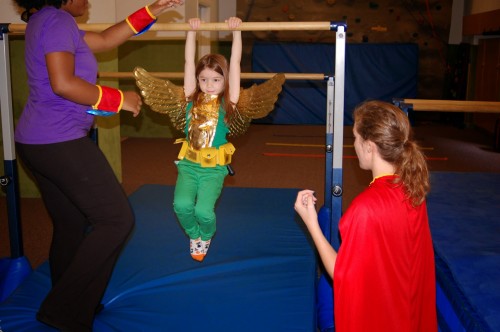 Before running off to to London with Lauren,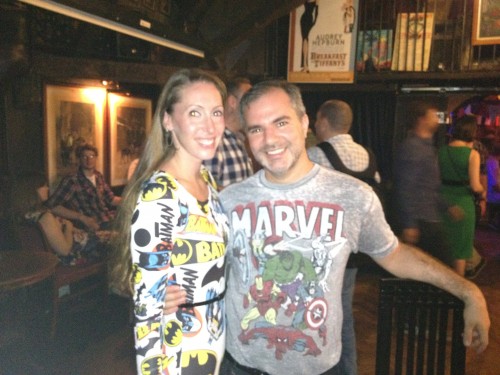 for the Grim Gathering next Wednesday Aug. 13,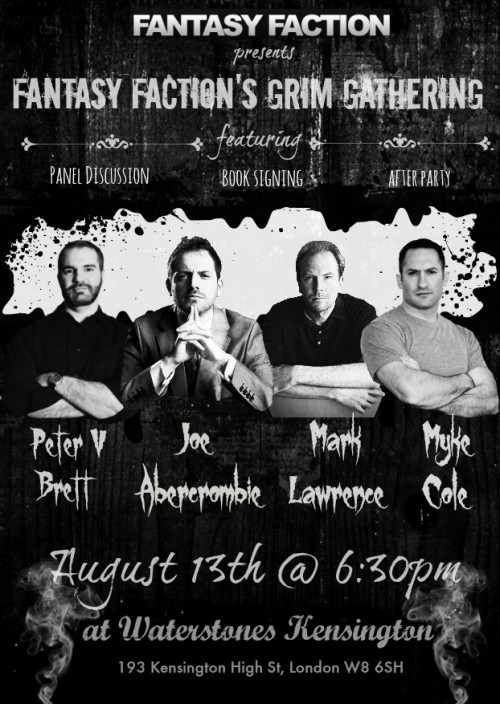 my London Forbidden Planet Signing Thursday Aug. 14,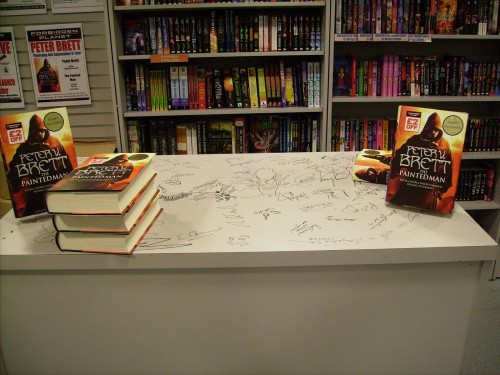 And Worldcon (AKA LonCon), August 14-18th, 2014 at ExCel London Dockland, U.K., where I will be doing panels with awesome authors, signings, and scheduled hangouts:
Autographing 5 – Peter V. Brett
Friday 10:00 – 11:00, Autographing Space (ExCeL)
Literary Beer
Friday 13:00 – 14:00, The Bar (ExCeL)
The Road Goes Ever On and On: the Wheel of Time
Saturday 12:00 – 13:30, Capital Suite 14 (ExCeL)
With the final volume, A Memory of Light, published last year, and a Hugo nomination for the entire series this year, this seems the perfect time to look back on twenty-four years of the Wheel of Time. Our panel will reflect on Robert Jordan's achievement in creating the series, its runaway success, Brandon Sanderson's completion of the work, and the lasting influence of WoT on the fantasy genre.
Adam Whitehead (M), Wesley Chu, Harriet McDougal, Maria Simons, Peter V. Brett
Meet the New King, Same As The Old King
Saturday 19:00 – 20:00, Capital Suite 14 (ExCeL)
Why is fantasy so often about making the world better by getting the rightful king on the throne, rather than by doing away with monarchy entirely? Where are all the revolutions? Why don't wizards use magic to create indoor plumbing and better infrastructure?
Juliet E McKenna (M), Joe Abercrombie, Peter V. Brett, Rjurik Davidson, Delia Sherman
These Are Not the Elves You're Looking For
Sunday 18:00 – 19:00, Capital Suite 14 (ExCeL)
To what extent do modern fantasy novels play on readers' familiarity – and fatigue – with genre tropes and conventions? For example, Andrzej Sapkowski, Justina Robson and Raymond E Feist have all created worlds in which the traditional Tolkienian model of benevolent, wiser-than-thou elves is challenged in various ways. Is deconstruction a new trend, or has genre fantasy been doing it for decades? How do recent debates about the cultural specificity of the English-language fantastic, and the lack of relevance of this aesthetic for audiences outside North America and the UK, affect our views of these issues?
Kate Heartfield (M), Peter V. Brett, Sarah Rees Brennan, Patrick Rothfuss, Yves Meynard
For updates, check out the Appearances page.
In closing, I leave you with this gem I just found in the archives. My buddy Matt drew this pic of me and Cassie for back in 2008 while I was finishing Desert Spear. The more things change…