Posted by Peat
Hey, all. This is a fairly long post. If you're just interested in getting to the meat of it and finding out how to get your greedy hands on an advance copy of ST, skip to the end!
Sorry I've been a bit quiet on the blog lately. It's not that I haven't had a lot to say. I have no end of blog posts half-written in my head, but I've been pretty busy finishing up book 4 in the Demon Cycle, The Skull Throne, and I wanted to keep my eye on the ball. I meant to do a big blog post the day it was finished, but it was right before the holidays, and I'd shoved much of the rest of my life aside for the last push. Lots of IRL things needed attention.
There was also, to be honest, a bit of an emotional crash. It's expected, on completion of a project this big. It's happened with every one of my books, yet it never fails to catch me by surprise.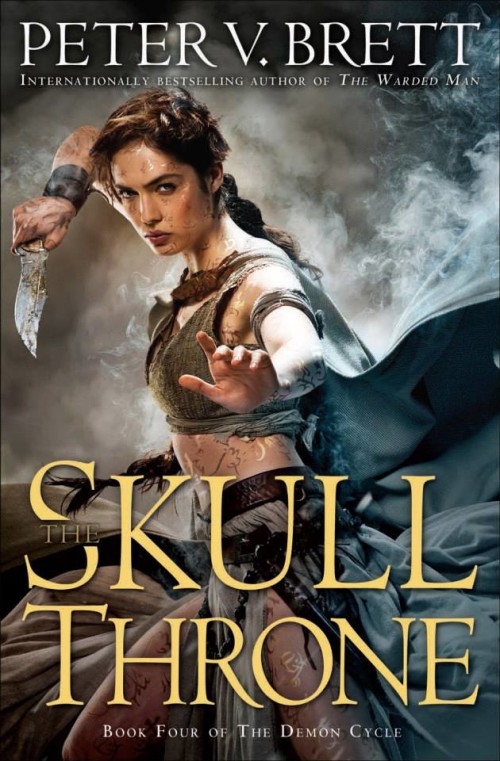 How big a project are we talking? The first draft of The Skull Throne finished in August was 226,318 words, which came out out to around 850 double-spaced pages in MSWord. This took me 58 weeks of writing, where I wrote an average of 5148 words a week.
Skull Throne was the fastest, most organized book I have ever written. I had a firm plan going in, and accompanied it with a lifestyle change. After The Daylight Tour, I found myself out of shape, overweight, exhausted, and out of discipline. My cluster migraines were worse. I dared to step on the scale one day, and realized I had to make a change.
So I joined the gym down the street, and made a commitment to eating better, sleeping properly, and working out 4 mornings a week. Change was slow to come, but I kept at it. The discipline paid great dividends. Regular cardio helped reduce my headaches, and I found I was much more prepared for a focused afternoon writing session, with a word count goal set at 1000 words.
I've always found 1,000 words to be my sweet spot. It's modest enough that there is no good excuse not to reach it every day, but substantial enough that if applied over time, it builds up swiftly. Distance running rather than sprinting. Constant, steady creative pressure.
The end result was dropping 22 pounds and finishing a draft of book 4 I was super proud of. At 58 weeks The Skull Throne was written considerably faster than the 97 weeks it took to write The Daylight War, which was still faster than the three years it took to write The Desert Spear, which was WAY faster than the 7 frickin' years it tool me to write The Warded Man.
That said, I knew even then there was a lot of work ahead. Keeping that slow, steady pressure led me to cut some creative corners in the first draft, knowing I would have to fix them later in the rewrite. And indeed, when my agent, editor, copyeditor and beta readers read the manuscript and came back to me with their comments, they confirmed the weaknesses I was already aware of, and pointed out some new ones. I did a full re-read myself, coming up with even more areas I could improve.
Four grueling months later, the final draft is 236,217 words. You might ask what took so long, if all I did was add less than 10,000 words. But there was a LOT more to it than that. Sections needed to be cut and replaced with better ones. A bunch of important things happening off panel needed to be brought onto the page, adding new chapters and a new POV. Several chapters needed a full gut renovation. The timeline had to be reworked, so events on far flung corners of the map synched up properly. Even up into the copyedit, I was making significant changes. I doubt there's a paragraph that wasn't changed in some way from one version to the next.
But the book is SO much better for it. Skull Throne has gone from a book I was really proud of to a book I can't fucking wait for everyone to read. Everything is how I want it to be. Inevitably, there will be readers who are annoyed because the story didn't go in the direction they anticipated, or because I focused on one character over another, but I think there is more than enough awesome to go around in this book, no matter who your favorite character is. Seriously. Shit gets real as we ramp up for the finale in book 5.
The Skull Throne will go on sale in the US & Canada on March 31, 2015. The UK version just ten days later on April 9. I will touring in both countries at time of release. Tour details evolving here. The final manuscript has been sent to my international publishers for translation, but we do not have firm release dates for any translations yet. We'll let you know when we do.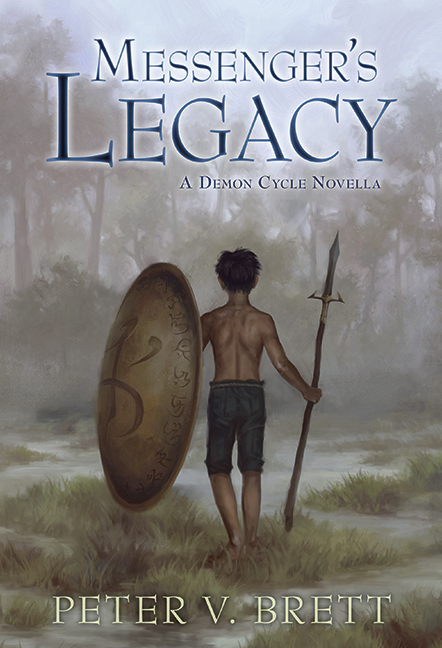 In all the agony and ecstasy over Skull Throne, it's easy to overlook its companion novella, Messenger's Legacy, which helps introduce one of the new POV characters in Skull Throne, the half-Krasian Briar Damaj. You don't need to read one to enjoy the other, but like The Great Bazaar & Brayan's Gold did for Desert Spear, I think Messenger's Legacy adds a new layer that can really enhance reading of Skull Throne, and highly recommend reading it as an appetizer.
The Meat of It
Speaking of which, I have a whole box of US and UK printings of Messenger's Legacy, and come the end of January, I should have a neat stack of Advance Read Copies (ARCs) of Skull Throne, two months before it is published.
Would you like one?
It's been a while since we held a big fan art contest and I can't think of a better way to kick off the new year.
Please note that "fan art" need not mean "drawing". Sculpture, cosplay, homemade action figures, Lego dioramas, dramatic reading/reenactment, music, decorative baking/crafts, naughty limericks, tattoos, interpretive dance, and just about any other creative medium are all valid. Play to your strengths. You can even cheat and convince a ringer to do the work for you. I hear lots of creative people can be motivated by the promise of sexual favors.
Contest Guidelines
1. Choose a favorite scene from any of the Demon Cycle books.
2. Create a piece of fan art (see above definition) you feel represents that scene in some way.
3. Submit all entries to contest@petervbrett.com with the subject line "Skull Throne ARC Contest". If you have a physical entry, you can send it to:
Peter V. Brett
P.O. Box 1022
New York, NY 10276
4. Contest open globally, enter as many times as you like.
5. Entries will be accepted until my birthday, February 8, 2015. February 9 I will pick winners, and prizes will ship ASAP.
Prizes
Grand Prizes will be ARCs of The Skull Throne.
First prizes will be deluxe leatherbound copies of Messenger's Legacy with cover art by Vincent Chong and beautiful color and B&W interior art by Lauren K. Cannon.
Second prizes will be hardback US trade copies of Messenger's Legacy with cover art and B&W interior illustrations by Lauren K. Cannon.
Third prizes will be UK hardback copies of Messenger's Legacy, gorgeously designed to look like beaten Messenger journals.
Readysetgo!