Posted by Peat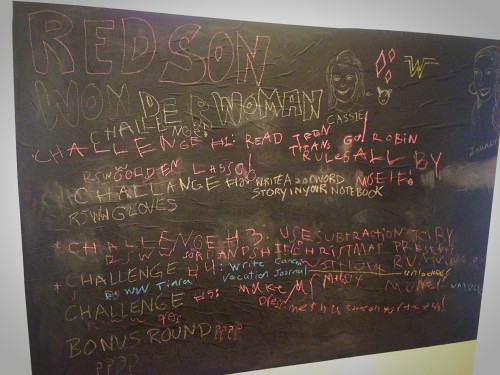 One of the reasons I love having fan art contests is because I love making fan art myself. It wasn't THAT long ago when I was doodling Spider-man or Batman or Drizzt D'Urden while I should have been paying attention in class (or let's face it, a dull meeting during my many office years). Art has always been a hobby of mine. Writing, too, but that one took off unexpectedly and became my job.
These days my art skills have gotten a bit lax, so in the brief respite between copyedits and page proofs of The Skull Throne (On sale March 31!), I took on a little fan art project of my own. It's proven a delightful mental vacation for me. It's nice to stretch creative muscles in another medium, with no professional pressure. I did this for fun and love, and what better reason could there be?
You may be familiar with the costume challenges I do with Cassie. Cass loves cosplay, and the iOS version of the videogame Injustice has these challenges to acquire new characters wherein you need to win five parts of the character's costume or equipment in order to unlock the character and make it playable. I saw this as a fun way to create a reward-based motivation to encourage her to do things like try new foods (even green ones!), help with household chores (who knew a 6 year old could unload the dishwasher?), or practice her reading/writing/arithmetic. At the same time, I got to spend quality time with my kid on a fun craft project about a subject we both love: superheroes.
You can't get more win than that.
We've done a bunch of them now, Wonder Woman, Catwoman, Batgirl, Hawkgirl, each seeming more elaborate than the last. Most recently, after she was Wonder Woman at NY ComicCon this year, Cassie requested that next year she wanted to go as Red Son Wonder Woman.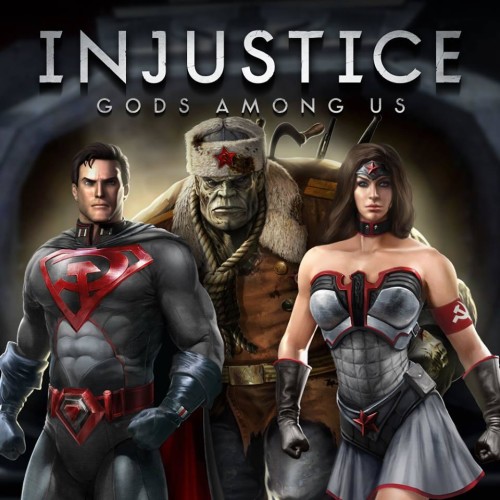 The character is one that grew out of the Superman: Red Son comic book, which tells the "what if" story of the spaceship that brought Superman to Earth landing in cold war USSR and growing up as a communist. It's an interesting exploration not only of Superman and his values, but also gave birth to alternate versions of many classic DC characters.
All of this is meaningless to Cassie, of course. She just knows that Red Son Wonder Woman is in Injustice, and kicks ass in an awesome gray armored dress: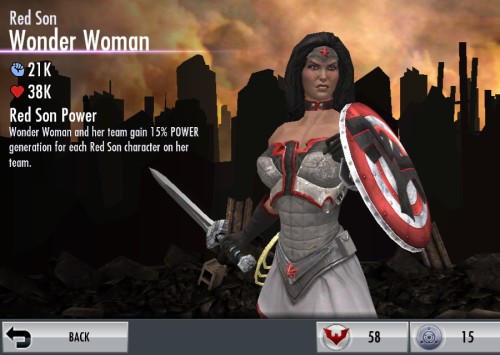 It seemed like something we had all the time in the world for, but then her best friend was having a superhero costume birthday party, and suddenly we were on the clock.
After watching Lauren make so many costumes for ComicCon, and doing a few of these challenges myself, I was beginning to get the hang of these projects. First we went to the costume shop and picked out props. Cheap generic plastic sword, shield and tiara.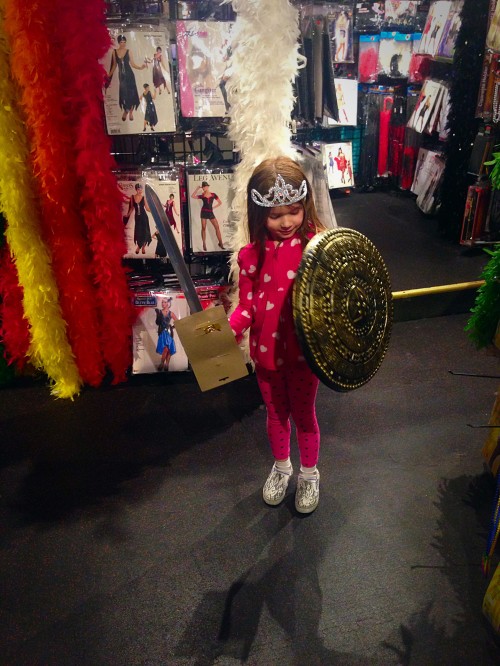 The first attempt to paint the shield was kind of a fail. Cassie's poster paints didn't stick to the plastic, and were flaking off by morning: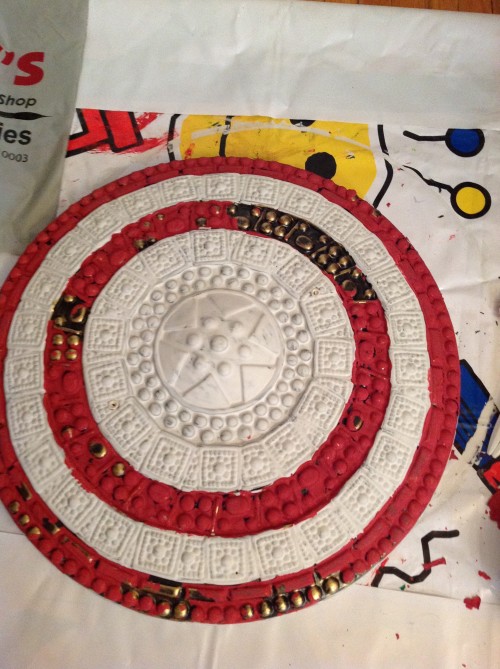 I went to the costume shop, but they were out of the shield C picked, so I went with a plastic Spartan 300 shield, thinking I could use the Lambda as a visual guide to eyeball the eagles and keep them centered properly, then hit the art supply store for proper acrylic paints and brushes/sealant: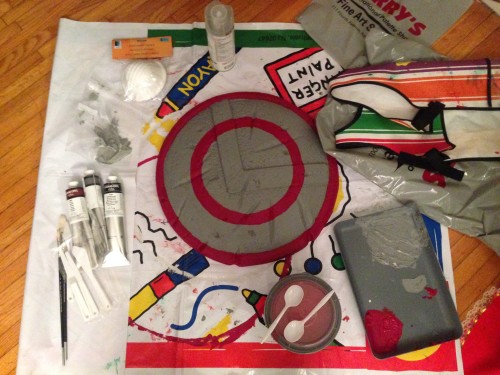 I'm pretty thrilled with the end result: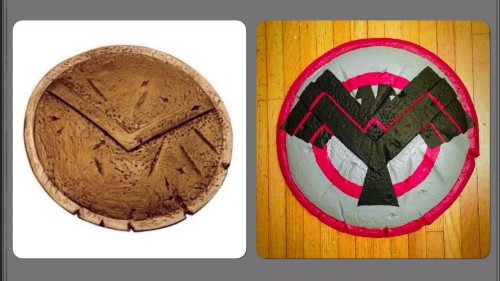 Meg found a gray dress that was a good foundation, and Meg and Cassie made the chest armor and bird from craft foam while I set about making the accessories. Cassie and I made the tiara together.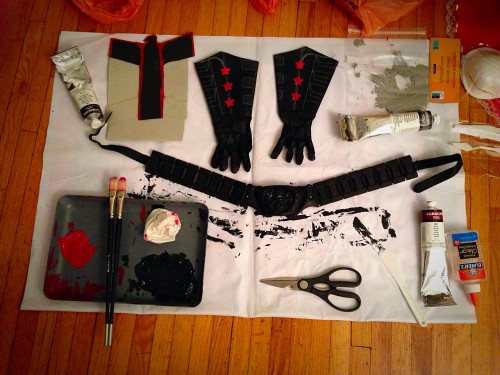 Cass has tiny hands, and the smallest black gloves I could find at the costume shop were these batman gauntlets. I cut the spikes off and glued on red stars: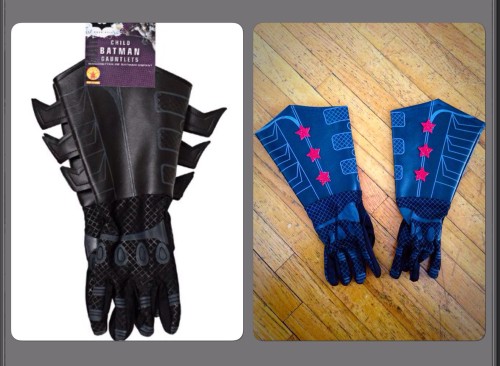 Batman came through again on the belt, where I turned an $11.95 utility belt into, if I say so myself, a boss RSWW swordbelt.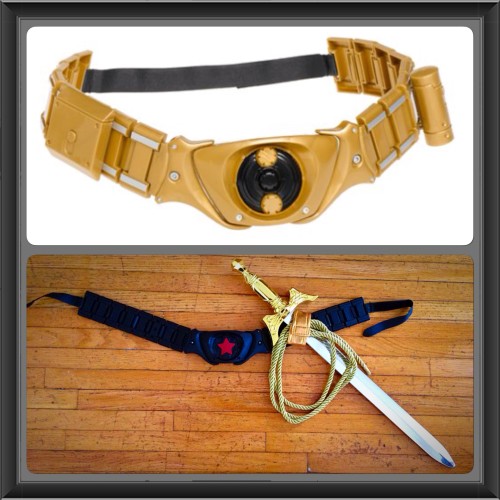 I realized when I removed the excess plastic belt pieces that I could use one of the screw holes to attach the gold lame velcro ring that holds the lasso and serves as sword loop. This involved a lot of searching to find just the right screw: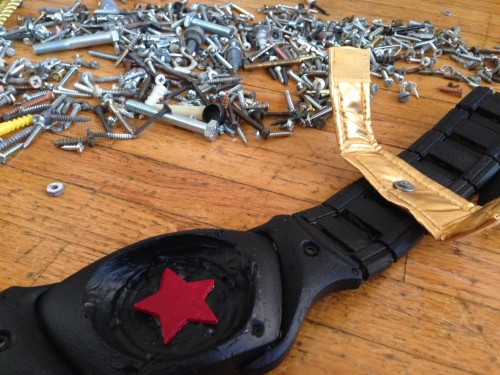 Full costume assembled: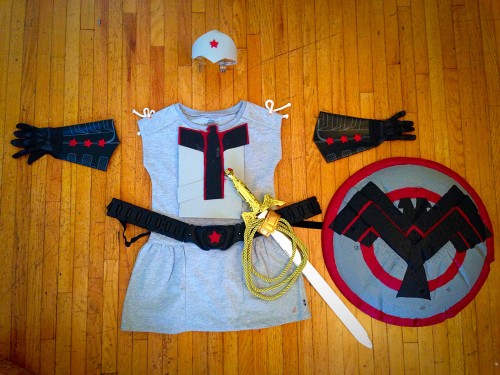 And the dress rehearsal: