Posted by Meg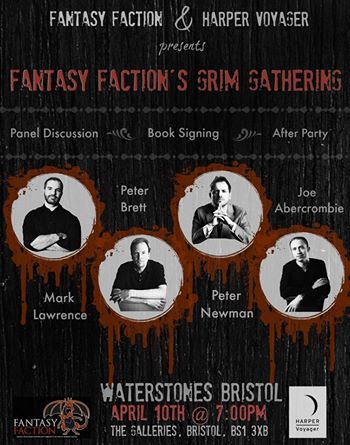 Once again, Fantasy Faction and Harper Voyager UK are hosting the Grim Gathering! This time in Bristol! Going to be in the area? RSVP to their Facebook event and head over to their website for tickets and updates.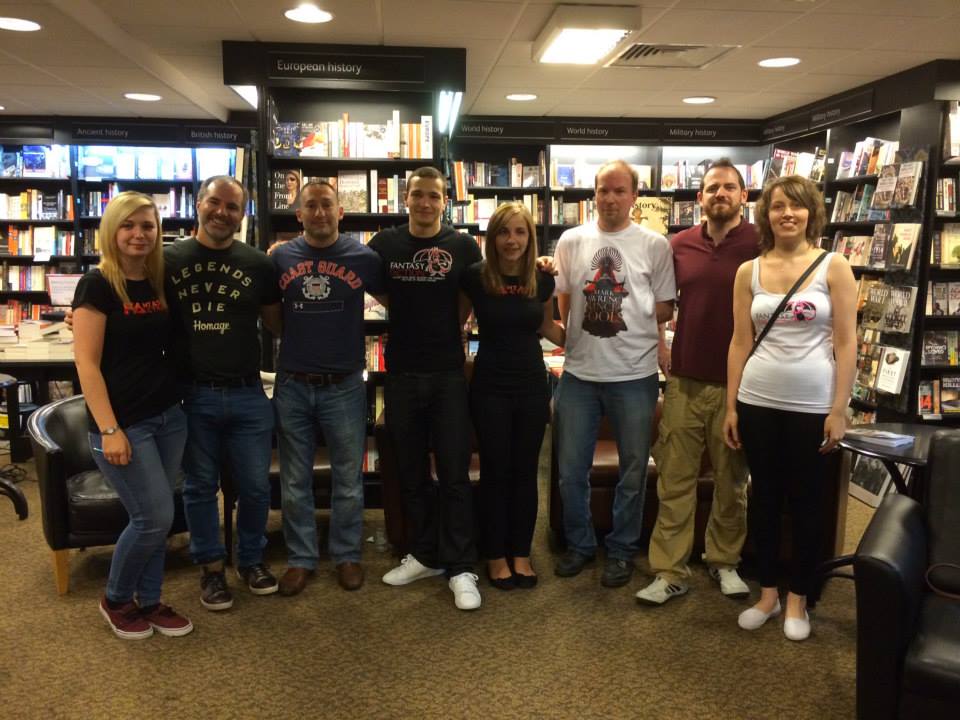 This year's Grim Gathering will feature Mark Lawrence, Joe Abercrombie and Peter Newman along with Peat and Marc Aplin of Fantasy Faction. Join them for a lighthearted Q&A at Waterstones in Bristol on April 10th at 7:00pm.
A note from Marc Aplin of Fantasy Faction:
On Friday April 10th 2015 at Bristol Waterstones from 7:00pm 4 of Grim, Gritty, Grey Fantasy's best authors will be gathering. That is Mark Lawrence, Peter V. Brett, Joe Abercrombie and Peter Newman all in one place to discuss the fantasy genre on a panel, talk with fans, sign their books and grab a couple of drinks at a local pub afterwards.
—
If you want to witness a lighthearted discussion on the authors and their books, this is for you!
If you want to get books signed, this is for your!
If you want selfies with an author: This is for you!
If you want to see Peter V. Brett as 'King of the Prawns': This is for you!
—
We know Bristol will be quite far away for some of you, but don't let that put you off: We have an idea to make it even more worth your while.
What many Fantasy-Faction'ers are planning to do is catch a train / drive down to Bristol (some from as far as Scotland! Others from London, etc), book a cheap hotel and spend the evening at the Grim Gathering (about 7pm until 10:30pm) then, the next morning, Fantasy-Faction are planning to have a big breakfast get together in the morning where we can chat about the night before, talk about Fantasy-Faction, the Fantasy Genre and so on (note: there is no obligation to stay over, it is just to make it more worth your while if you do). We'll probably meet about 8:30am until 9:00am and end up talking and drinking coffee for hours…
Most hotels are within walking distance of the town centre so you can feel free to go shopping or head home whenever you like
Check out all of Peat's 2015 tour dates in the Appearances section. You can also RSVP on Facebook to all events!
The Skull Throne will be released on March 31st in the U.S. and April 9th in the U.K. and Australia with translations to follow. Pre-order the U.S. edition from Random House today.