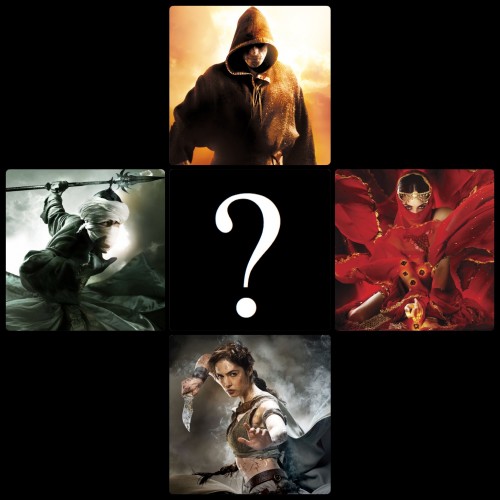 Happy New Year!
Have I missed my window to say that? Probably, but it's my first personal blog post of the year. I would make a new year's resolution to write more of them, but in order to make a resolution you need resolve, and my resolve is to spend as much of my writing time as possible on The Core. If you want a real Peephole in My Skull, follow me on twitter @PVBrett. In the meantime, Karen has been doing a bang up job of turning my social media stream of consciousness into coherent blog posts.
The Core will be the fifth and final installment in the Demon Cycle series. There has been a lot of confusion on this point, so let me be clear: When I originally sold the Demon Cycle, I submitted it as a five book series. I provided a completed first book, a half-written and intricately plotted sequel, stepsheets for books three and four, and notes for the conclusion in book five.
Random House bought the first three books, not unwisely hedging their bet in case the series did not sell well. So I had sold three books of a five book series. And I wasn't stupid. If the sales writing was on the wall, I would have to wrap in three. I made a secret emergency plan in case that happened. A version that would have basically cut all the Krasian POVs other than Jardir. That is a version of the series I never wanted to write, and would only have done under personal duress.
This hedging led SF news blogs to report the Demon Cycle selling as a trilogy instead of a quintet. When international publishers saw the initial buzz and made their own offers, many of them did so under the same misconception. The misinformation snowballed.
While some parts have grown and others shrunk in the telling, the five book series you have been reading still follows my original outline quite closely. It is the series as I originally envisioned it, wrapping up all the major storylines, one way or another.
If you like my books, fear not! I will continue writing in the Demon Cycle world for the foreseeable future. I have plans for several novellas, a couple of stand-alone novels, and—the thing I am most excited about—a new demon cycle series.
The new series will be a fresh start in a lot of ways, sifting the things I love about the setting away from much of the accumulated baggage of the original series. I'll get to explore new characters, expand the borders of the map, and put a welcome mat out to new readers who haven't read the original series. There's a teaser for the new series out now. More on that in a bit.
No matter which POV you love, you will see them carrying the story forward in The Core. No more flashbacks. The POV characters from the novels and novellas are all properly spread and moving in sync now, as I had planned all along. They will pass the baton back and forth smoothly as things race toward the series climax.
When will that be?
Well, here's the thing. In order to do all of the above, The Core needs to be a pretty big book. To do it in a way that is satisfying and I take pride in, it needs to be even bigger. The Core stepsheet alone is 120 pages, and some parts of it are still rough.
2015 was not my best writing year. I was doing a lot of touring early in the year to promote the launch of The Skull Throne, and have learned that I cannot write effectively while on tour. The love/hate relationship I have with travel and public speaking is in full force, draining the emotional energy I normally channel into my books. I took the time instead to read other people's books, which was a delight.
So didn't begin The Core in earnest until mid-year, and even then there was monthly travel, throwing off my rhythm. I also had a lot of big-picture problems to solve before I could move ahead planning some sections and storylines. This used a lot of time and mental processing power while adding minimal word count. All in all I wrote an average of 2,776 words a week. I also didn't get to the gym enough, ate too much travel food, and gained back some of the weight I worked so hard to lose.
But this, too, is a pattern, and one I planned for. The same thing happened after my tour in 2013, leading me to shed 23 lbs and write an average of 5,148 words a week in 2014. That is my plan for 2016, as well.
But when I look back at the results of those 2,776 words a week, I am really happy with how The Core is progressing. At 52,637 words, I have 10 completed chapters—including the prologue—out of a planned 31. Most of the major story knots are untied. I know whose POV to use and what needs to happen in each chapter from now until the end. I am confident the climax will stick the landing.
But there obviously remains a lot of writing to do. By way of comparison:
The Warded Man: 163,589 words.
The Desert Spear: 236,228 words.
The Daylight War: 257,612 words.
The Skull Throne: 236,217 words.
The Core: X words, where X > any of the above.
How much > ?

In the end, the story works that out for itself. Still, 2017 publication seems likely. I would prefer early in the year, but I can't guarantee it. This is the last book in the series and there may be unforeseen complications as I try to wrap everything up.
Many eager readers offer to beta-read for me, in hopes of a sneak peek. I appreciate the sentiment, but I play these things pretty close to the cuff, especially with the final book. No one beta reads until the first draft of a book is done, and even then only the handful of people on an absolute need-to-know basis (this includes you, mom). I don't like people's fingers in my soup.
However, if you're interested, I have posted the completed Chapter 1 of The Core on the Excisions page. As I hinted earlier, it provides a touch of insight into what will come afterward:
http://www.petervbrett.com/excisions/
Thanks to everyone for reading and for all the incredible support over the years. You are my true friends, honest word.
We'll be running some warding and fan art contests in the coming weeks, so I have an excuse to send out signed books and other goodies. There are a LOT of exciting Demon Cycle media announcements to come in 2016, so stay tuned.
I'm traveling less this year, but there are still some cool appearances coming up, including Germany, Poland, Estonia and Australia. You can find details here: http://www.petervbrett.com/appearances/
Looking forward to a great year.