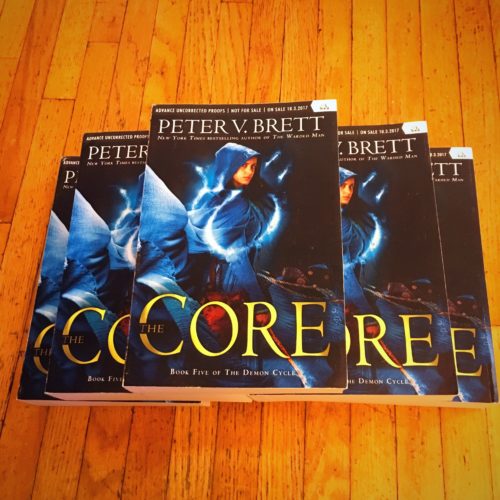 Huzzah! At long last, Advance Reader Copies of The Core have arrived. I'm keeping two for myself, but the rest are going to lucky fans.
But how to decide? I always have this dilemma. As always, there are only a handful of these precious uncorrected proofs, and hundreds of thousands of readers eager to get their hands on them. After being told by my lawyers that knife fighting was too great a lawsuit risk, I settled on fan art contests, and we've had some truly stellar ones over the years.
But I know art isn't everyone's area of expertise, so with that in mind I am setting the bar low. Really low. Like 2nd grade book report low.
Get ready for the Demon Cycle Diorama Contest! The perfect way to while away a few summer hours. The rules are simple:
1) Make a Demon Cycle themed diorama. It can depict a favorite scene or setting, or be an original idea using Demon Cycle characters.
2) Snap a picture.
3) Send the picture to contest@petervbrett.com by Friday, July 28, 2017. You're free to post elsewhere as well, but only entries sent to the email address will be counted towards the prizes.
4) That's it! Contest is open worldwide. Best entries will win ARCs that will ship in the first week of August, a full two months before the book is out. Runner up prizes will include Demon Cycle warded jewelry from Badali Jewelry and sweet hard cash… in the form of Hollow County klats and coinage from ShirePost Mint.
Don't know what a diorama is? Here are some simple guidelines.
di·o·ram·a
noun
a model representing a scene with three-dimensional figures, either in miniature or as a large-scale museum exhibit.
a miniature movie set used for special effects or animation.
You're welcome to run with the traditional shoebox variety, or get as big and bold as you like. Here are some suggestions on how to start: WikiHow: Fun ways to make a diorama
and a useful video:
Not artistically inclined? I will do a couple random ARC giveaways over the summer as supplies allow.
Prefer to just pre-order the real thing? You can order the US print book of The Core here or you can order the audiobook of The Core here. International pre-orders should be available in your local market.
Start saving shoeboxes! Good luck!