Hoo boy!
I thought this was going to be a pretty easy contest to judge. Oh, what sweet summer child am I. Really, I should have known better.
I try to set the bar low for these fan art contests. I want to encourage creativity, but I also want the largest number of readers to feel it's worth their while to give it a shot, even if their skills are amateur. Longtime fans know I am an easy touch when it comes to adding more contest prizes when I can't decide on winners.
So I kept it simple, and did a diorama contest. As any savvy second grader knows, an easy way to get around writing a long book report is a showy visual aid, like a shoebox diorama. Heck, you don't even need to read the whole book. Just study a key scene, and recreate it with plastic army men, construction paper, and magic markers. You can do it the night before, and the teacher will love it.
And she did, until Amy Frenner presented her TWELVE page book report next, unveiling the fucking Sistine Chapel in a shoebox as her visual aid. Christ, did she use painted toothpaste caps make the lampshades?!
But I digress…
My point is, there can be a WIDE range in the quality of dioramas. I learned this the hard way. I figured anyone with a bit of time/will could enter, and I was looking forward as much to the rushed overnight jobs as the Sistine Chapels.
Plus, I had wrangled a whopping TEN giveaway ARCs of The Core, so odds of getting a prize were pretty good.
Or so I thought.
In the end, there were over 50 entries, forcing us to really dance to just keep up posting them all with the fanfare they deserved. Maybe I'm getting old and sentimental as the series ends, but I choked up at more than a few of them. Some were simple and joyful, made from whatever toys were at hand, like little doll improv groups. Others had such attention to detail that I found them incredibly touching and personal.
If you want to check out all of them, the coolest page on the web right now is the Diorama Contest Facebook album.
So really and truly, from the bottom of my heart, THANK YOU to everyone who entered. You have made the last couple of weeks an absolute joy, and I plan to thank you all personally in addition to this post.
But alas, the hard reality of limited Core ARCs has forced me to pick some favorites. Originally we were only going to give away 10 ARCs, but with some help from my UK publisher, I'm thrilled to say that we've managed to add in a few more. And thank the Creator we did, because I don't think I could pick just ten.
So who won?
Grand Prizes
Advance Read Copies of The Core. Winners in no particular order:
1) John Stewart – The desecration of Kaji.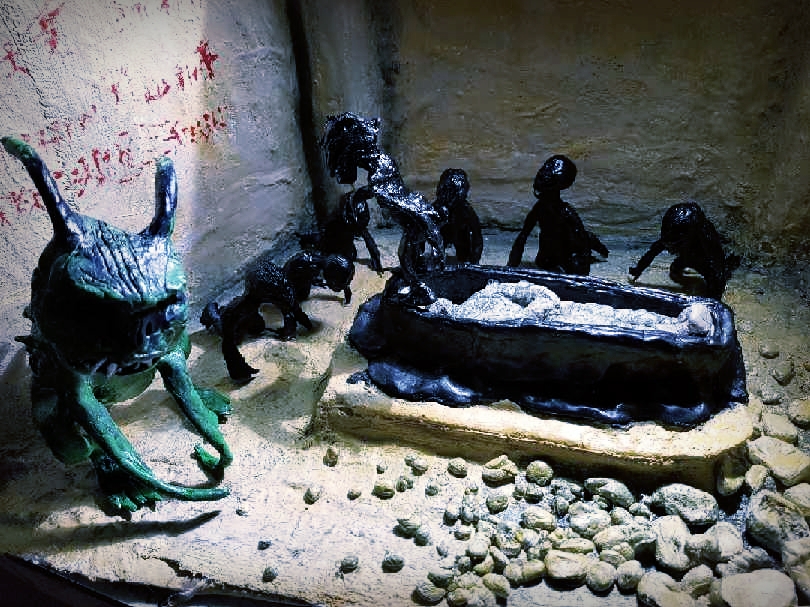 For over a week, John kept showing me pictures of figures molded out of plain white clay. Mind demons. A mimic. A coffin. I knew what was coming, but nevertheless, I was blown away when I saw his entry. In a scene out of Skull Throne, Alagai Ka squats over the mummy of his ancient enemy, Shar'Dama Ka Kaji, the Mind Hunter, who killed so many of his brethren in the last demon war.
This scene takes place right before all the Core breaks loose.
One detail I love is the sarcophagus coated in the oily black feces of the lesser mind demons. Minds can control their inner-magic so utterly that they can excrete a substance that is magic-dead and can effectively disable wards of protection. Gross, but super-effective.
2) Natasha Pearson – Krasian Maze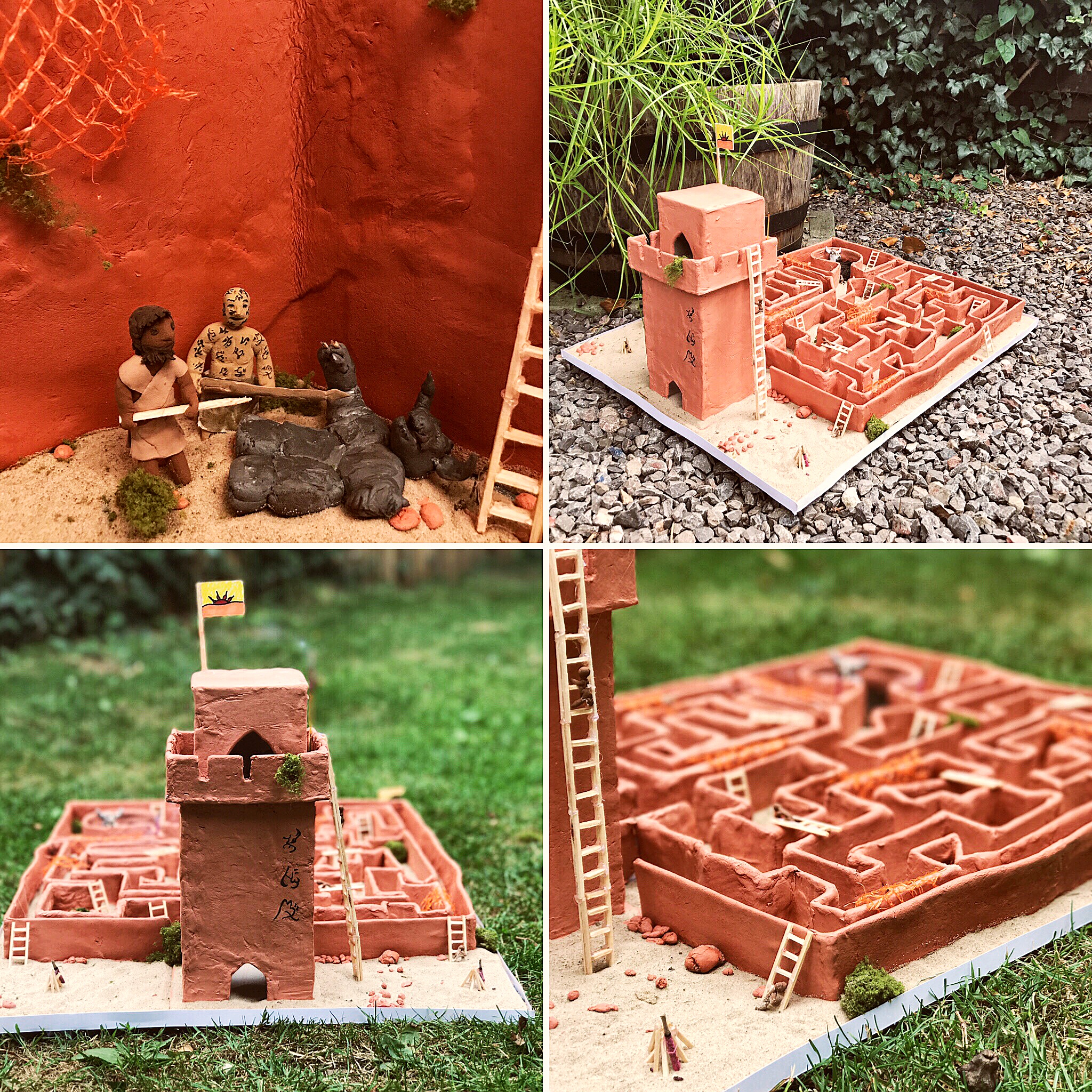 Natasha submitted this entry, but it was only through the heroic teamwork of three amazing ladies, Natasha, Marsha and Lisa, that the Maze of Krasia from The Desert Spear came to life. It is gorgeous and full of amazing little details as Jardir and Arlen try their damnedest to destroy One Arm, the rock demon that has terrorized Arlen since he was a boy. Blow up the pictures in the album and look close. You won't regret it.
3) Carol Hinds – Mimic Demon attack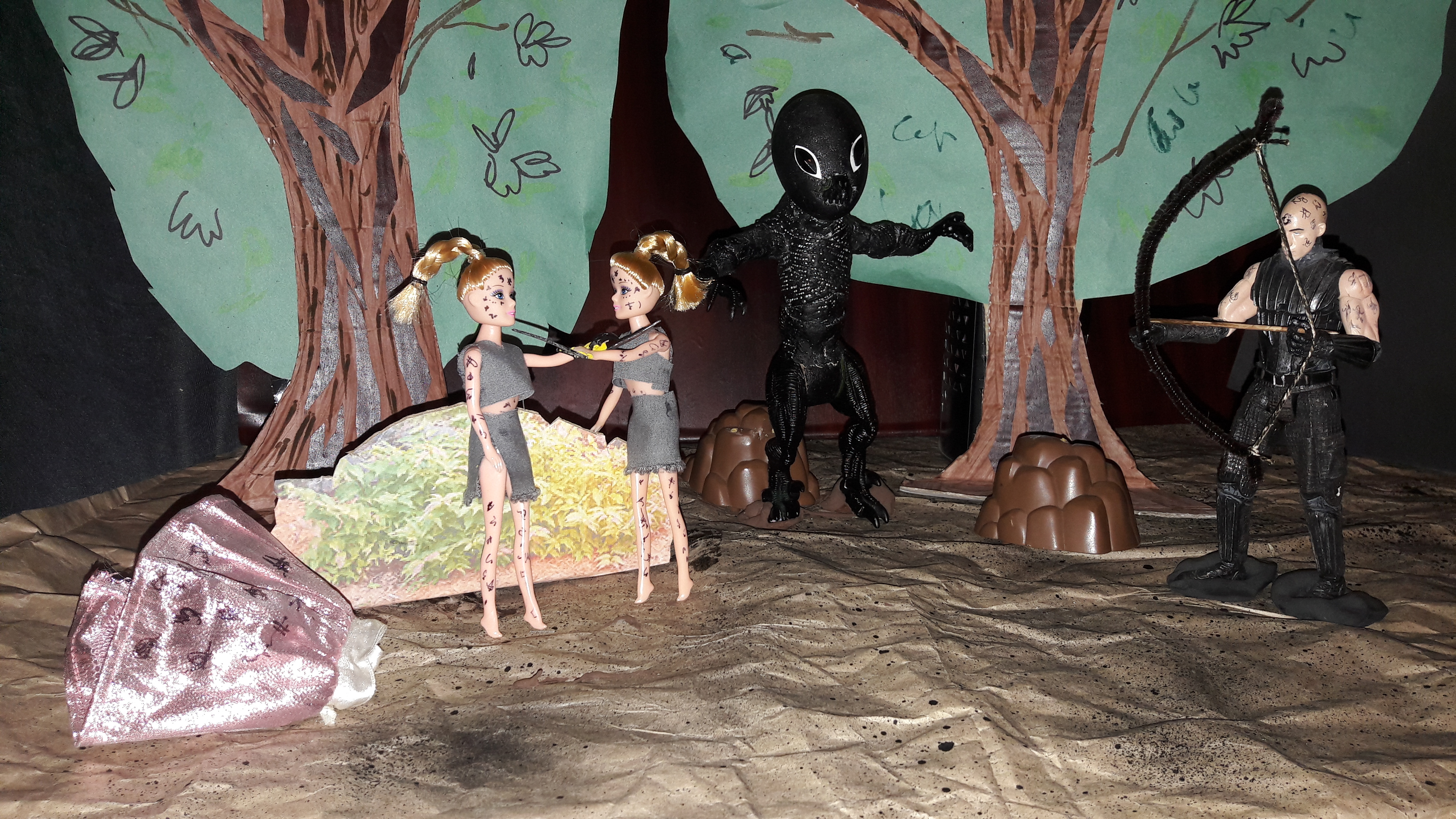 Carol is OGT. She's been winning these sorts of contests for years, and it's obvious why. Here she's depicted the scene at the end of Desert Spear where the mind demon confronts Arlen, commanding its mimic to take Renna's form. Unable to tell who is who, his indecision handicaps him against the demon prince. The Rennas are warded Barbies, and Arlen is a Riddick action figure. the demon and Renna's discarded cloak of Unsight are handmade.
4) Ben Mills – Animated diorama (click image to see the animation)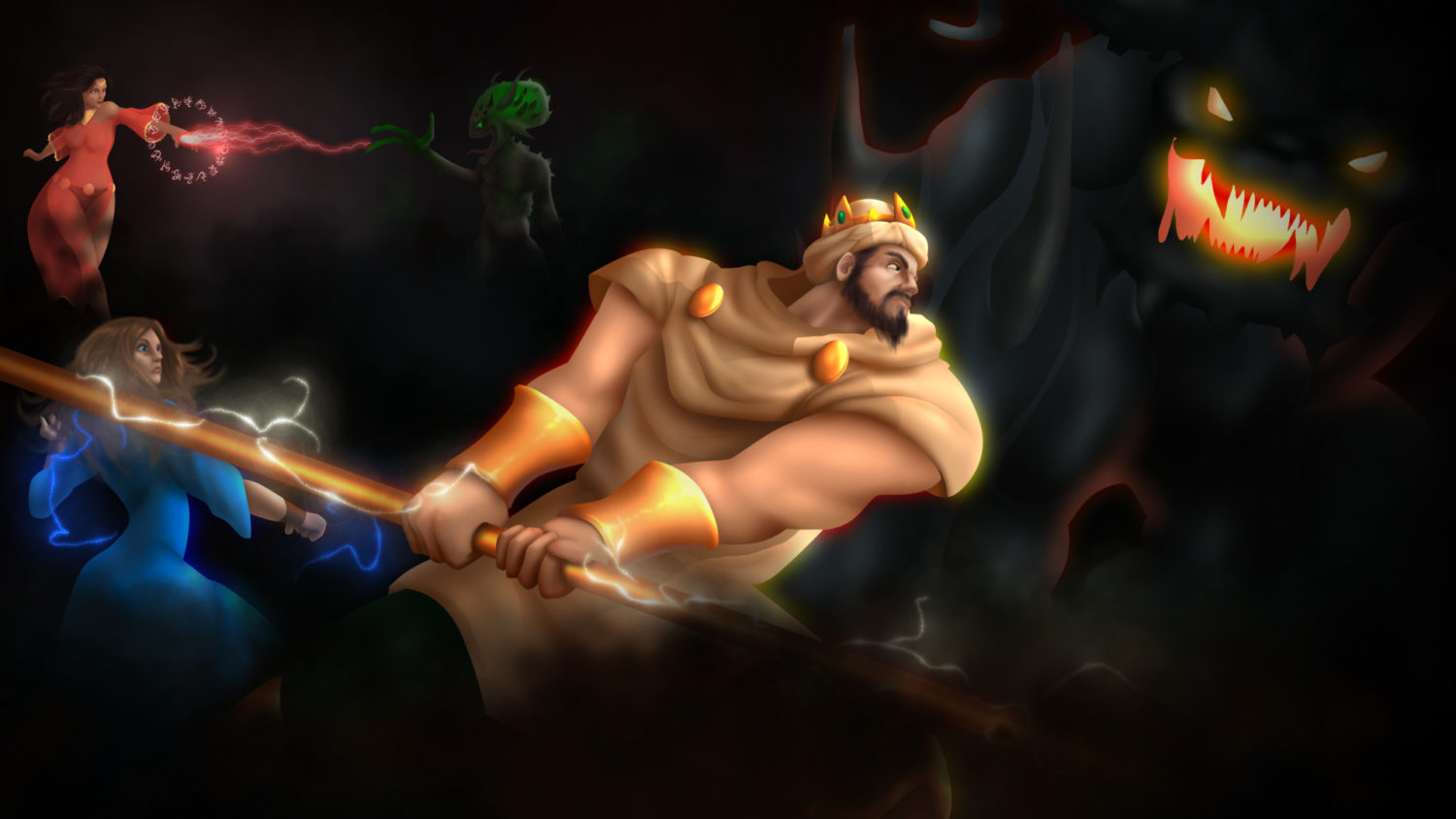 Ben Mills hit it out of the park with his 3D digital diorama, showing another scene from Desert Spear, where Inevera and Leesha must unite against a mind demon while Jardir battles its mimic bodyguard. The still image is amazing enough, but take a minute to play the animated one. It's brill.
5) Danielle Opp – Inevera at Hannu Pash
Danielle is another frequent contender in these contests, and she did an incredible job depicting young Inevera called to Hannu Pash in Daylight War, watching the dice light up for the first time to change her life forever. Amazing use of a Bratz doll.
6) Sophia John – Arlen & Renna's Demonic Delights
Sophia wowed us with her creativity in going off script. In her diorama she depicts Arlen and Renna on a fictional date to a restaurant specializing in demon meat. There is a Lady & the Tramp charm to the pictures that is just delightful.
7) David Doumeng – Arlen/One Arm sculpture
I could tell you all about the making of this Warded Man entry of Arlen crippling One Arm by Dave Doumeng—who is a total boss. But why should I when you can read it in his own words? If you're interested in seeing creativity at work, read all the pic captions in Dave's retrospective facebook album.
8) Sophia Ungermann – Light-up maze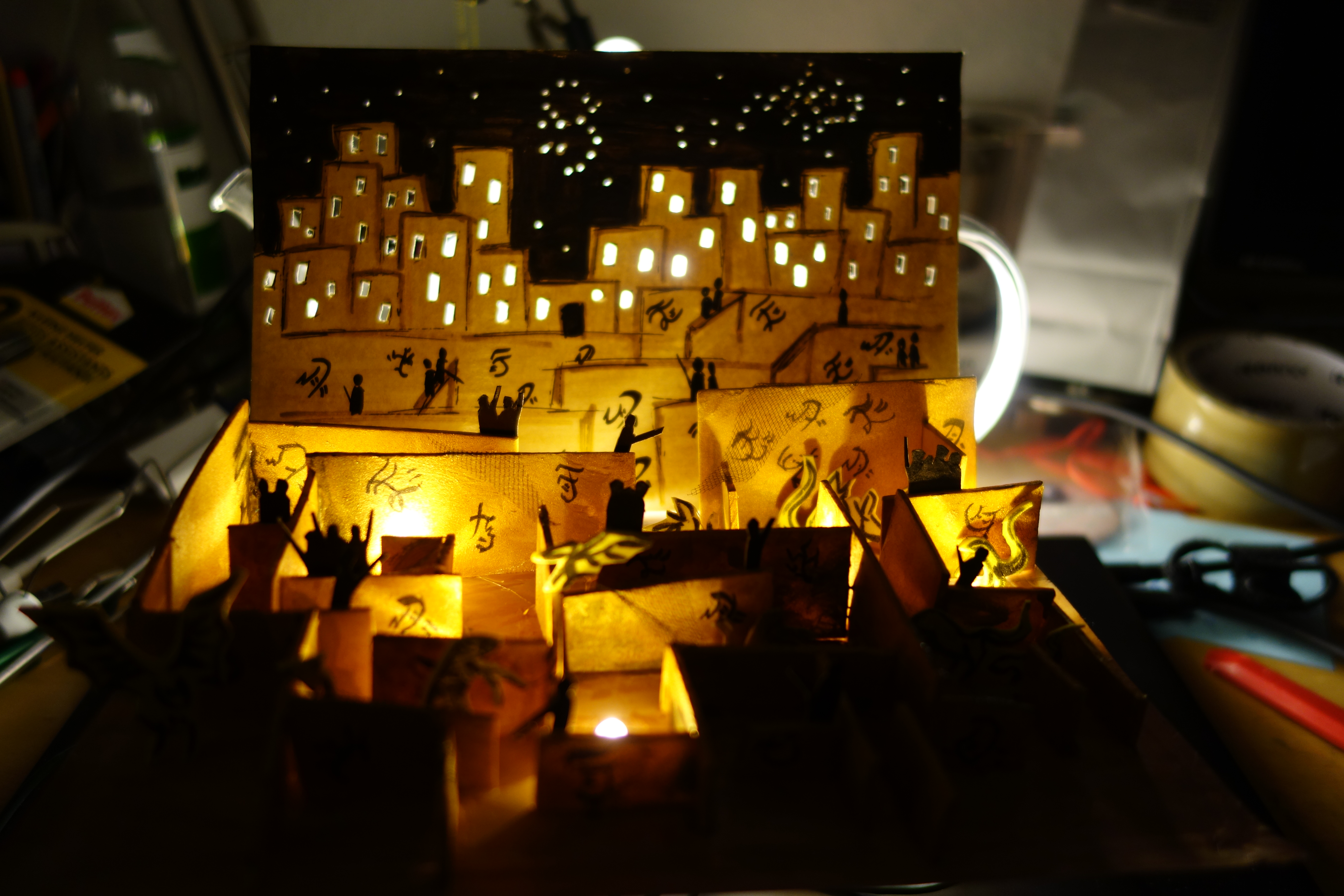 Another entry of the Maze of Krasia from The Desert Spear, but instead of clay this one was built out of gorgeous wood and paper lanterns, creating an effect that is downright magical. My assistant Karen insisted that this be a winner, and I couldn't agree more.
9) Karen Elizabeth – Inevera in the Chamber of Shadows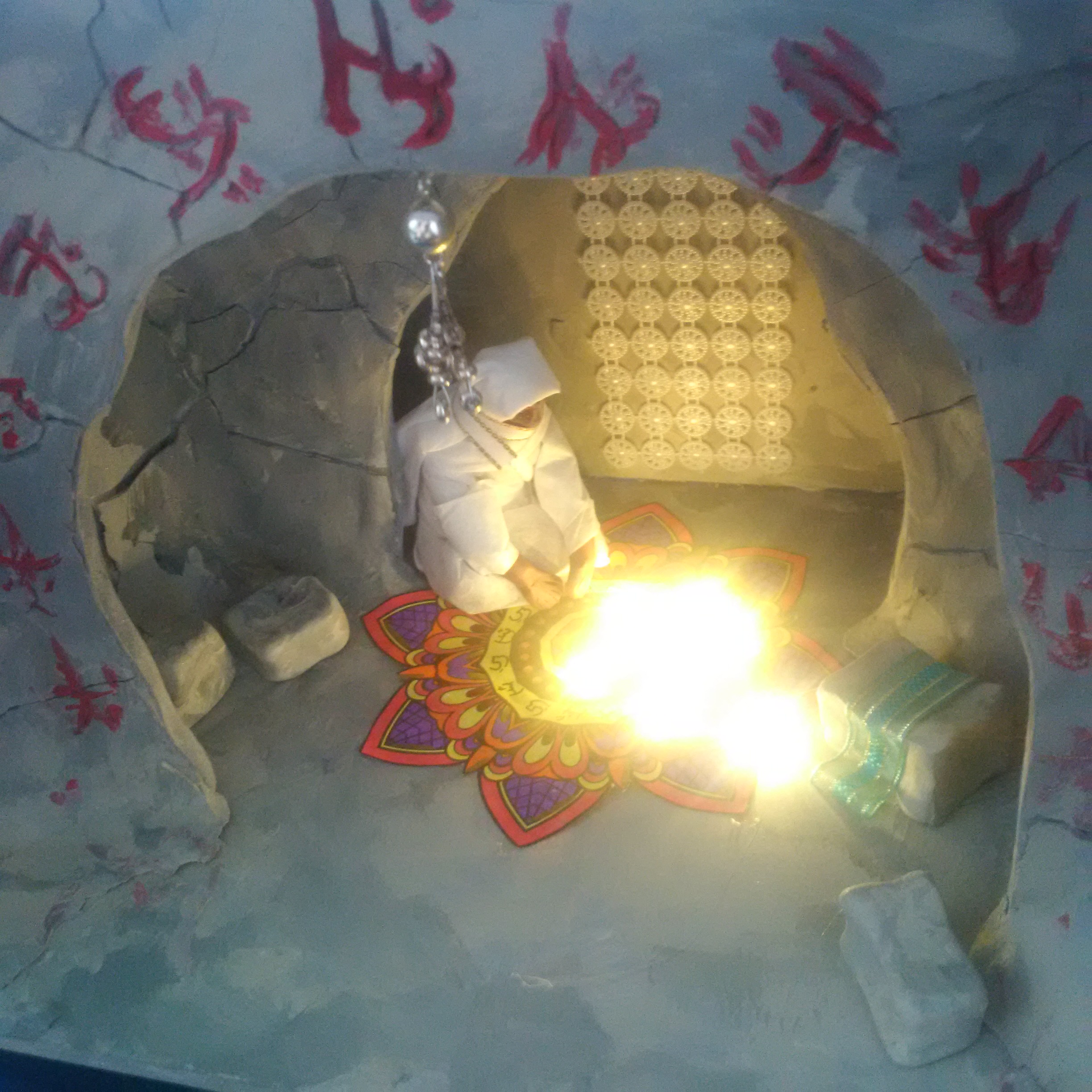 Another Daylight War entry, this one shows Inevera in the Chamber of Shadows. I would love to gush about this, but I cannot do better than Karen's own words, which left a lump in my throat:
I developed an unexpected fondness for Inevera while reading about her childhood in "The Daylight War". So my diorama entry shows the forbidden moment in the Chamber of Shadows when she had completed her dice, and instead of ringing the silver chimes, cast them for herself and set herself on the path that would dictate the rest of her life (and much of the plot of the novels!)
I have a notion that the Chamber would be furnished with beautiful rugs and tapestries (like the inner sanctums of most holy places), but Inevera would never have seen them because she worked in darkness. And I also get the sense that while stone-hewn worktables and chairs would have been available, the basket-weaver's daughter would have been more comfortable carving cross-legged on the floor, so the furniture would have been pushed aside in favour of a space cleared on a rug that she would never have known the colours of until that first throw.
10) Emma Hedges – Arlen & Jardir still fighting as they plummet after the Spear of Kaji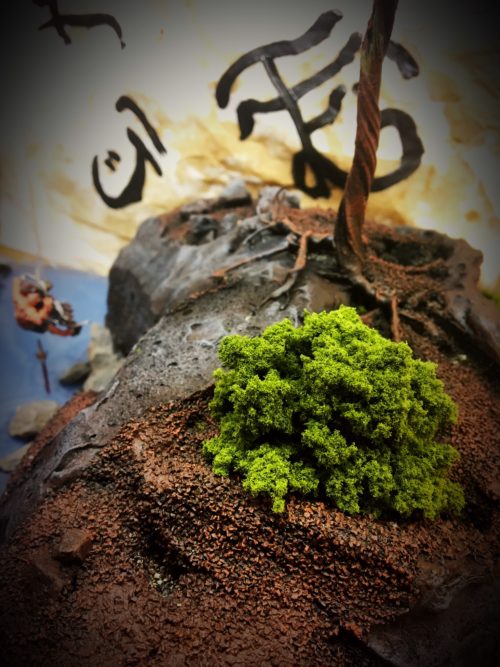 Emma's diorama is from the climactic cliffhanger ending to The Daylight war, as our heroes struggle for dominance even as hard reality rushes to meet them. Emma included a few angles to her shot, and it's worth your time to go look at them all in the full album. Amazing work.
11) Birte – Leesha baited into the woods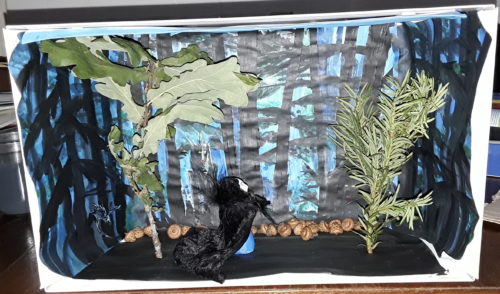 Did I ever tell you about the time 13 year old Birte got her mom to drive her 9 hours across international borders so she could visit me at the Imaginales Festival in Epinal, France? She wanted to meet me in person so she could give me the music she wrote, inspired by the Demon Cycle. I swear, at her age I could barely make a crappy diorama.
Fast forward seven years, and Birte has kicked ass at almost every fan art contest I've had, regardless of the theme. Birte is awesome.
Her entry is a scene from The Skull Throne, when a mimic demon masquerading as Arlen leads her away from the safety of the wards and her bodyguards and into a demon ambush.
12) Raven – Book Endings
Raven wanted her entry to stand out, and boy did it ever. She made four dioramas, each depicting the final scene from one of the books: Jardir leading his people from the desert at the end of Warded Man, Arlen and Renna in the aftemath of the demon attack in Desert Spear, Arlen & Jardir's confrontation at the end of Daylight War, and the possession of Shanjat at the end of Skull Throne.
13) John Zerne – One Arm made of sand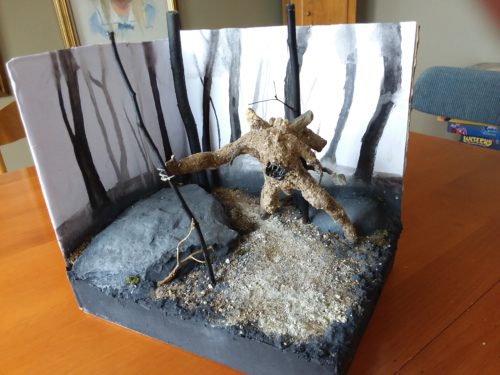 John sent in tons of close-ups of crippled One Arm from different angles. His diorama captures the atmosphere of young Arlen's nemesis very well, and the detail shots really bring it to life. He must have sand all over his home now, but such is the price of art.
14) Marc Rasp – Warded Homestead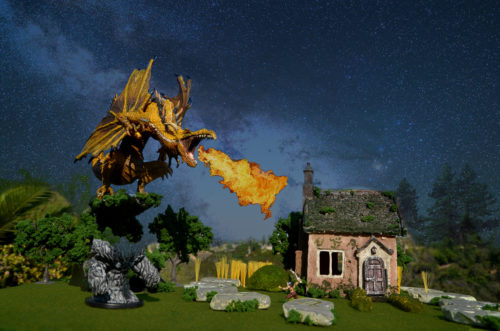 Marc was one of the first to enter the contest with this amazing diorama of a warded home under assault from a giant fire breathing wind demon. Must be a mimic. I don't envy our defender, but his house is warded up pretty solid. Dozens of amazing entries came through after this one, but Marc held onto the prize.
15) Sarah Lockwood (and family) – Arlen vs One Arm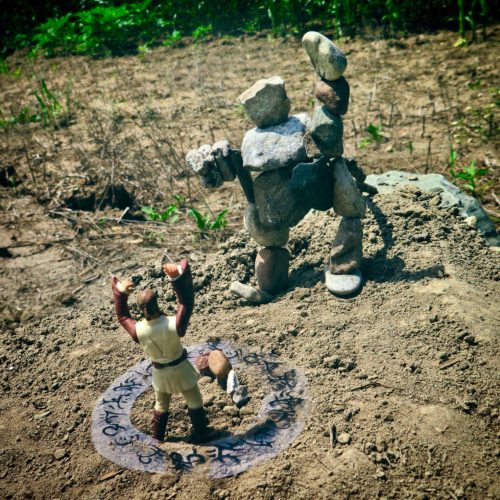 Sarah the Critiquing Chemist not only writes fab book reviews, she had her whole family searching the yard for rocks to help build One Arm for this dramatic confrontation with Arlen.
16) Dwayne Rose — the crippling of One Arm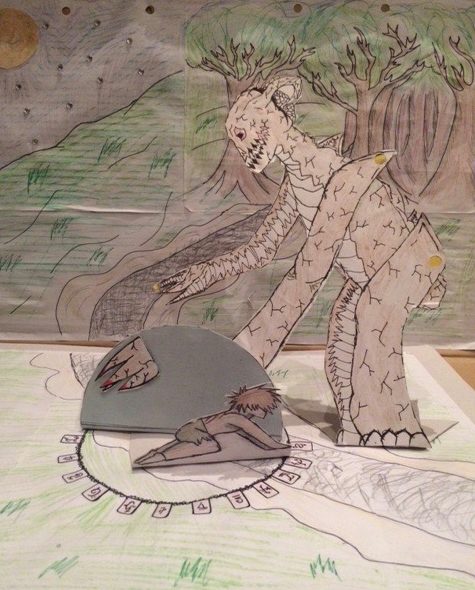 Dwayne is another contest veteran, and chose the scene from Warded Man that proved to be far and away the most popular in the contest, with 7 entries devoted to it.
Runners Up
That's all the ARCs we have to give away, but there are some amazing runner up prizes as well.
1) Amberly Smith – Veggie Krasians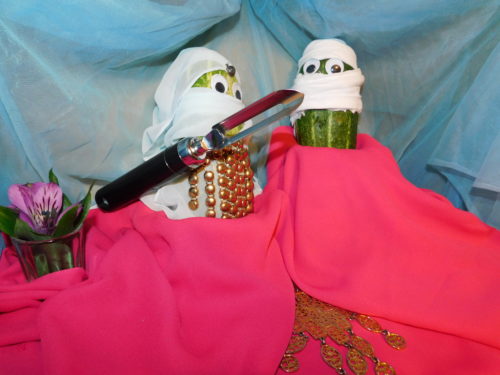 This one is really adorbs, Veggie Tales Inevera wards Jardir with a potato peeler. For the giggles it gave me, Amberly will be able to protect herself with a beautiful Rock Demon ward pendant from Badali Jewelry.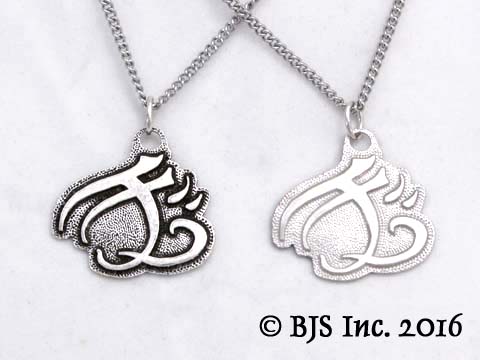 2) Cáita Costa – Leesha flees into the night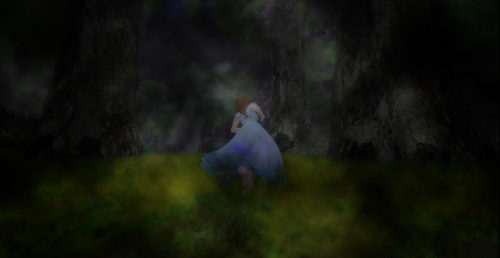 Cáita's gorgeous digital diorama of young Leesha fleeing into the night to escape her mother struck me with it's originality and breathtaking atmosphere. Caita will now be safe from Water Demons with a Badali Jewelry pendant.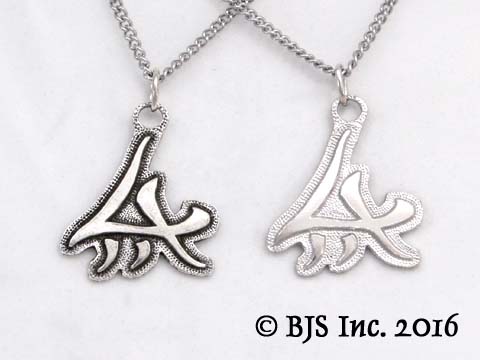 3) Istvan Tomoskozi – Paper Arlen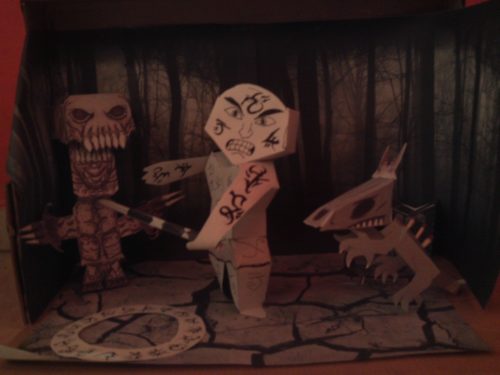 I love this paper Arlen vs the demons from Istvan. I will pay him for his efforts with this bronze coin from the booming economy of Hollow County, depicting its countess, Leesha Paper, from ShirePost Mint.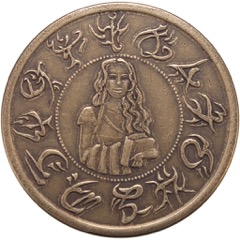 4) Dave Emma – Lego dioramas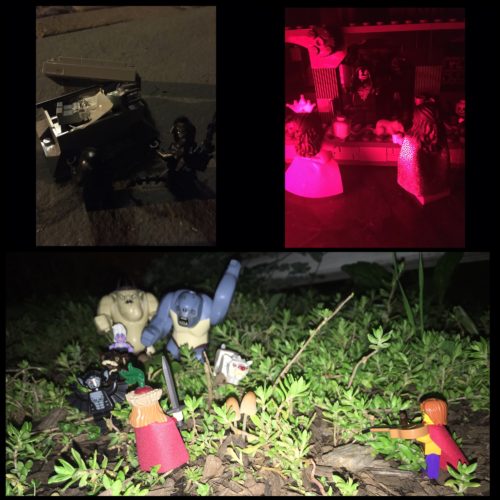 Dave entered multiple times with Lego dioramas that showed creativity and a love of the books. The first is another desecration of the tomb of the Deliverer. The second Leesha and Inevwera confront a mind demon and mimic. The third shows Rojer and Thamos hunting rock demon in Angiers. Dave will be receiving a Hollow County klat from ShirePost Mint.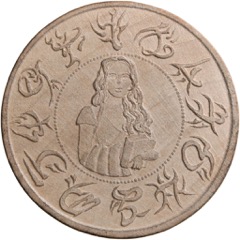 Thanks again to everyone who entered! You are all amazing. Everyone will receive a signed bookplate in the mail as a personal thank you.