Posted by Meg
Before The Daylight War was released, we ran a Create Your Own Cover contest. Fans created some seriously stunning covers.
Well, with the new Skull Throne cover, art by Larry Rostant, about to be released, it's time to predict the future and design your own Skull Throne cover!
Contest Guidelines
Design your own, original cover for The Skull Throne. Any medium.
Be creative! We want to see what you think makes a great cover!
Submit a picture of all entries to contest@petervbrett.com with the subject line Skull Throne Cover. Contest is open to everyone in world! International fans, feel free to enter!
This contest will run for about 3 weeks. Make sure to get your entries in by 11:59pm on August 18, 2014
Prizes
For the Grand Prize, Peat will be giving out the ultimate Demon Cycle set: U.S. hardcovers of The Warded Man, The Desert Spear and The Daylight War, the rare (and valuable) Subterranean Press editions  of The Great Bazaar and Brayan's Gold, and the Unfettered Anthology, edited by Shawn Speakman, featuring the short story "Mudboy". On top of that, Peat will be adding in the Red Sonja Trade Paperback.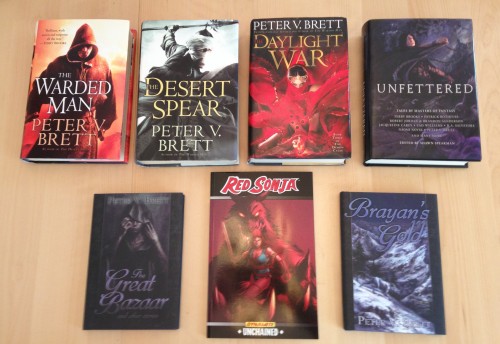 For the runner-up, the complete set of illustrated Polish Demon Cycle books.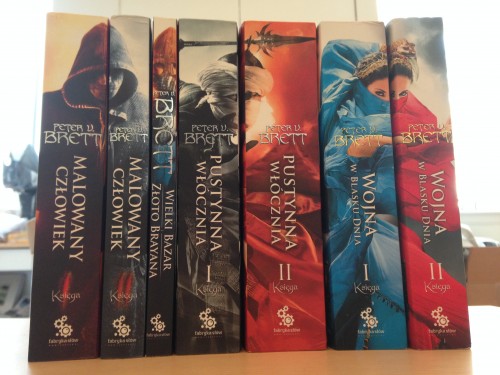 Books, warded dice and other prizes will be given out as well!
Need some inspiration? Take a look at all of current Demon Cycle covers from all over there world. Or check out the sneak peek of The Skull Throne on Peat's website.
We can't wait to see your cover designs!