Posted by Meg
Peat just added a full U.K. tour to his 2015 travel itinerary. See if he is coming to a bookshop or event near you!
Thursday, April 9th at 6:00pm at Forbidden Planet, 179 Shaftesbury Avenue, London, WC2H 8JR
Friday, April 10th at 12:30pm at The Oracle, 12 Holy Brook Mall, Reading RG1 2AQ
Friday, April 10th at 6:00pm at Waterstones, Bristol, 11A Union Galleries, Broadmead, BS1 3XD
Saturday, April 11th at 12:00pm at 128 New Street, Birmingham, B2 4DB
Saturday, April 11th at 6:00pm at 12 College Lane, Liverpool L1 3DL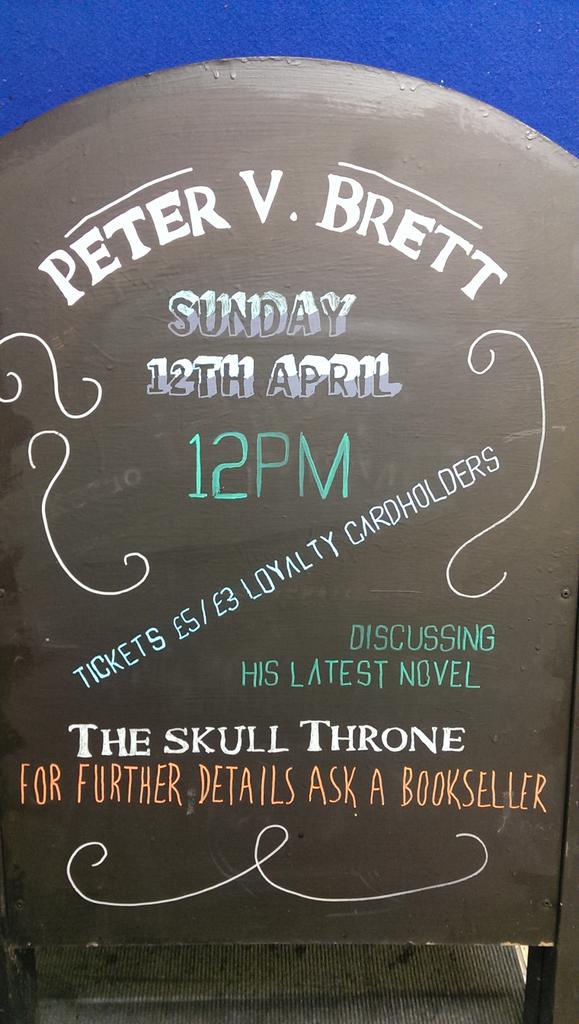 Sunday, April 12th at 12:00pm at 91 Deansgate, Manchester, M3 2BW
Sunday, April 12th at 5:00pm at 93-97 Albion St, Leeds LS1 5JS
Monday, April 13th at 12:00pm at 1/5 Bridlesmith Gate, Nottingham NG1 2GR
Monday, April 13th at 6:00pm at 72 Midsummer Place, Milton Keynes MK9 3GA 
With Joe Abercrombie & Francesca Haig, chaired by Jane Johnson
Tuesday, April 14th at 6:00pm at Kings Place, 90 York Way N1 9AG
Wednesday, April 15, Olympia London Convention Center, Hammersmith Road, Kensington W14 8UX
Thursday, April 16th at 6:30pm at 153 – 157 Sauchiehall Street, G2 3EW
Planning on going to Chicago this April? Catch Peat at C2E2 with these panels:
Chicago Comic & Entertainment Expo
April 24th-26th, 2015 at the South Building in McCormick Place in downtown Chicago
Geek Geek Revolution
Saturday April 25th at 11:00am
With Pat Rothfuss, Jim Butcher and Marjorie Liu
Authors of Epic Fantasy
Saturday April 25th at 3:00pm
In Room S402 with Naomi Novik, Kelley Grant and Pat Rothfuss
Check out all of Peat's 2015 tour dates in the Appearances section. You can also RSVP on Facebook to all events!
The Skull Throne will be released on March 31st in the U.S. and April 9th in the U.K. and Australia with translations to follow. Pre-order the U.S. edition from Random House today.