Posted by Karen
One of the most amazing and flattering ways someone can show their love for a character is through cosplay. There's nothing better than catching sight of Leesha at a convention or seeing someone's awesome Renna cosplay on Facebook! Each one is amazing and I can personally attest to Peat gushing over more than a few.
Today we're thrilled to be featuring a long-time fan of The Demon Cycle—Joy Cronje! Joy was generous enough to send us awesome pictures as well as her personal thoughts throughout the cosplay process. Check it out!
"This is the first time I've cosplayed, and it's the middle of winter here in South Africa, but no matter how long and hard I thought on it, Renna was the only character I really wanted to cosplay (having recently finished reading the Skull Throne). It's the only book (this year) that has made me feel such strong emotion for the characters' fate, and Renna has overcome a lot of pain."
"Putting the costume together: We got a thick fluffy material to use for the top and skirt so that I wouldn't freeze. It took two hours to cut the pattern and sew the skirt and top together, with my Ouma's help. We aimed for it to look like a dress that'd been torn, and something cut simply enough to have been a dress a farm girl would wear day in and day out."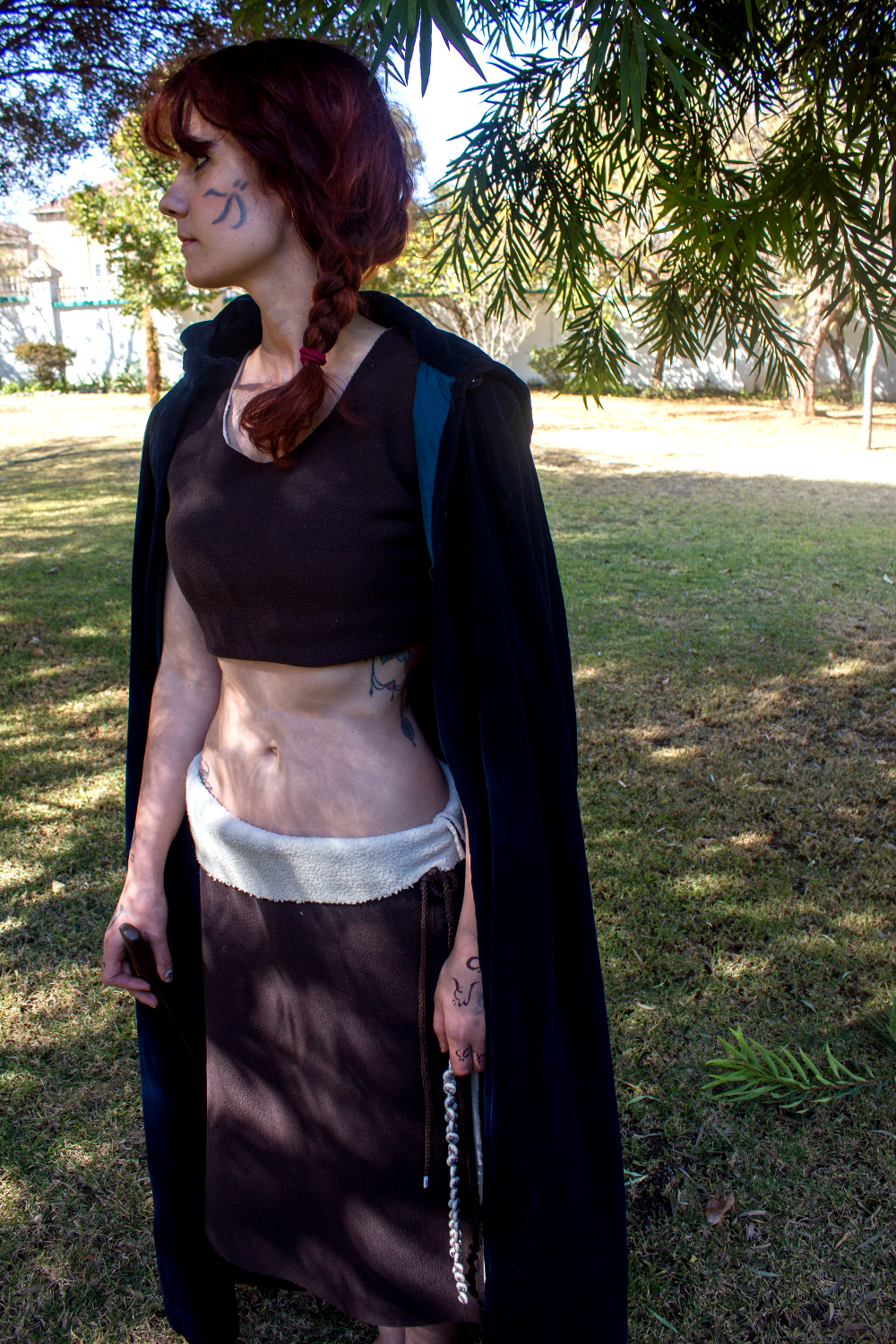 "The knife, well, was just a knife from the kitchen that I warded. The meanest one my sister and I could find (haha)."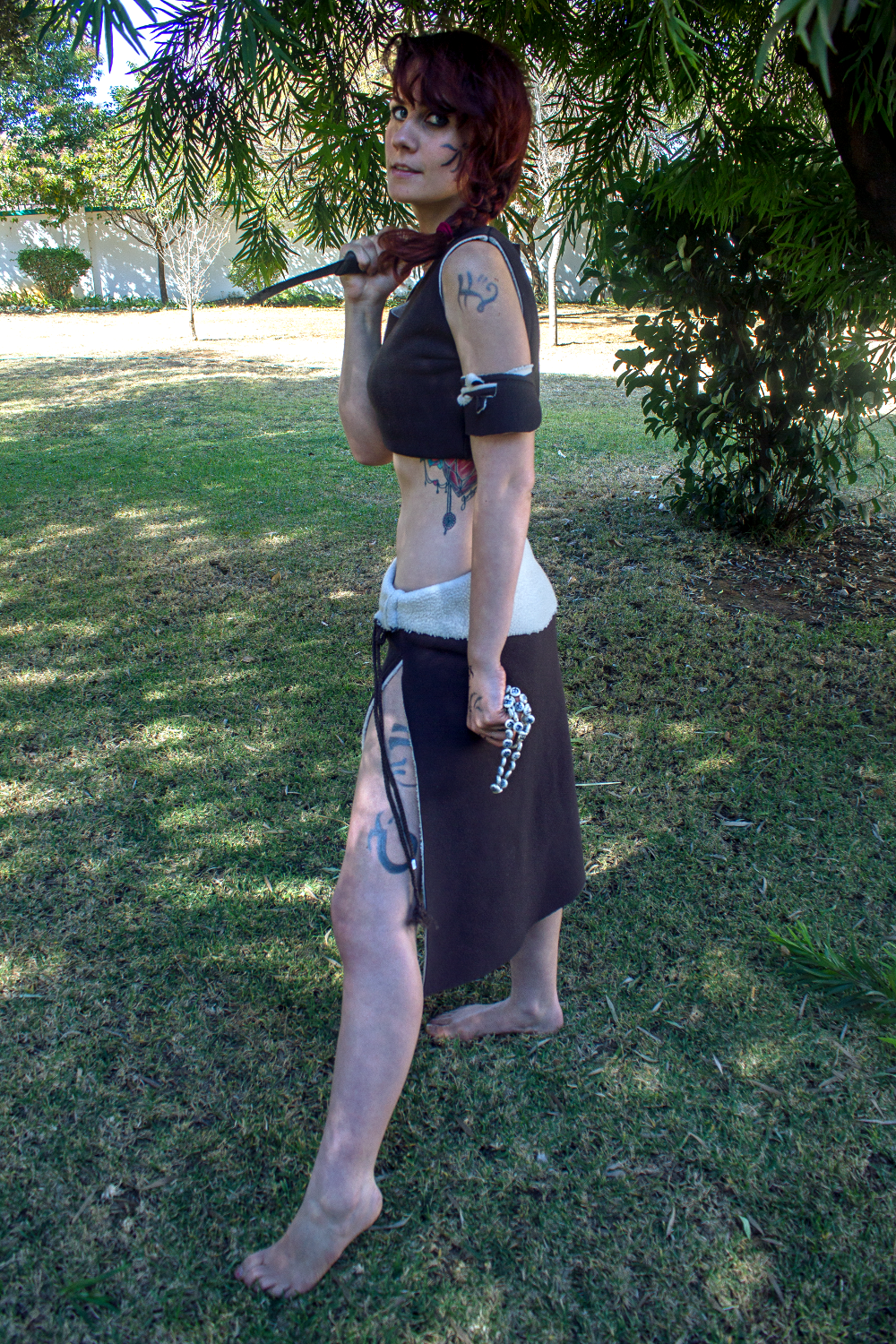 "The beads were from an Asian market, and I painstakingly warded them on both sides with a black marker for 5 hours one night, using the ward grimoire on your site. They're real stone, but they're white. Still, I liked the white more because the wards are more visible than they would've been on black beads. The cosplay was for Geekfest in South Africa, which was loads of fun, and my younger sister tagged along and took somewhat blurry pictures. Oh, I did ward my nails too. That was fun. Black marker with translucent polish over it."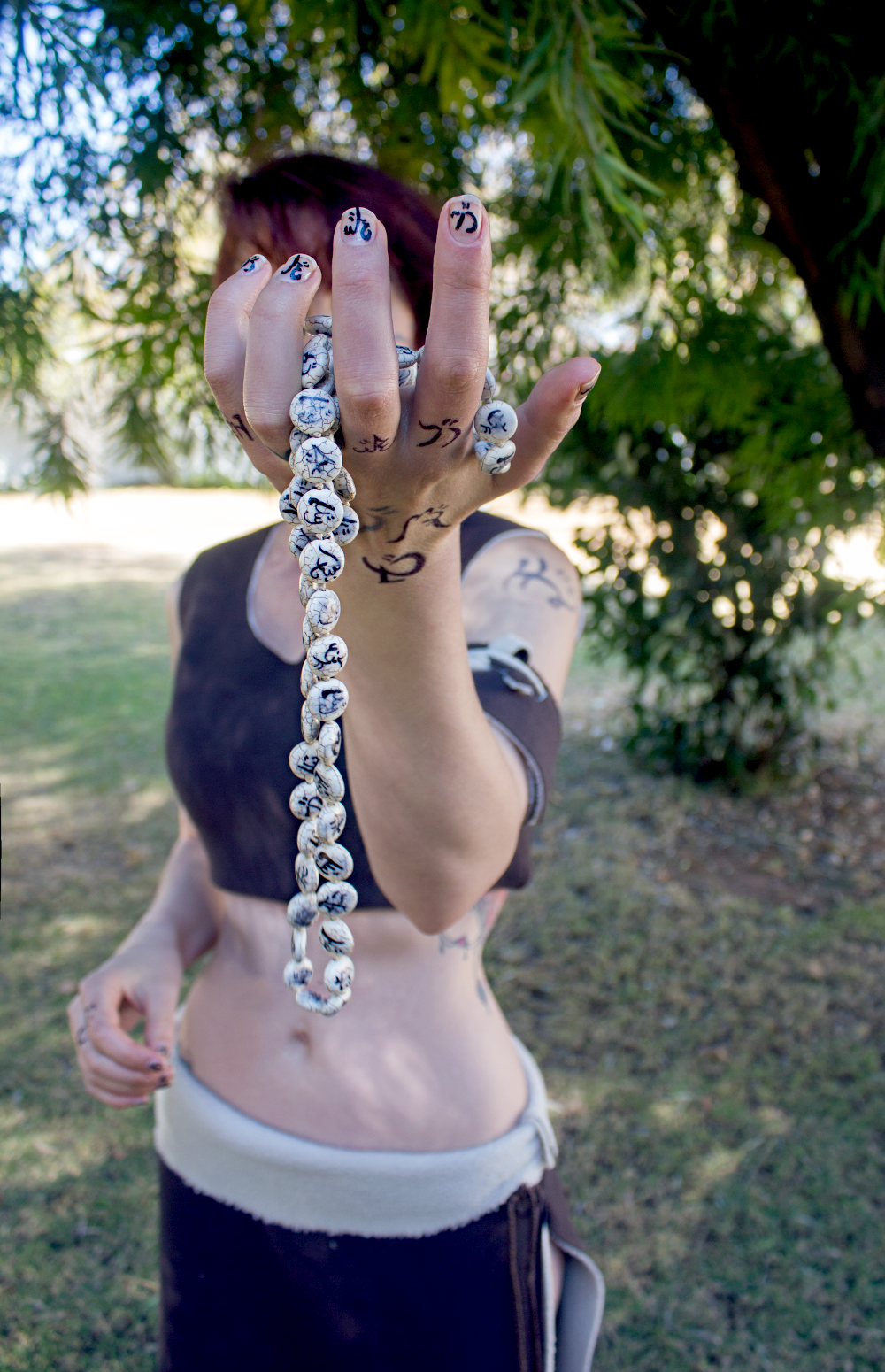 "A week later Mercia, a tattoo artist and my sister, helped re-ward my skin with an eye-pencil (lol) and took somewhat less blurry pictures in the garden. The cape or coat or hood (what do you call these things?) was one my Ouma had made a few years back, soft velvet, and a lovely colour. It worked well with the cosplay, though I didn't ward it like I should have. I actually forgot to take it with on the day of Geekfest! Gah!"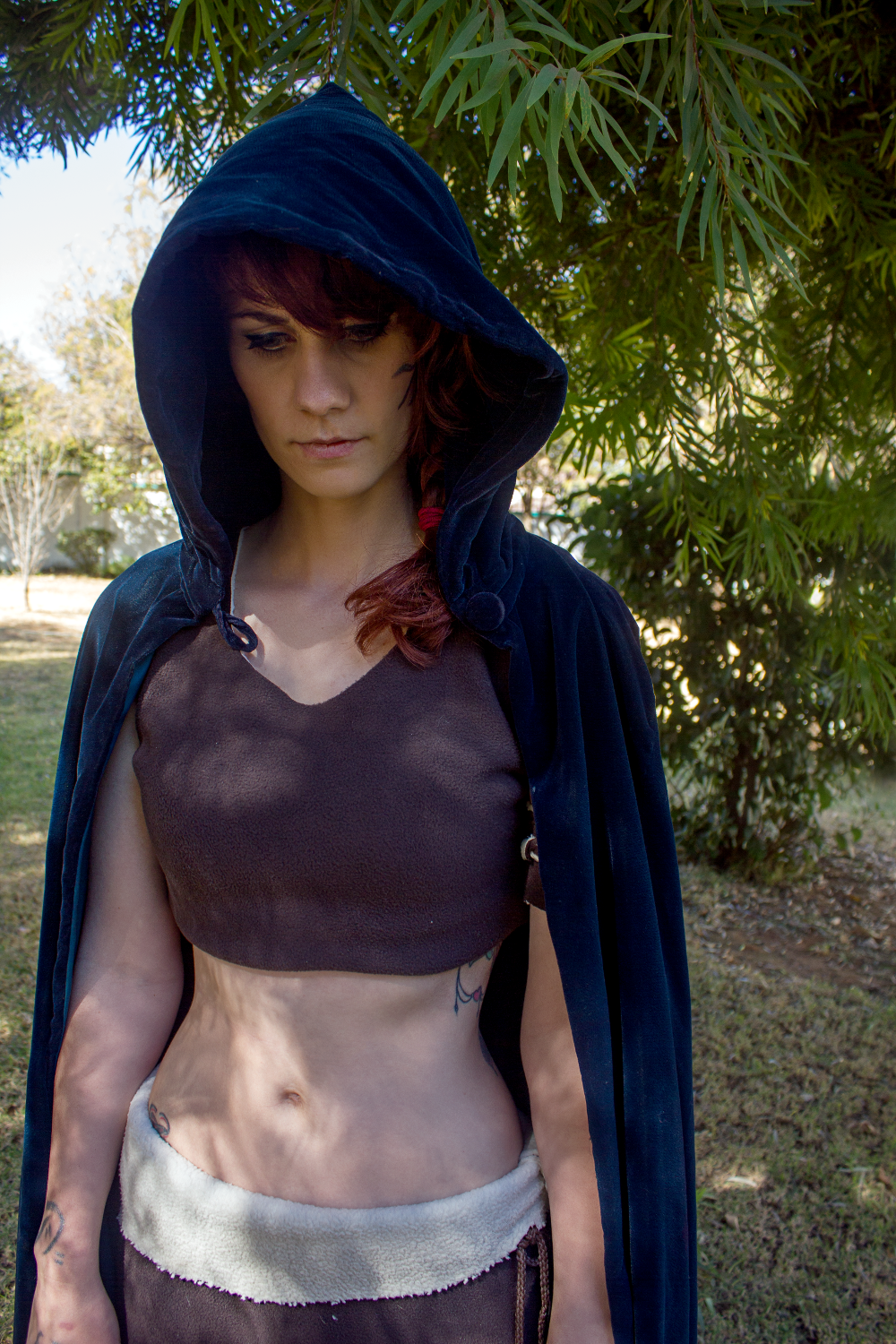 "Lastly, post production I tried to find some stock images that would look cool behind one or two of the pictures, and photo-shopped them in. Just couldn't resist. I do photography as a hobby, and post production is essential."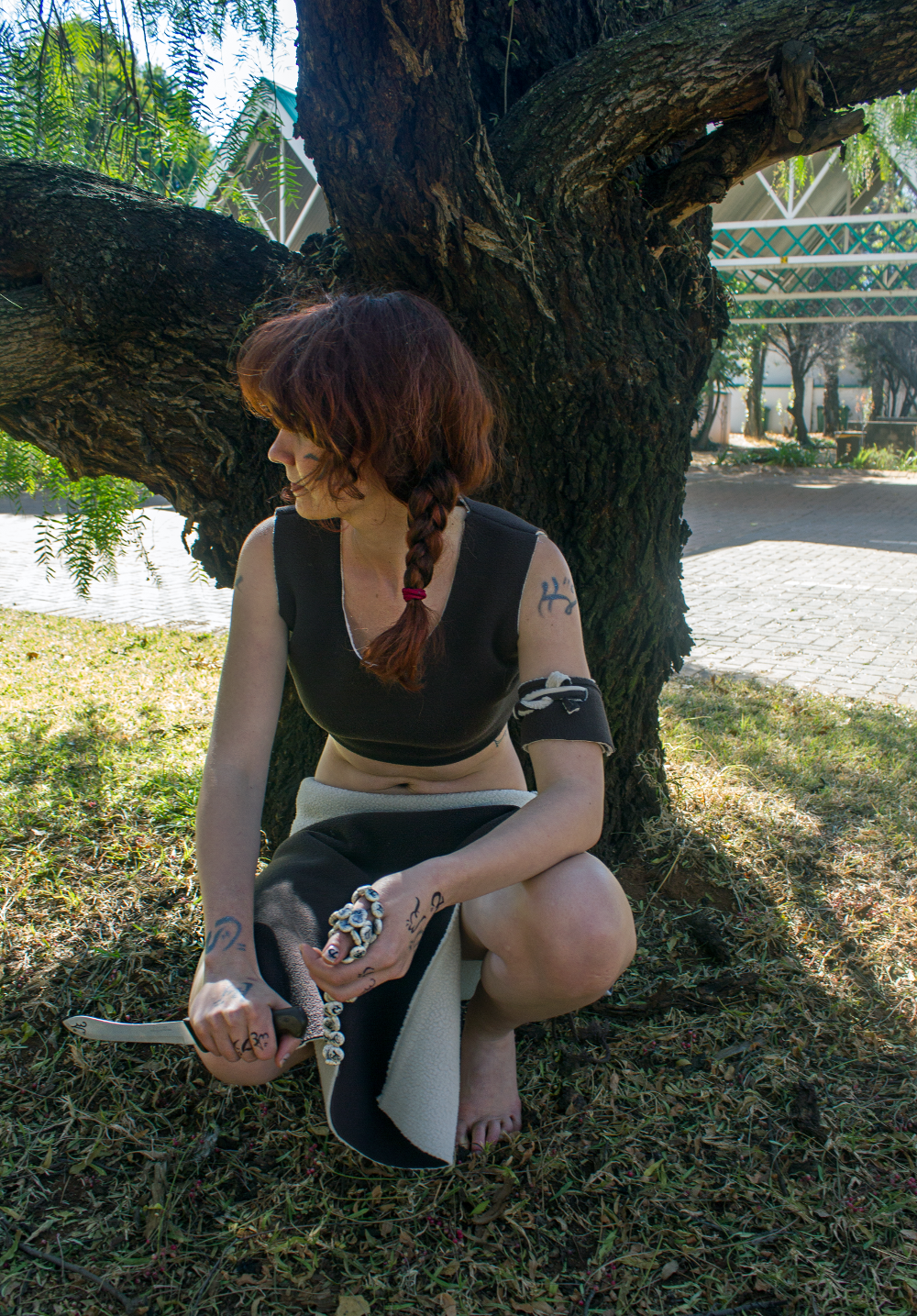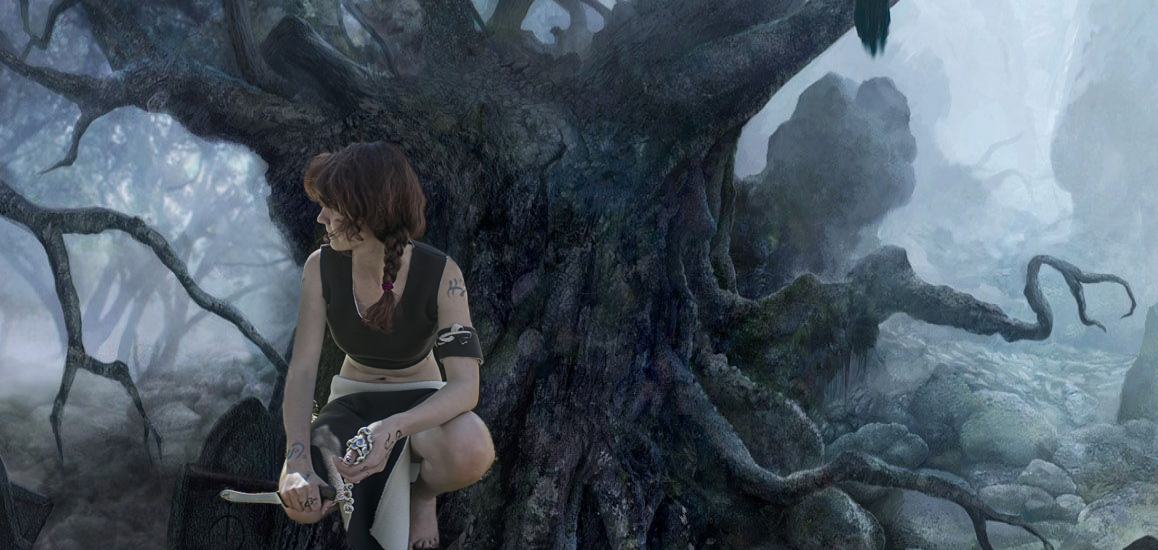 "My greatest hope from this cosplay was that Peter would find it close to what he imagined the character and that he would like it. Erm, oh and that's my real hair. I dye it with henna, natural, and it was coincidentally cut in drastically different lengths (it has been for the last two years)."
Thanks so much to Joy for cosplaying and for allowing us to feature her! It's so inspiring to see an artist's interpretation of a character and this is definitely one of the coolest we've come across. Not only did Joy create an entire ensemble to capture the spirit of Renna, she also manipulated the photos herself!
It took some time to get this post together, but it was worth every second! We're so glad we got the chance to feature Joy and her amazing Renna on our blog.
If you'd like to see more cosplay, click here!