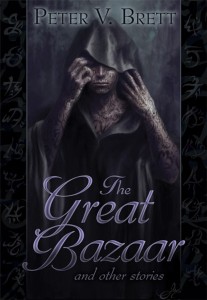 Lots of things going on these days. The Great Bazaar and Other Stories got its first online review yesterday on Pat's Fantasy Hotlist, and it was quite positive. One more reason to enter the Fan Art Contest for a chance to win an advance copy 2 months before the book comes out. Why not enter today?
Since Subterranean Press mentions it on their own site, I guess the cat's out of the bag and I can let out the news that another Arlen Messenger novella will be published in their upcoming dark fantasy anthology:  Subterranean: Tales of Dark Fantasy 2
What's "Dark Fantasy", you ask? Hell if I know, but apparently I write it. How about that?
Anyway, the story will be entitled Brayan's Gold and tell the tale of Arlen's first solo Messenger run, a trip to the distant Milnese mine of Brayan's Gold, which lies well over a weeks travel from Fort Miln, high upon a steep mountainside. Still an apprentice, Arlen is riding as sidekick to a licensed Messenger, but when an unexpected bandit attack leaves him alone on the road, stubborn Arlen decides to press on, despite the fact that the indestructible and vengeance-driven rock demon One Arm continues to hunt him. At about 19,000 words, it is around 20% longer than the Great Bazaar novelette.
For my German fans, even better news! Both The Great Bazaar and Other Stories and Brayan's Gold, in addition to some additional new maps and supplementary materials, will be combined in a German language edition by my fantastic German publisher Heyne. Not sure how they will translate the title yet, but it is tentatively scheduled for release next summer, a few months after Das Flustern der Nacht (The Desert Spear) comes out, as a treat for readers hungry for more and to help tide them over until I finish The Daylight War.
The Painted Man has also recently sold to publisher Varrack in Estonia who will translate it into Estonian. Another addition to the list of countries I need to color as "conquered" on the RISK map…
Also, great progress on the Hobbit-hole. I can see the floor now after alphabetizing and organizing all my books. Pretty soon my as-yet unnamed writer's studio will be ready for me to actually WRITE in.
The latest update: