The Homemade Heroes Contest, that is. So get out your modeling paint and X-Acto knives, because the prize is seriously fucking awesome.
As I mentioned on the blog a few months ago, Homemade Heroes was a column that used to run in Wizard magazine, where comic book fans would cannibalize other toys and use modeling paint, fabric, etc. to customize them into action figures of their favorite superheroes (usually semi-obscure ones that didn't have actual toys made of them).
I always loved that column, and since I have a TON of action figures already, always wanted to submit something. Alas, I never found the time.
But I want Demon Cycle action figures. Man, do I ever. So I started making some. None of them are completed, but I've started. The first is Jardir as a kai'Sharum. :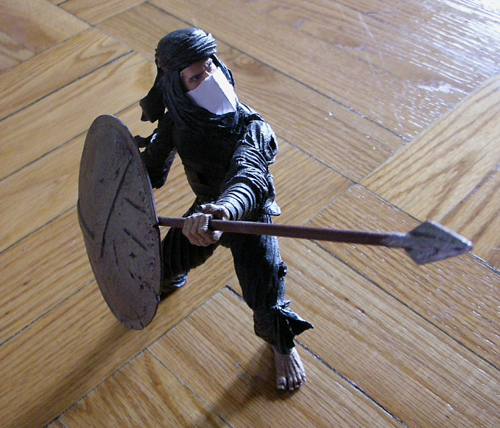 This was made from various parts from the Leonidas and Immortal figures from the 300 movie toy line. It took FOREVER to hollow out the Immortal's turban (it and its weird monster head were all one piece), and get Leonidas' head in there instead. Cut myself more than once.
As you can see, I still have a lot of work to do. I need to buy fresh modeling paint (mine is all dried out) and fix the clawed feet/hands, putting on proper Sharum sandals, and replace the white kai'Sharum veil, which at the moment is just a white piece of paper. I also need to re-paint the spear and shield with wards, and I might turn my Gorgo figure into Inevera.
I've also been planning a group diorama of Arlen and Jardir fighting One Arm: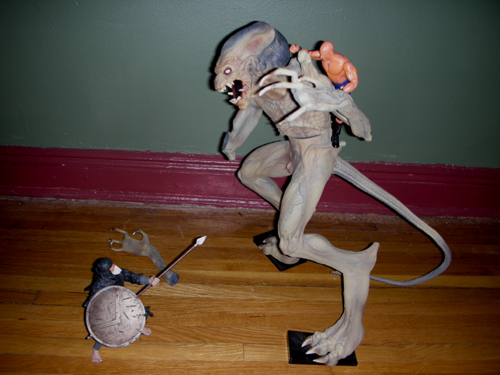 One Arm at the moment is just a Pumpkinhead toy I bought for this purpose and cut the arm off of. I need to paint it black and add spikes to the tail, but it is in the right scale with the other figures. The Arlen figure is (I am told) WWE star Christopher Daniels, a contribution from my buddy Matt. Right now he is unaltered, but I will eventually paint his purple spandex shorts into a more dignified loincloth, and cover his body with awesome wards. I will also file off the flavor-saver underneath his lower lip.
This is one of those side-projects I've been putting off until I have time, which pretty much means I will never get around to it…
But maybe you can. Make me an action figure, and I'll make it worth your while.
How?
Make your own figure to live forever on my desk, right next to my computer screen. In exchange for the toy I love the most, the winner will get a complete set of signed Worldwide First Edition copies of The Painted Man, The Great Bazaar, and The Desert Spear and I will customize 'em any way you want. Hand-drawn wards or character avatars, boasts about your attractiveness and sexual prowess, whatever: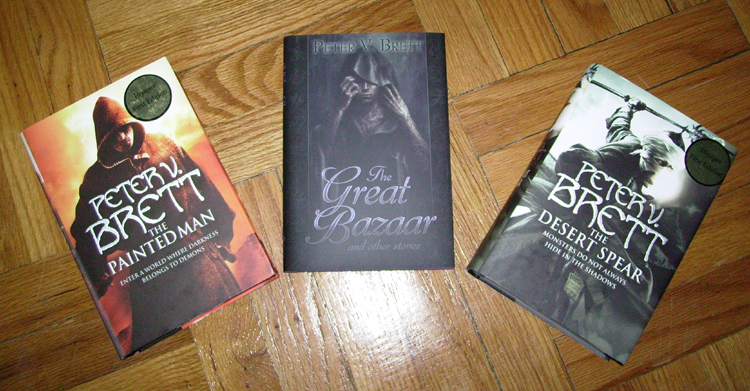 All of these books are rare collector's items,  with signed copies of The Painted Man and The Great Bazaar each fetching close to $300 on eBay, if you can find them at all.
But wait! There's more! If that's not enough to inspire you, I'm throwing in the rarest book of all, an Advance Read Copy of Brayan's Gold, my upcoming novella from Subterranean Press: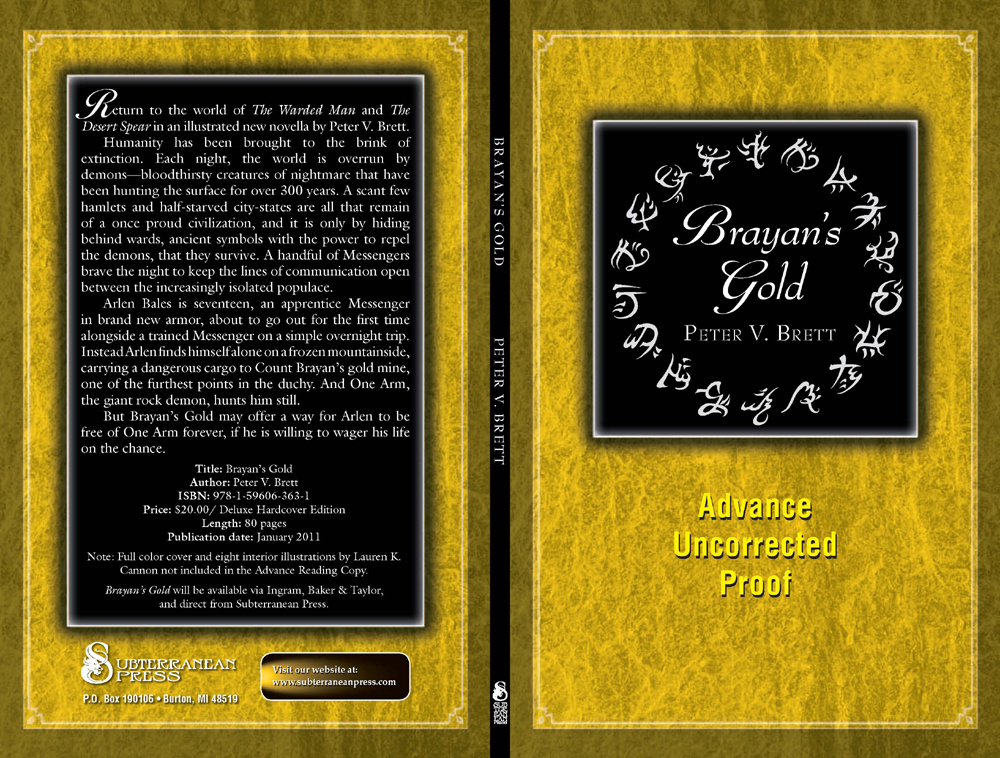 Runners-up, who will not be required to surrender their creations to me (unless they want to) will receive prizes as well, including various signed books and at least one other Brayan's Gold ARC. Details to come.
So what do you need to do to enter?
Just three things:
Step 1: Take any toy.
Step 2: Customize it into a character (demons & animals included) from one of my books.
Step 3: Take a digital picture (or several) of your creation and send it to contest@petervbrett.com before Thanksgiving (Thursday, November 25, 2010).
I am keeping the rules lax, because I want the contest as inclusive as possible. All toys are fair game for conversion: Stuffed animals, Barbies, GI Joes, Legos, etc. Or make the figure from scratch, using clay or plush or whatever. You can turn a My Little Pony into Twilight Dancer or grab some Prince of Persia figures from the discount bin and paint them. You can even make a playset, like a warded Barbie Dream House. Whatever you want.
Once all the entries are in, I will pick a winner who will send in their toy in exchange for the grand prize. My inner circle will then choose the runners up/honorable mentions and send out their prizes.
P.S.
Don't forget to come see me at NY ComicCon this Friday-Sunday, Oct. 8-10!