OMFG.
New Homemade Heroes entry, and it is so fucking awesome words fail me. This one from Mia, who is apparently from here in NYC. Check this shit out. You can click on the pictures to enlarge them:
Hi. Attached are photos of my entries — the Sharik Hora, a sand demon and One-Arm.
I never intended to enter for lack of skill and experience. But I found myself thinking of the project. Around Halloween, I hung a 5 skeleton garland outside my apartment door and it struck me I could cannibalize it and make it part of the Sharik Hora.
Re the Sharik Hora: a task that got away from me and grew beyond what I intended. The dome-like top was part of a puzzle I embellished with tiny skulls. The dome sits on remnants of a cut-out puzzle that looks like the outline of bones so I thought it'd create the effect of letting in natural sunlight. There are 6 pillars — 2 fully warded pillars and 4 skull-adorned pillars made out of molding trim.  The pews were made from pegs, wood pieces, and my cannibalized skeleton garland. The altar has a replica of the chalice with a skull sitting on a forearm, standing on a foot.  The ceiling view from the inside consists of larger skulls and hand bones with my little skull chandelier hanging in the middle.  The outer ring of the floor is warded, of course, and is intended to have a glowing effect.  I randomly sponged white paint on it for a weather-beaten, desert look.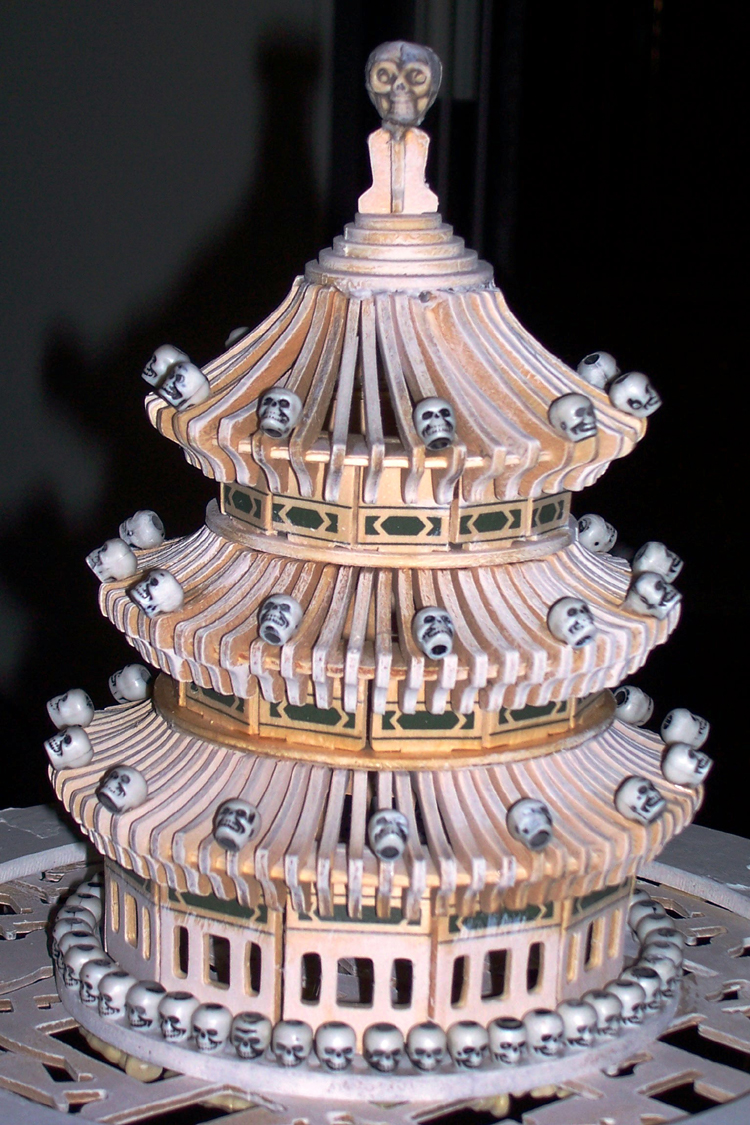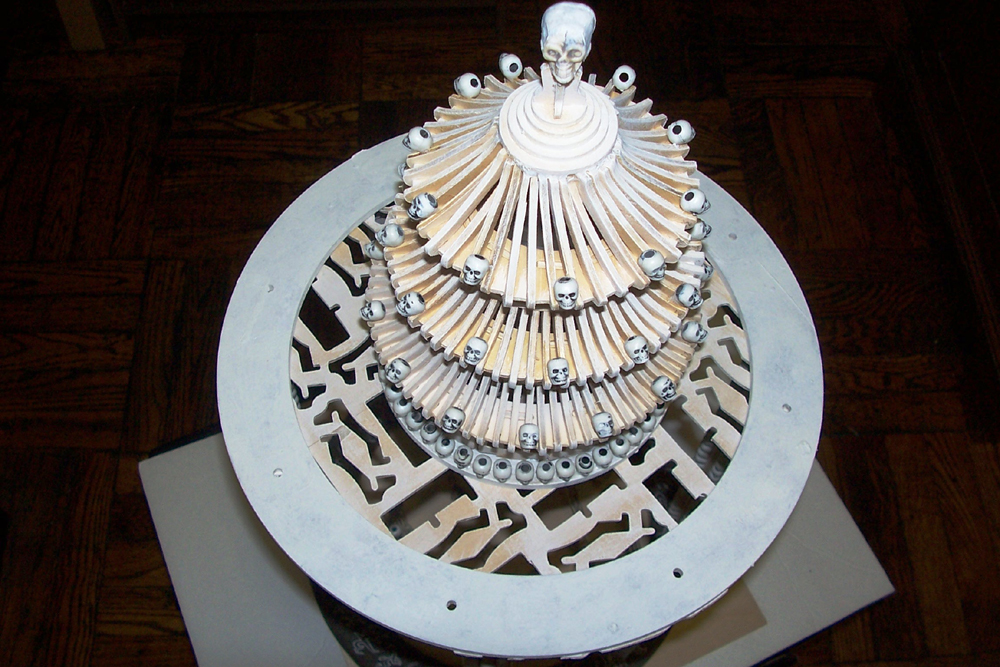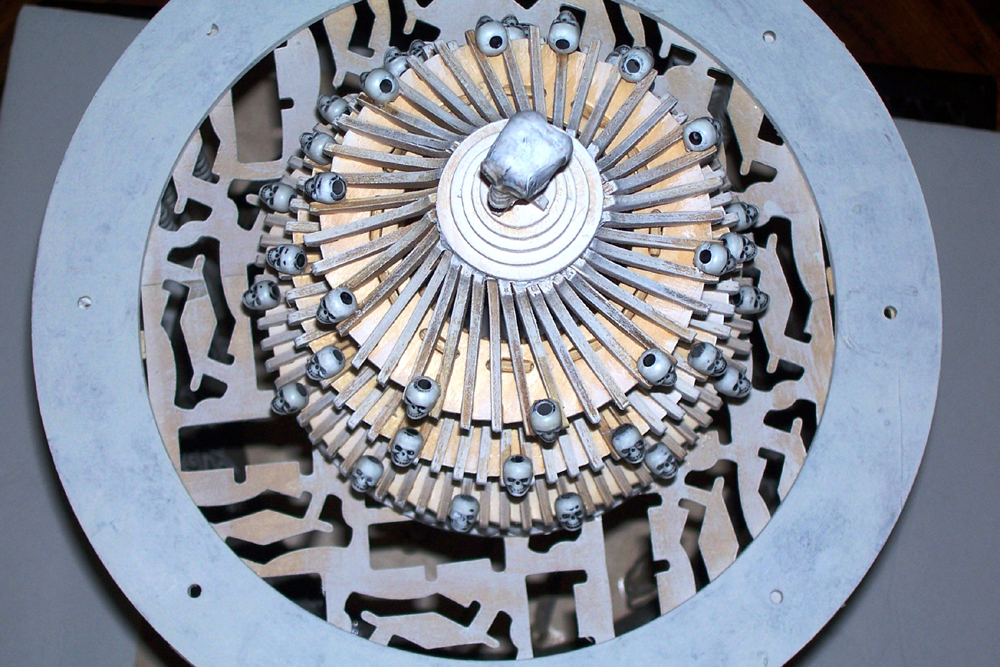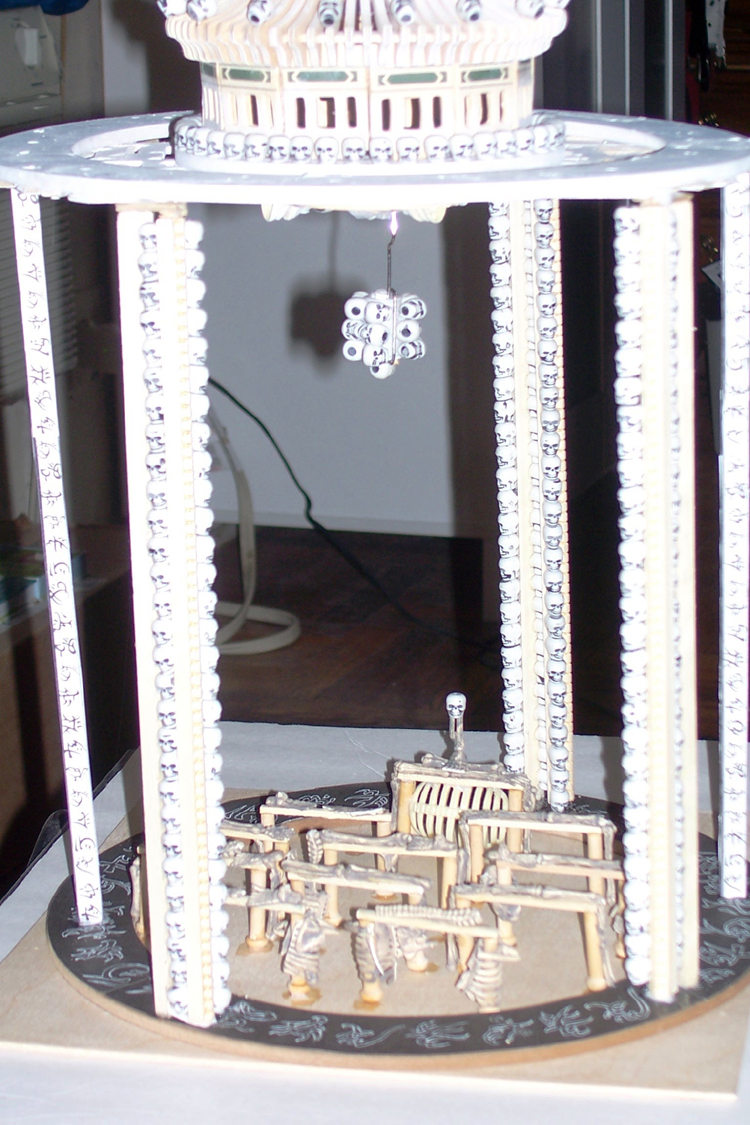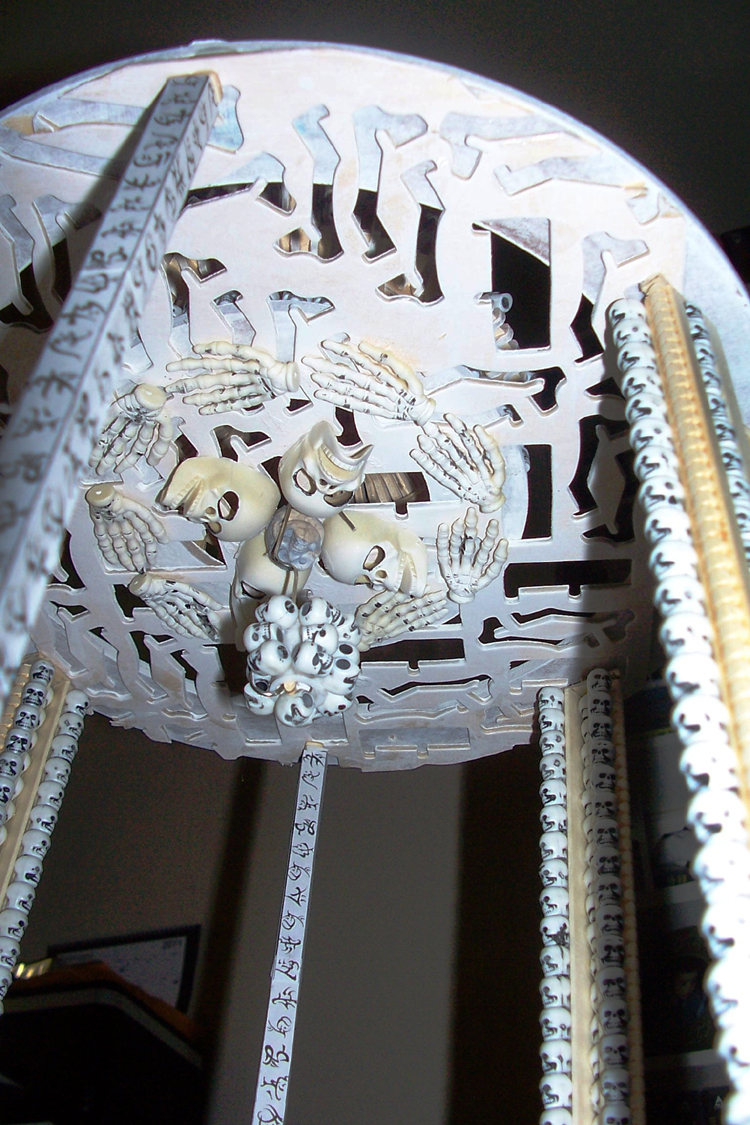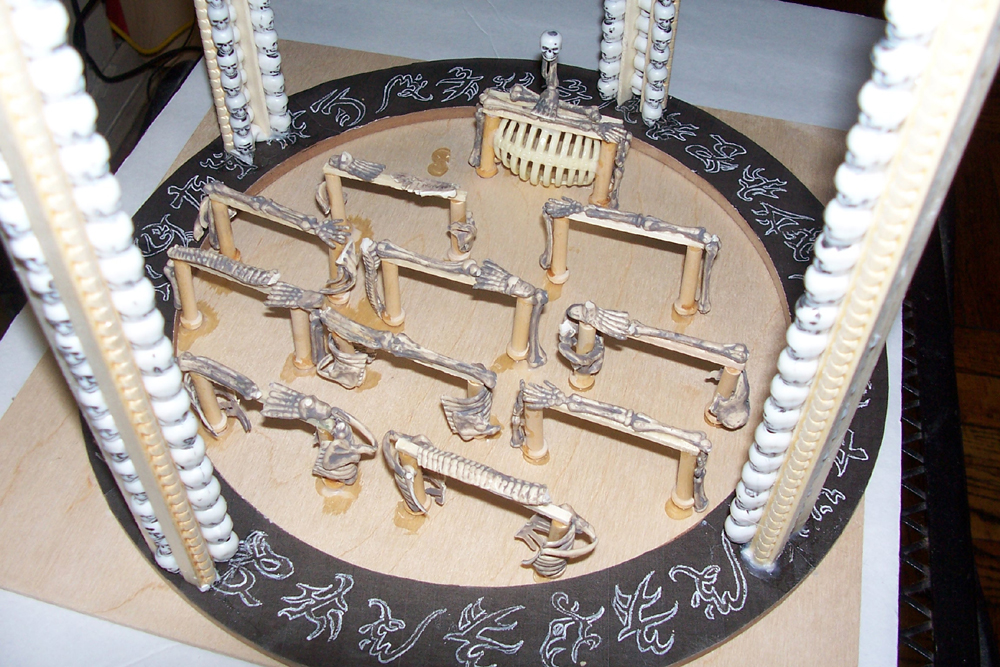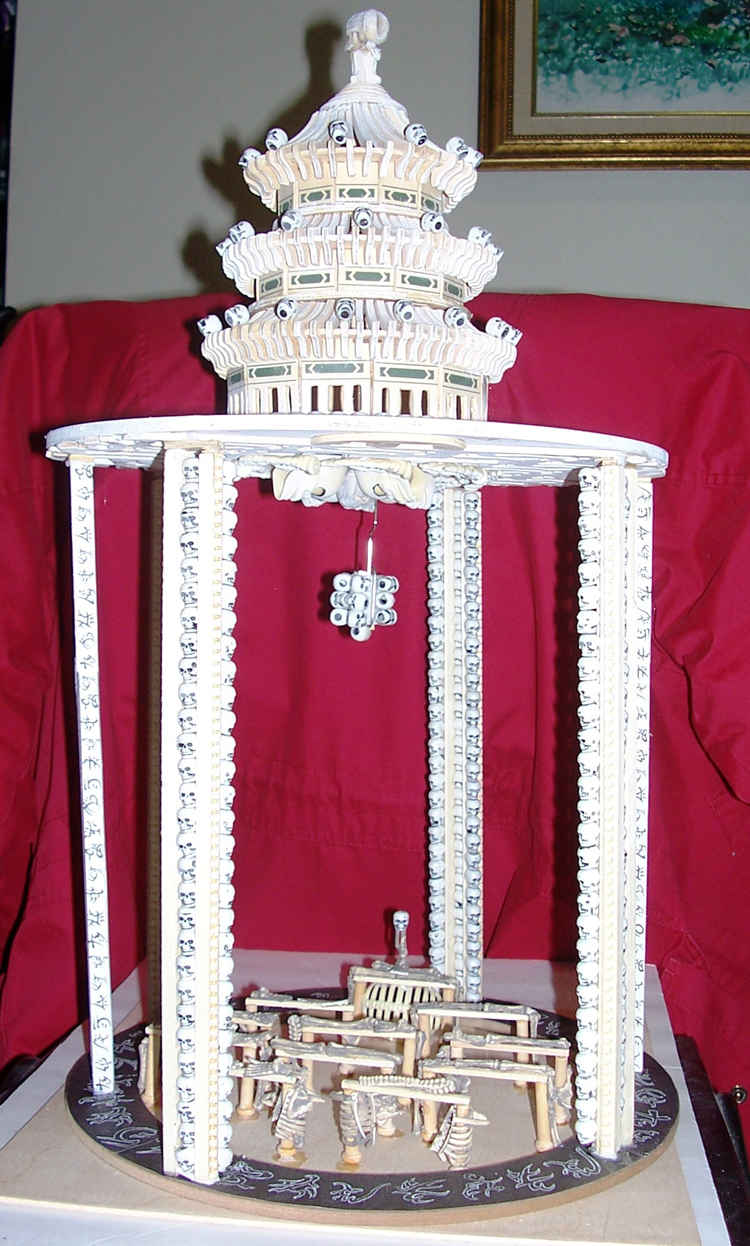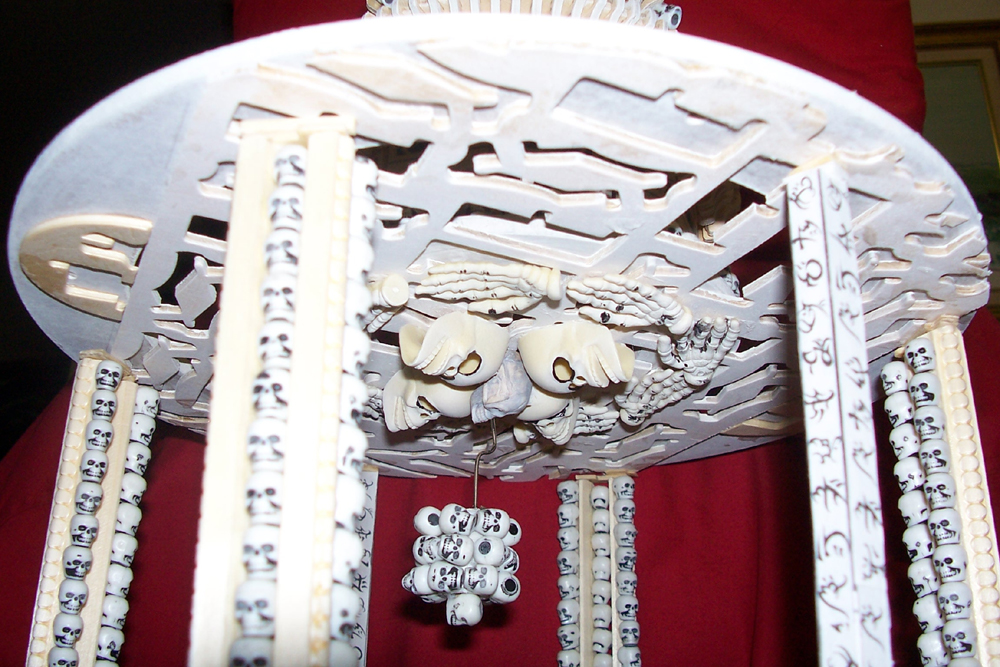 Re the sand demon:  Was a pteranodon — removed wings, remolded and reattached arms, made ragged teeth from toothpick ends, painted, glued all over then rolled in sand.  I wanted it to be able to stand on its hind legs as well as move on all fours for speed.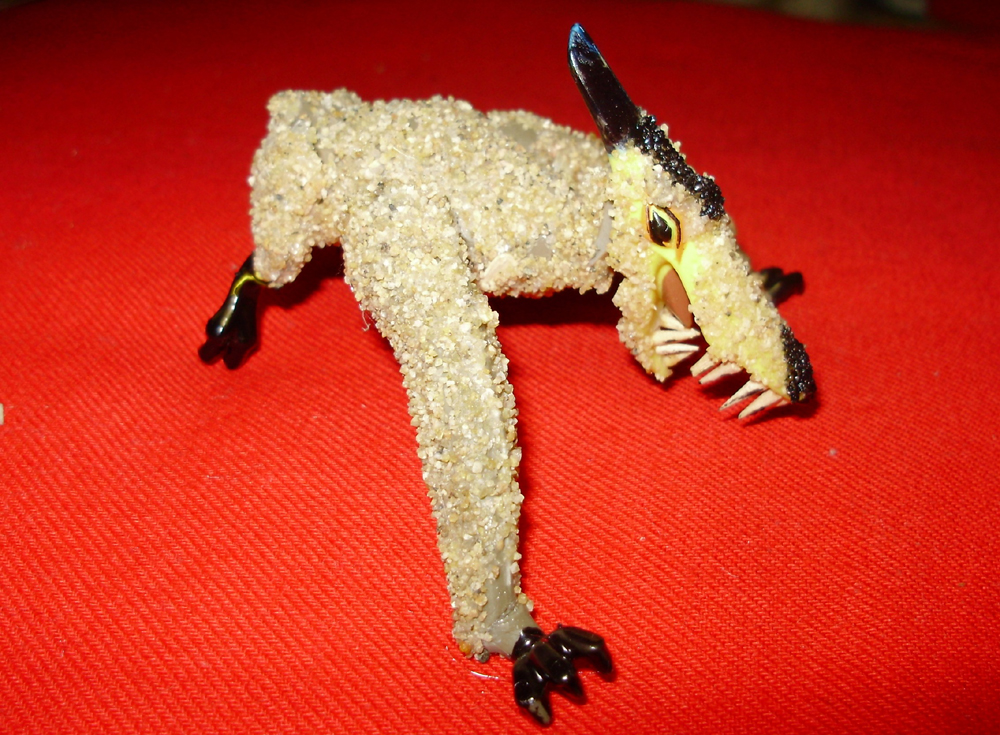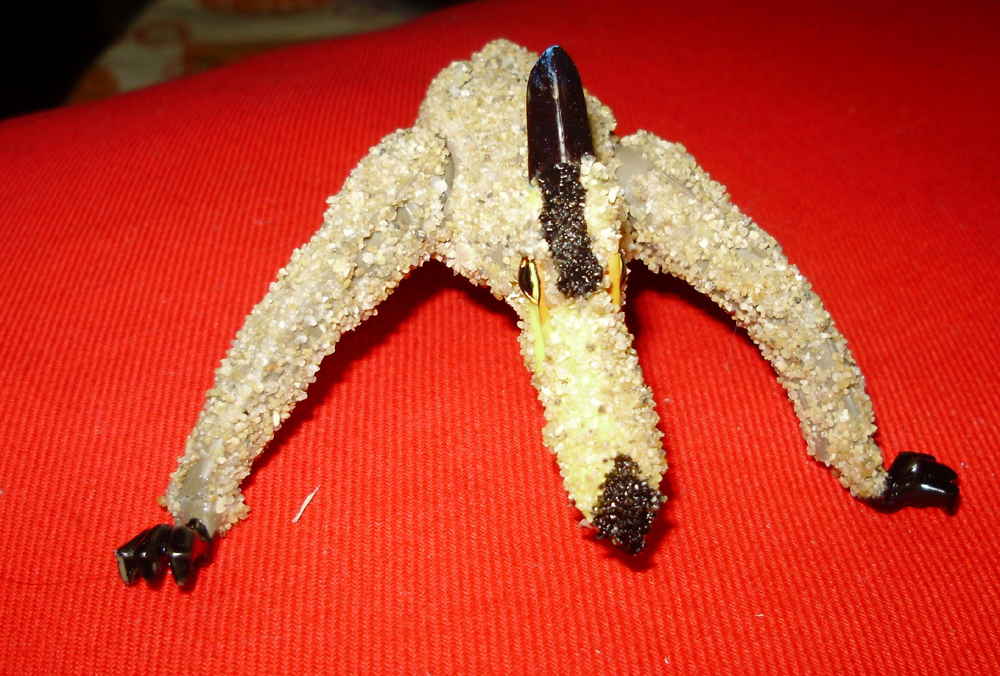 Re One-Arm: More comical than I intended. I planned to make it purely out of rocks like cairns, but it was extremely heavy and unbalanced. So I molded the parts from air-dry clay and stuck a few actual rock pieces. The feet/talons are formed over chopped up Mr. Potato Head feet and the one arm is also from Mr. Potato Head because I wanted to be able to move the arm.  I sponged black nail polish all over for a granite rock effect. Supposed to look imposing and strong but not graceful.  Well, it's certainly not graceful.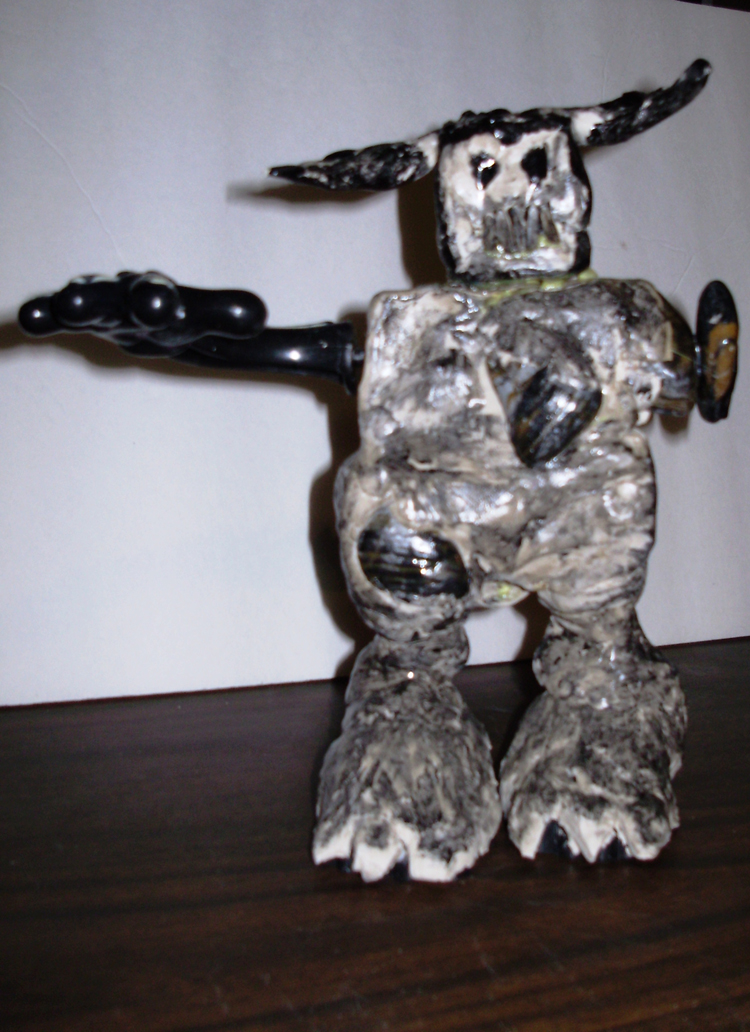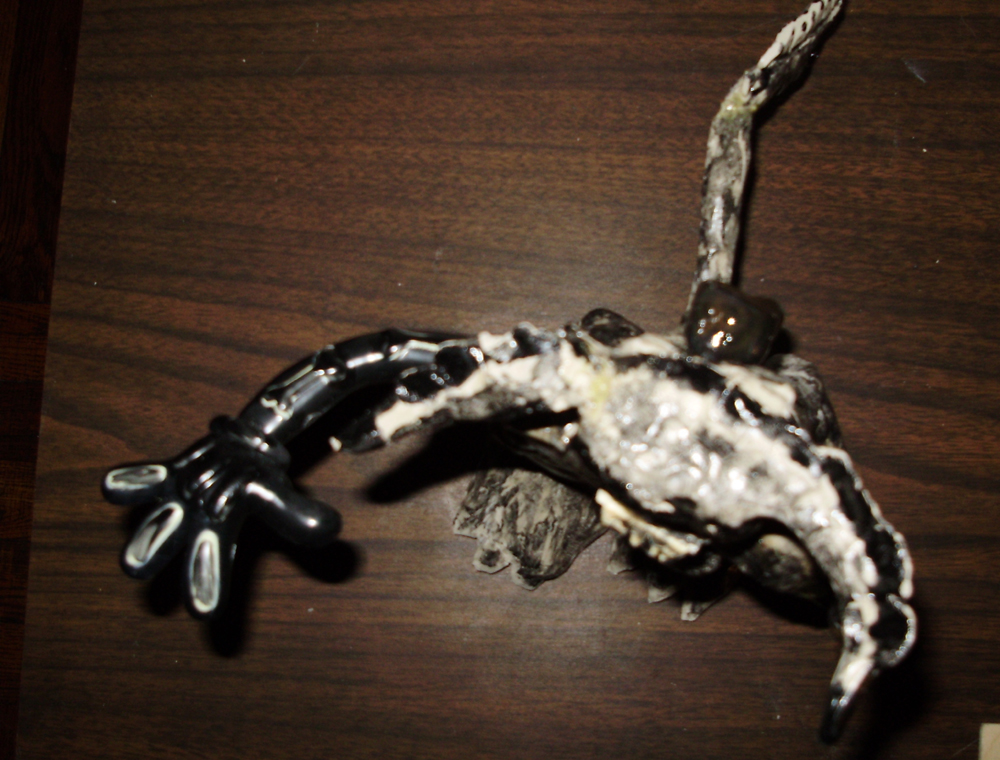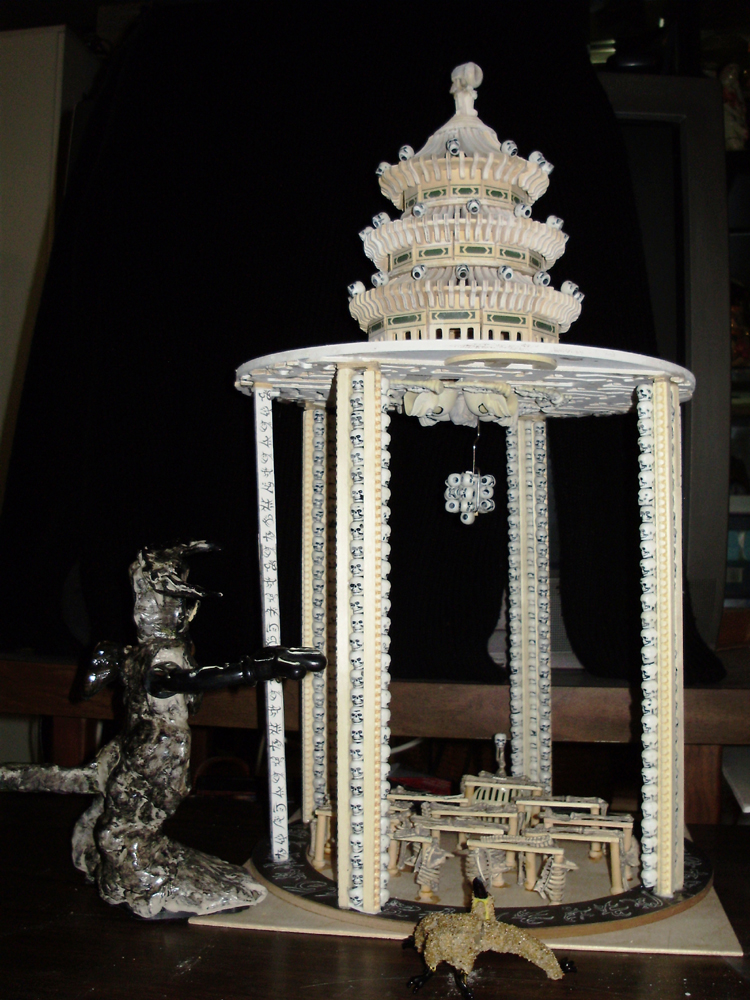 Thanks to this project, I now own a soldering iron, miter saw, several types of glue, air dry clay, knives of various sizes, skeleton parts, puzzle remnants, among other things. I've also glued together my fingers several times. Tried gloves but couldn't work with them. I also still have a Prince of Persia figure that I wanted to make into an Arlen but everything became a bigger project than I intended. Thank goodness for insomnia.
You're very welcome to these creations, if they're to your liking. I live in NYC too and would be more than willing to bring them to you as I don't think they'd survive shipping. Honestly, I only entered for a shot at the Great Bazaar which I couldn't find despite all efforts (including emailing international bookstores). I know there are copies on ebay, etc. but I oppose the idea of overcharging for books unless it's for a cause.  But, win or lose, I surprisingly had a lot of fun doing it.
Mia
Unbelievable. My jaw literally hit the floor. My first guess was that  One Arm's… er, one arm, was made from a Mickey Mouse arm. Awesome.
Still more than two full days to submit an entry! I will accept them up until 12:01 am this Friday. I will be adding some awesome runner up prizes (Including at least one Great Bazaar) to the list soon. They are well-earned, with all the amazing things people have put together.