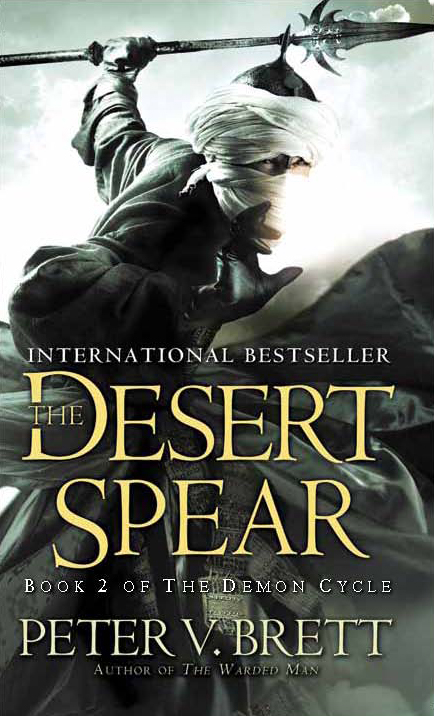 You know what's better than Christmas? Launch day.
You know what's better than my birthday? Launch day.
You know what's better than sex? Well… probably nothing. But launch day is really friggin' close.
That's right, today, March 1, 2011, The Desert Spear goes on sale in mass market paperback (mmpb) in the US. it feels like I've been waiting forever.
I don't know if I can adequately explain what it feels like to literally spend thousands of hours working on a project, and then, after its finished, wait another YEAR for it to come out. Even then, it was out in hardback, and while tens of thousands of people enjoyed the book in that form, hardback sales are still a traditionally small number compared to the readership of a mmpb.
I am so excited for this broad release. The Desert Spear is, in my mind, the best thing I have ever written. After The Warded Man came out and enjoyed a fair bit of popularity, I was having daily anxiety attacks, wondering if I could create a follow-up that did justice to the first book, but also took the readers someplace new. I didn't want to just rehash what I'd already written in another book. The result was a book I continue to be incredibly proud of, and my bestseller listings in the US, UK, Germany, and other markets seem to lend a measure of credence to that pride.
I often look back at my writing and want to pull a George Lucas and tweak this or that, but I really don't feel that way about TDS. The book came out exactly as I wanted it to, allowing me to get into the heads of characters near and dear to my heart like Ahmann Jardir, Renna Tanner, Selia Barren and Abban the khaffit, in addition to all the heroes of The Warded Man.
Guerilla Signings
So what am I doing to celebrate? For starters, I am going to spend the day going to all the major booksellers (and as many of the small ones as I can) in Manhattan and Brooklyn for a little guerrilla signing, meeting the hardworking folks who work the floor and signing shelf stock. I will also be stopping by Random House to sign a big stack of books for their planned giveaways (details to come). Moving forward, any time I'm out of town I will try to stop by any local bookstores I find to sign the stock.
Bonus Materials
In the back of the mmpb, you will find twenty pages of new material, including a Krasian Dictionary and a long interview based on fan questions posted on this blog last year. The interview covers a wide range of topics, including the ward magic system, real world influence on fantasy cultures, how I write, my thoughts on fan fiction, and more.
In addition, the revised Desert Spear eBook (also on sale today!) has dropped a price point from $9.10 to $4.39, and will now include the full color cover, map, glossary & interview, PLUS a 6600 word excerpt from The Daylight War! The excerpt wasn't ready in time for the printed edition, but I made it just under the wire for the eBook. It centers around Inevera, the beautiful, terrifying, and enigmatic wife of Ahmann Jardir, as she is called to Hannu Pash as a child.
Suvudu Cage Match
Here's where I ask you all for a favor. While today is a big day for Jardir, it is no less so for my man Arlen, who has his own trials and triumphs in The Daylight War. Arlen also enters the ring for the first time later this week in the 2011 Cage Match on Del Rey/Spectra mega-blog Suvudu. Characters from a wide variety of fantasy and science-fiction books are pitted against each other, and the readers vote on who they think would win. Each victory advances the competitor on to the next battle until there is blood on the cage and one character stands atop the battered corpses of their defeated enemies, beating their chest.
This is the second year that Suvudu has done this event. Here is the bracket from last year. http://suvudu.com/cage-match
Arlen has been pitted up against Beowulf for the first round. We all know that Beowulf wouldn't stand a chance against the Warded Man, so head over to Suvudu and vote vote vote!
Giveaways
I will be giving out signed copies of The Desert Spear mmpb in ongoing contests on this site, including the latest Audio Contest (still plenty of time to enter!). The copies I sign today at Random House will be used for various giveaways, as well. See Suvudu.com for details.