Last Wednesday morning at 1:31am, I sent my publishers the complete first draft of The Core, the fifth and final book in the Demon Cycle series. It's been a long time coming. For readers, the Demon Cycle began in 2008 (or 2009 in the US). That's nine years. Quite a commitment, and for those of you who've stuck with me from the first publication, you have my heartfelt thanks.
But for me, the Demon Cycle began in another century. Back in 1999, I was taking a nighttime continuing education class in SF Creative Writing at NYU, taught by author Marvin Kaye. Being a pro writer was still just a fantasy, but I took my writing seriously and wanted to up my game.
One week, we were given a homework assignment to write the first chapter of a fantasy novel, and I wrote a short story about a boy named Arlen who could never travel more than half a day's walk from his family farm, because he had to be back home before dark, when the demons rose. You can read that original story here.
Arlen always wondered what was over the next hill, half a day from his house. He and I began a journey with that 1600 word story, and now, 1.25 million words 18 years and later, I have completed it at last. If Arlen was a baby then, he would now be able to vote, go to war, or star in a porno.
I've been trying to gather my feelings about ending the series for this post, but it's been difficult. Not only has the Demon Cycle consumed 18 years of my life, but it has utterly and irrevocably altered it, casting aside my old career and defining my new one, bringing to vivid reality my life-long dream of seeing my name on the spine of books in stores and libraries and private collections all over the world.
This career has brought with it more new friendships than I can count. The Drinklings crew, publishers, creators and readers. Artists I idolized as a kid now know my name and face and hang out with me at conventions. Hundreds of thousands of readers on six continents have bought over two million of my books in 25 languages. Writing these books has given me the closest thing I can think of to immortality in our world.
How do I convey the incredible sense of accomplishment and vast relief of reaching the end of such an incredible journey? How can I sum up the nagging doubts and humbling feelings of impostor syndrome I felt along the way—the pressure to stick the landing? How can I describe the gaping void completion threatens to leave in my heart?
I don't know that I can.
All I can say is that I have immense gratitude for the people who believed in me back then. My friends and beta readers who encouraged me, especially Myke Cole, without whom I might never have done more than write as a hobby. My agent, Joshua Bilmes, who took more time than an agent would ever be expected to invest to develop me from an eager amateur into a professional writer. My publishers, who invested in me in hard cash. Lauren Greene, who has been there for both the successes and the hand-wringing. Cassandra, who keeps me grounded and grateful. And all of you.
Thank you so, so much.
The Core is due to be published in the US August 15, 2017. You can pre-order The Core here.
Audio and international pub dates will vary. It should be out on English audio and in the UK on or about the same date as US release. Translations will lag a bit, but international publishers are pretty eager to get it out for sale, so hopefully those of you who prefer to read in your native tongues won't have too long a wait. As with previous books, we have two wholly different but equally stunning covers by Larry Rostant lined up, and will be revealing them soon.
Now, as always when I finish a book, it's time for some fun with wordcount metrics.
The first draft of The Core is 288,212 words, which comes out to 1045 double-spaced pages in MSWord Times New Roman 12 point font with one inch borders.
The Core took 80 weeks (20 months) to write, averaging 4424 words a week, or 885 words a day, five days a week. A bit short of my goal of 5000 words a week/1000 words a day, but 2016 in particular was filled with distractions, and not just politics and celebrity death. More on that later.
By way of comparison:
Warded Man first draft stats: 7 years writing, 182,278 words, 650 pages.
Desert Spear first draft stats: 17 months writing, 231,331 words, 795 pages, 4890 avg words per week.
Daylight War first draft stats: 26 months writing, 242,965 words, 823 pages, 3095 avg words per week.
Skull Throne first draft stats: 16 months writing, 226, 318 words, 833 pages, 5148 avg words per week.
You may notice the math I gave on The Core adds up to more than 288K words. Indeed. I produced 353,912 words of material.
What happened to that other 66,000 words?
Approximately 52,000 words of that was stepsheet. I outline pretty heavily, mapping out the entire book before I start working on the prose. The other 14,000 words were deleted text. Sometimes I write lines, or even whole scenes and then hate them on reread the next day and cut them. There's always some signal loss.
In the next draft, I will probably cut yet more things, and add others. Usually the word count goes up ~10%
I'm really pleased and proud with how the first draft has turned out. The Core ties up all the current storylines in the series, and no matter who your favorite character is, they will make an appearance in one way or another, and be awesome. That said, I've been working on the book for close to two years, and literally no one has read it but me. I believe in my heart that it's good, but every author is full of doubts when they first show their work to others. For now, my agent, editors and a small handful of beta-readers are taking a first look at the manuscript. This inner circle will send edits in a few weeks, and I'll get started on a second draft, but in the meantime I have a short respite to catch my breath.
This is good news, because it is my incredible pleasure to introduce the latest member of the team: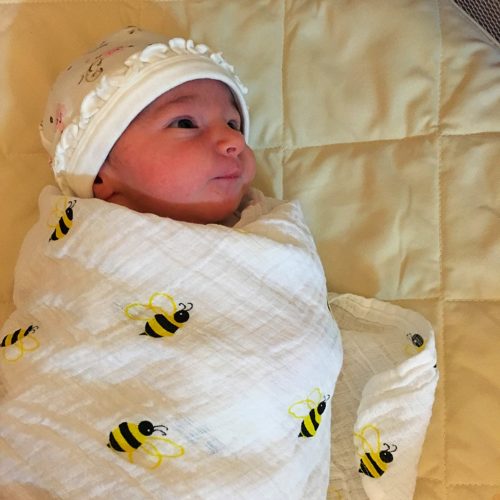 Sirena Lilith Brett, born 12:59pm Thursday, January 26, 2017. 7lbs 4oz of pure, concentrated joy and weaponized levels of cute. Mommy Lauren and baby are making every day the perfect day.